Photo: Chris Gibbons
"Look. If there were 60 murders in Orlando five years ago, 59 of them happened in this neighborhood."
— my brother-in-law, Greg
We're walking en masse through the streets of Orlando — cousins and uncles, nieces and nephews — on our way to meet the already assembled Sons of Ben in the corner rafters of the sparkling new Orlando City stadium when I learn about the murders in Parramore.
The little nugget of homicidal context, supposedly without hyperbole, doesn't really phase me. Not because I lived at 18th and Moore in Philadelphia before it was called "Newbold" (which I did, loved, and then understood why gentrification can be incredibly good and also subtly and not so subtly offensive), but because whatever this place was, it's quickly becoming something altogether different.
My wife and I wear Union blue, subtle but unabashed, my wife's sister and Greg are in City purple, and everyone else is in a neutral color with a borrowed Union scarf draped around their neck. I own at least 20 more and if we're going to indoctrinate the family, their baptism will be by snake, not lion.
However, we are outnumbered here, and substantially so. Not only are there 25,000 purple-wearing City faithful singing on the streets two hours before kickoff, but along the way through what looks like a New Orleans-themed version of Northern Liberties, we shuffle by several thousand Orlando fans who will be watching at nearby restaurants and bars, getting the after-party going before the game even starts. (Of note: Former Union and Orlando player Pedro Ribiero was among the crowd, looking fresh to death, but not wearing purple. I subsequently drafted him with my "Cool looking people to hang out with after soccer matches" MLS Expansion draft pick. He was then sent to my USL affiliate, Staying in Every Weekend Because I Have Two Young Kids FC.)
The streets are closed to cars on this stretch, partly because they're showing the NCAA basketball tournament on Jumbotrons in the middle of the street — the weekend's NCAA games are happening at the adjacent Amway Center — and partly because the city has committed this stretch of town to hipster bars, hot new eateries, and some reinvigorated athleto-tourism. Orlando has tried this before for minor league hockey, arena football, and spring training. But this time it's downtown and this time it's different.
Blue bloods… and purple bloods, too
Greg is a lot like most people who call Orlando home, transplanted here from somewhere else in search of better weather, a place to get away, or some other adventure. He's originally from outside of Denver, Col., so he bleeds Bronco orange. He also bleeds Chelsea blue (so I can never truly love him as a man or a brother) and now, almost equivalently, a dark shade of City purple.
The way he tells it, the reason City are so successful in Orlando after so many other sports outside of America's Big Four have failed is that City aren't competing for his allegiance from the Broncos in the way that the baseball's Tampa Bay Rays struggle with all their transplanted New Yorkers. They're not even competing with his love for Chelsea.
Instead, they're asking him to be an early adopter of something truly unique to American fan culture, to make room in a part of his town and in a corner of his sports calendar for the "other," something that can be his in a way that a mediocre NBA franchise can never be.
This story of the "other" should sound familiar to any Union fan who has been there from the beginning because it's our story, too. My first Union jersey has no name on the back and no sponsor on the front, because I bought in, literally and figuratively, before any players or any corporations. As a result, I'm not mad at the M'Bohlis or Bimbos of the world for doing what they have to do for business because I know that, underneath their temporary nameplate, this is the shirt of my team.
Seven years of fandom
Interestingly, City are the same age as the Union. English IT genius Phil Rawlins bought the USL rights to central Florida, brought the former Austin Aztex to town, rebranded them in a market he thought MLS would be interested in, and then threw the kitchen sink at that goal. While they waited for the commissioner to call, they stormed through the division, winning USL in 2013. Even more, their franchise helped develop players such as Kevin Molino, Dom Dwyer, and C.J. Sapong, all of whom spent time with Orlando in USL.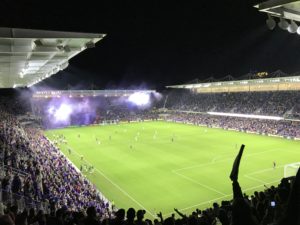 The Lions owned a slight edge in their match against the Union last Saturday, and it showed on the stat sheet, field, and scoreboard.
That isn't the only edge this team has, though.
Their stadium is bigger, fuller, and easier to get to than the Union's, and they have a downtown infrastructure just a few blocks away to support a Mardi Gras-type atmosphere before and after every match.
As I walk the neighborhoods of Orlando, I see purple banners on every street light and purple bumper stickers on every car, just like the Eagles and Phillies stickers you see in Philly. There is room on the Orlando sports calendar for this team in a way that Philadelphia, Chicago, New England, and Dallas could never make.
When the Union fired Nick Sakeiweicz, they did so because smart people with the money and final say knew that they were at a crossroads: Either the team shows that it cares as much as the fans, or the fans might stop caring altogether.
As George W. Bush once so famously said, "Fool me once, shame on me. Fool me twice… can't get fooled again."
The Union took the right fork that day and began to rebuild fan trust. They've shown it with their pocketbook in thoughtful, if sometimes ponderous ways. They've bought players, built facilities, and shared a clear long-term vision for this franchise.
Yet, Philadelphia Union still have a steeper hill to climb because they already have a city with four obsessed fan bases. And what they don't have yet is a true place where supports can go, tickets or not, and be immersed in a fanatical experience.
That's not to say it will never happen. Indications around Union camp are that the wheels are back in motion to make Chester a true fan destination and continue competing in "MLS 3.0."
Here's to the next step.