Photo: Paul Rudderow
Philadelphia Union
At Union Tally, Matthew De George has some notes from the Union's training session on Monday:
Jim Curtin reports the team suffered no injuries in Sunday night's draw with NYRB.
Curtin said the team is considering lodging an appeal of the red card Ilsinho received.
Curtin said the team's priority this week is getting three points in Montreal but he will still field a strong side in Wednesday night's US Open Cup game on the road against New England: "We'll still start our best team. The core group of guys that plays the bulk of the minutes is still going to start."
Maurice Edu trained fully with the team on Monday. Curtin said, "He looked really good. I'm surprised how sharp he is with the ball. His fitness, we're continuing to push and very happy to see back on the field…I'm just going by what my eyes see out here, and I see a player who looks good with the ball, looks confident, is cutting and changing direction and doing all the things that a central midfielder needs to do. So it's positive, but there's still a long way to go in terms of the fitness part of things."
Want a Keegan Rosenberry All-Star Game card from Topps? You have until 3:30pm today to order one as part of the Topps Now series.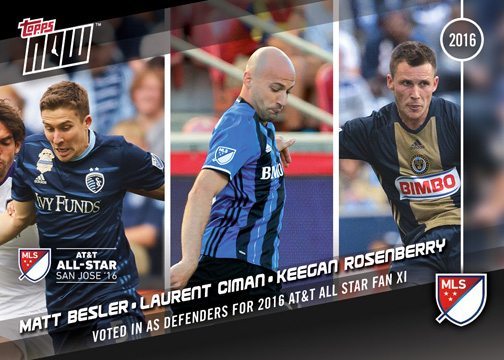 Rosenberry remains No. 1 in MLSsoccer.com's rookie rankings. He also makes a list of five MLS All Stars Arsenal fans might not have heard of at Arsenal Mania.
Andre Blake is SBI's Midseason Goalkeeper of the Year.
Tranquillo Barnetta and Chris Pontius were among those who received votes in a poll of MLSsoccer.com's editorial staff on All-Star Game snubs. Pontius makes HITC's Team of the Week. Philly.com highlights Pontius' knack for scoring.
At Daily Local News, Matthew De George looks at the numbers that back up the Union's depth of self-belief that, even when they go behind in a game, they still can win.
At US Soccer Players, Clemente Lisi writes that in this year of the underdog, in MLS, the Union has impressed him the most.
Analysis of Sunday's comeback draw with NYRB at PSP, Philly Voice, and Vavel. Last Word on Sports has a recap of the game. ASN highlights the game and gives the impression that the Union-NYRB rivalry is something new.
At MLSsoccer.com, a preview of Wednesday's US Open Cup quarterfinal game against New England Revolution. At the Union website, a Know Your Opponent post. Brotherly Game also has a preview.
Armchair Analyst Matthew Doyle notes NYRB's defensive meltdown against the Union on Sunday.
Power rankings! At ESPN, the Union move up three spots to No. 7: "The Union rose to the occasion with an excellent second half against the Red Bulls to salvage a 2-2 draw on Sunday, a trait that proves this is a different Philadelphia team than we've seen in recent years." At Soccer America, the Union remain at No. 8: "Goals less than two minutes apart by C.J. Sapong and Chris Pontius wiped out a 2-0 deficit against the Red Bulls and the Union got the point by riding out the match at 2-2 after Ilsinho was red-carded in the 72nd minute. Considering NYRB played a midweek game and the Union didn't, Philly came out on the short end despite the comeback. This week will be tough: road games at New England (Open Cup) and Montreal (league)." SI produces its first rankings since May 30 and has the Union at No. 7, a five-spot drop: "The Union entered the Copa America break on top of the Eastern Conference, but three losses in their next six games saw the team relinquish that position. Strangely, the Union's struggles seem centered on its defense, which had been a strength until recently. Philly has let in an average of two goals per game since the break, which makes it impressive that they only lost three of those matchups."
Some very good quotes from Earnie Stewart and Mike Sorber in ESPN's look at the state of youth soccer development in the US. Stewart says, "It's not about the talent. It's the structure."
Bethlehem Steel
Auston Trusty has been called up by the US for the U-20 COTIF Tournament in Valencia, Spain, July 20-Aug. 5. Other area players with the team include Kevin Silva (PDA; Bethlehem, Pa.), Matthew Olosunde (Manchester United; Trenton, NJ), and Isaiah Young (PDA; Berlin, NJ).
Bethlehem did not make the cut for the latest USLsoccer.com power rankings, which includes only the top ten teams, but they did make the "Best of the Rest" list following their 3-0 home win last week over Wilmington Hammerheads. Bethlehem hosts the City Islanders on Thursday at 4 pm.
At the Bethlehem Steel FC website, David Hayes writes about the importance of Bethlehem's heritage to the new Bethlehem Steel FC.
PDL
Tonight's first round PDL playoff game between Reading United and Western Massachusetts Pioneers will be livestreamed on YouTube beginning at 7 pm:
Reading Eagle has a preview of tonight's big game.
Ocean City Nor'easters face GPS Portland Phoenix in postseason PDL play at 7 pm. The game will be played in Maine at the University of New England, whose team name, a preview at the Ocean City site notes, also happens to be the Nor'easters. Follow the Ocean City and Portland Twitter feeds for live updates.
Local
PSP reader Dave Knittel is launching a new fantasy soccer and social networking website called Fan Futsal. Dave explained in an an email, "I've never liked playing fantasy soccer, so I created a game that's different than other fantasy soccer games currently available. The Fan Futsal fantasy soccer experience has the ability to appeal to both passionate and casual soccer fans because it's free, easy to understand, and fun to play. Users pick five clubs, instead of individual players, for their fantasy team. Only three scoring elements are used to calculate each club's fantasy points and each fantasy game lasts a maximum of one week, which makes it easy to follow along. And users can banter with their friends throughout the competitions, which adds a unique and fun element to the playing experience. Fan Futsal has games using clubs from all of the big 5 Euro leagues, Major League Soccer, and Liga MX." The site is scheduled to launch on August 10. If you're interested, click here to sign up for the site's mailing list. You can also checkout the site's Facebook page and follow them on Twitter.
Lewisburg, Pa.'s North Union United Wave U-14 girls team defeated Pateadores Irvine White (Cal-South), 2-1, to claim the US Youth Soccer National Presidents Cup championship on Sunday in Tulsa, Oklahoma.
The New Jersey Rush U-13 girls team, which is based out of the Sicklerville section of Gloucester Township, will be in the U.S. Youth Soccer National Championship Tournament in Frisco, July 26-30.
Michael K. Barr, technical director of Eastern Pennsylvania Youth Soccer, has a guest column at Delco Times that highlights how the high costs of many youth soccer programs exclude the economically disadvantaged.
At PA Prep Live, a moving memorial piece for Austin Wylie, the Shipley School player who took his own life last week.
MLS
Portland has transferred goalkeeper Adam Kwarasey to Rosenborg BK in Norway.
The Independent Review Panel of the league's disciplinary committee has rescinded the red card Columbus Crew defender Harrison Afful received in Saturday's 1-1 draw with DC.
Forbes looks at the league's National Sales Center, "the first sales training academy in professional sports and now a bullpen of young sales talent for the league's 20 franchises."
US
At the US Soccer website, animated stories featuring the members of the US women's Olympic team. Good stuff.
Elsewhere
Fox Soccer reports, "FIFA is standing by Russia to host an 'outstanding' 2018 World Cup in light of a damning report conducted by the world's leading anti-doping authority that accuses Russia of government-sponsored doping."
The AP reports, "The fallout from Russia's state-backed cheating at the Sochi Olympics could add pressure on Sports Minister Vitaly Mutko, who also is the country's top official at FIFA and head of the local organizing committee for the 2018 World Cup. His status was unclear on Monday after Russian President Vladimir Putin said all officials directly implicated in a World Anti-Doping Agency inquiry report will be suspended."
Goal.com reports, "An independent commission set up by the World Anti-Doping Agency (WADA) has reported 'at least one' foreign footballer in the Russian League had a positive drug test hidden as part of a system of state-dictated doping cover-ups overseen by the Russian Ministry of Sport."
The AP reports, "Russian President Vladimir Putin has ordered officials in St. Petersburg to speed up construction of a trouble-plagued stadium, which is scheduled to host matches during the 2018 World Cup, including a semifinal."