Photo: Earl Gardner
Who: Philadelphia Union vs. Columbus Crew
What: 2016 regular season game
Where: Talen Energy Stadium
When: Wednesday, June 1 at 7 pm
Watch: TCN, MLS Live, Direct Kick
Whistle: Robert Sibiga; Adam Wienckowski and Kevin Klinger; Alan Kelly
Last season it took Philadelphia Union six games to earn their first win of the year, an April 11 victory over a hapless New York City FC side. This year it took Columbus Crew six matches to find a win, again over a (at the time) hapless New York City FC side.
Meanwhile, the Union found their first win of 2016 on the Crew's home turf, wiping away memories of a confidence-sapping defeat against Columbus in April of last year. The two teams meet again tonight in Philadelphia, with the Union looking to go into the Copa America break in first place and the Crew hoping a big win can put them right back in playoff contention.
The first meeting between these teams laid bare many of the Crew's underlying issues while showing that the Union actually were capable of executing Jim Curtin's defensive scheme after looking lost against FC Dallas in the season opener. Philly's defensive pressure disrupted Columbus' rhythm and made the defending Eastern Conference champs look unbalanced, hesitant, and wholly lacking in ideas that didn't involve Kei Kamara's head.
Kamara is gone now. An incredibly poor decision to attack Federico Higuain in the media after a penalty taking dispute led the Crew to jettison their newly-minted Designated Player and replace him with… another Kamara… with a one consonant/two vowel first name… who is tall and good with his head.
Ola Kamara has stepped into a Kei-shaped hole and admirably battled defenders and challenged for all variety of crosses. His hard work finally paid off last week against Real Salt Lake with a well-earned hat trick (he could have easily notched 4-5). Though Ola seems a like-for-like replacement for Kei, the Crew are actually making quite a few tactical adjustments as they rebuild without one of the most dangerous aerial attackers ever to grace the MLS stage (he won 56% of his aerial duels last season, which Harrison Crow rightly calls "insane").
Kei was a huge focal point for the Columbus offense, generating almost a third of their shots. In his absence, the Crew need to be a bit more selective in their crossing, and a bit more patient in their buildups.
Kei could be a get-out-of-jail-free card for a team that gave up a ton of goals last season. Even when things were a bit loosey-goosey, having a striker who wins more than half the crosses tossed into his vicinity meant Columbus could paper over some worrying problems. Without that massive presence in the box, the Crew have been trying to re-establish the fundamentals of their spread offense: Stretch the defense deep and wide, take the simple pass in midfield and the aggressive pass near the final third, and finish offensive moves.
The last one is the toughest to define, but it's something Gregg Berhalter has talked about before and Michael Parkhurst brought up in his pre-match interview. Finishing offensive moves is the equivalent of a basketball coach saying he's happy if his team is getting good shots. It means the offense is running as it should, regardless of whether the ball is actually finding the back of the net. For Columbus, finishing moves means getting the ball to the fullbacks with time to pick out crosses, pushing the ball behind the defense to an onrushing winger, or simply freeing up Federico Higuain near the box so he can rip off a shot. Anything else leaves the Crew extremely vulnerable because they push fullbacks so high and play without a true defensive midfielder. When a team like the Union can create turnovers in midfield, it is more troubling for Columbus than for, say, Colorado, a team with two holding mids that can close their lines quickly. The Crew leave big gaps in wide defensive areas, so a turnover in midfield can quickly lead to a misshapen back line that looks very shaky against counterattacks.
Indeed, a point of emphasis for Berhalter seems to be how his team defends in midfield. Over the past three matches since Kei hit the bricks — two ties and a win, by the way — the Crew have slowly become more compact and responsible defensively.
One key has been Wil Trapp's positioning. The young American midfielder is a brilliant passer, but he doesn't have the defensive instincts or physicality of a classic MLS destroyer. Thus, when Trapp takes a bad angle, as he did in the clip below against Colorado, it leaves the Crew very exposed.
[gfycat data_id="SilverVengefulIberianbarbel" data_autoplay=false data_controls=false data_title=true]
In the past two matches, Trapp has vastly improved his positioning (though Mohamed Saied still tends to get caught too high when he should be protecting the back four). Against RSL, Trapp played a few yards behind the rest of the midfield, allowing him to step quickly into passing lanes and pick up runners rather than chase them backwards.
It's a small change but an extremely necessary one for a team that plays with a fairly deep back line without the ball. In the image below, you can see how much space is left between the lines when Saied and Trapp end up flat.
But the Crew midfield isn't off the hook yet. Trapp and Saied alternate dropping into the back line to build attacks, and they have both been slow to step forward after moving the ball into midfield. More than once, this has meant that an enormous space is left in midfield when the Crew lose the ball, and it makes for very awkward defending when the two center backs have to figure out their spacing and angles while accommodating a midfield who is out of position and forcing them to play wider than they'd like. Below, you can see Saied step aggressively to close down the ball after a turnover even though he doesn't have any support behind him. Trapp is still between the central defenders, and nobody in back seems to know who is going to step to the ball. Take nothing away from Luke Mulholland's crackerjack of a shot, but he never should have had the space to take it.
[gfycat data_id="OrderlyUnnaturalBagworm" data_autoplay=false data_controls=false data_title=true]
The other two basic facets of the Columbus offense have also slowly and steadily improved since looking out of sync early in the season. Without Kei, the Crew are once against focused on Federico Higuain, who has the most freedom to pop up anywhere on the pitch as the rest of the team cycles the ball around trying to pull the defense to once side. In order to make Higuain most effective, the Crew need to move the ball into the middle third, back out again, and switch fields in a quick, constant rhythm. Eventually (and ideally), one of two things happens: Either a midfielder steps up and leaves space behind where Columbus can attack by giving Higuain time to turn, or a fullback is forced to step into midfield to close down the ball and leaves space behind for a winger or fullback to attack.
Against Toronto, you can see both the issues and potential of the Crew offense. Four players move the ball in a small area in the middle third, with Higuain moving from the wing toward the center where he's more dangerous. This eventually sucks in Toronto's defenders and gives Higuain space to turn and look for Ola Kamara through the middle. Thus, Columbus got Higuain and the ball where they wanted them, but the Argentinian was impatient.
[gfycat data_id="FluffyImportantChihuahua" data_autoplay=false data_controls=false data_title=true]
You can see the same impatience early on against RSL when Meram can drop the ball to Trapp, who can find Jimenez in more space than the Union have put between the club and Nick Sakiewicz. The pressure to succeed after last season's run has clearly made the Crew a bit more direct than they need to be, and this has been exacerbated by Kei Kamara's permanent absence.
[gfycat data_id="ScalyBadEgret" data_autoplay=false data_controls=false data_title=true]
But Gregg Berhalter's message seems to be getting through. Against Toronto and RSL, there were more instances of the team returning to their patient buildups and smart, angled passing. Particularly in the RSL match, Columbus was able to establish five clear vertical zones through midfield that allowed them to dominate play for extended stretches.
Imagine the middle third of the pitch divided into five zones of unequal size. Two fairly narrow channels along each touchline, two slightly wider channels just inside of those, and a broad space in the center. Ideally, Columbus will start an offensive move with fullbacks in the two widest zones and wingers occupying the next zone inside. One central midfielder drops into the back line and the other comes short to draw the defense upfield. Higuain drifts around in a deeper area, looking for a passing lane that can bypass the whole midfield.
If there is not clear lane to Higuain, the ball is played out to a fullback. At this point, the winger can either check short or fake short and take the wide space further upfield, leaving that slightly inside channel for Higuain to check into.
If a midfielder closes down the fullback, the ball can go to Higuain, the other central midfielder in tight, or back where it came from so it can be quickly recycled to the other side. At some point, the ball is moved quickly enough that a fullback has to step out of the back line to close down the Columbus fullback, and at this point the Crew look to get into the space the opposing fullback leaves open. This draws a central defender out onto an island, and even if you count Richie Marquez, Ken Tribbett, and Joshua Yaro as good 1v1 defenders — which they seem to be — you do not want them doing battle against Ethan Finlay and Justin Meram. Those guys are super fast (Finlay) and trickier than a cornered politician (Meram).
Below, you can see Michael Parkhurst's glorious passing range find Hector Jimenez. The RSL fullback steps up and Jimenez plays the ball beyond Finlay, who would have had a center back at his mercy.
[gfycat data_id="TerrificViciousAmericanquarterhorse" data_autoplay=false data_controls=false data_title=true]
The tactic was even more effective on the other side where Justin Meram was having his way with the RSL defense. On the Crew's first goal, Meram takes the space behind the fullback, uses a shoulder drop to lose John Stertzer, then works his way to the endline where he can find Ola Kamara for the easy finish.
[gfycat data_id="FaroffRichAltiplanochincillamouse" data_autoplay=false data_controls=false data_title=true]
Later in the same match, you can see RSL's central defender is now very aware of Meram's intentions and quickly steps out to cover him when Meram gets to the sideline. This leaves a huge swath of space in the middle for Ola Kamara, and also means Meram has a central defender and a lot of space to attack. Unfortunately for the Crew, and offsides call negated the move.
[gfycat data_id="WholeCarefreeAnelid" data_autoplay=false data_controls=false data_title=true]
Clearly, this will not be the same Crew side that the Union faced early on. Aside from the slow, steady improvements in ball movement and patience, the team has seen rapid development from Ola Kamara up front. The Norwegian striker has looked extremely lively making runs off the ball, and has shown a willingness to work defensively that has made it more difficult for teams to walk the ball into the Columbus half.
Behind Kamara, the Crew defense can get extremely compact, which is almost necessary when playing without a true defensive midfielder.
But there is also positive news for the Union. Currently, Columbus has exactly one healthy central defender, and the midfielder they pulled into the back line against RSL has been called up by Guatemala. So the Crew will either have to adopt a weird, new shape or put someone in a very uncomfortable new position.
Union notes
Philly's lineup is difficult to predict for this match (beyond goalie, where Curtin has already said Matt Jones will replace Copa America-bound Andre Blake). On the one hand, the team has a long break coming up so Jim Curtin should feel comfortable putting his best eleven on the pitch. On the other hand, a few key players were dragging against Colorado (though that can be partially explained away by an altitude argument).
Regardless, the team should be more aggressive offensively at home, and Curtin hinted at a return to the lineup for Vincent Nogueira. This would likely give Brian Carroll a break, and it will be interesting to see how Warren Creavalle transitions to a role in which he has to be pickier about his forward runs and stay more central in front of the back line.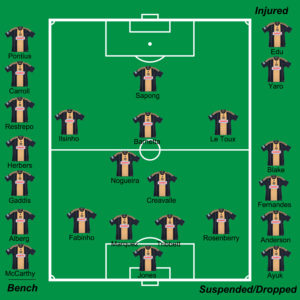 Union goals
Philly's aim should be simple: Win the ball in midfield and attack with fluidity. Tranquillo Barnetta is as good as anybody in the league at driving at defenses, but he needs to make good decisions at the end of those runs. The Union may be tempted to play the ball behind the Crew's fullbacks and cross it in, but they would be better served holding onto the ball or trying to isolate and attack defenders. Playing without patience will give too much of the ball to Columbus, and they are more than capable of taking the pace out of a match when that happens.
Prediction: Union 1-0 Crew
If the Union can press effectively in midfield, they will make it hard for the Crew to draw the fullbacks forward. Furthermore, the Union should have a big height advantage on set pieces and Barnetta has been brilliant with deliveries this season. The match could be a bit sluggish as both teams could be tired and have one eye on the upcoming break. But these squads tend to go at each other when they play, and there will certainly be some lively sequences.
Curtin said the Union set goals to end up in first place and stay at or below 1 goal conceded per match. With 14 goals allowed through 13 games and three teams within two points in the standings, a shutout win is the only way to reach both goals. Last season's team would have folded. What will the 2016 Union do?