Photo: Earl Gardner
Philadelphia Union
Looking back over recent national coverage of the Union's strong start to the 2016 season, two themes emerge. The first is what a surprise the strong start is. That theme naturally evolves into the second theme: Is this team for real?
Jim Curtin acknowledged after last week's 2-0 win over NYCFC, "I'm not happy with our overall game on the day, but, at the same time, good teams find ways to win when it is not their best night."
That the Union is in fact a good team has been a message Curtin has repeated since the start of the season. In his press conference on Wednesday, Curtin said, "We're hungry now, though, and want more. Our next two are here and they're against two darn good Western Conference teams, so we'll see what we are really about in these next two games."
Curtin explained that at the heart of the Union's strong start is something very simple: confidence.
A win against San Jose on Saturday will further solidify the confidence within the team, as well as that in the fanbase for the team. And it will also go someway toward answering that second theme.
Curtin said on Wednesday the fans "realize something's different, something is new," adding, "There is a buzz about the stadium."
The time is ripe for the Union to turn the question, "Is this team for real?" into a statement: This team is for real.
Previews at PSP, Philadelphia Union (preview, game notes, gameday guide), Brotherly Game, Pattison Ave., MLSsoccer.com, San Jose Earthquakes, The Guardian, and Sports Chat Place.
Assuming Chris Wondolowski starts on Saturday, it will be his 200th MLS appearance.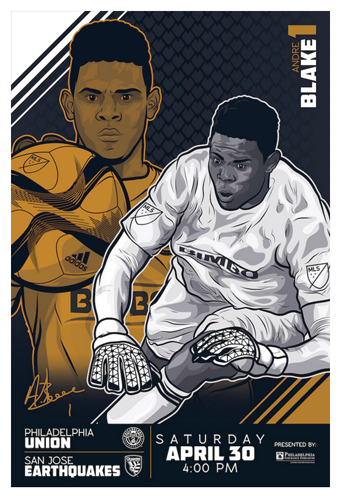 I missed this before the NYCFC game, but the Union has match posters. The poster for Saturday's game features Andre Blake. Unfortunately, you cannot download the poster (a "Download unavailable: Please contact us for download access to this file" message appeared when I tried to do so) and you need to register with PhotoShelter to buy copies, which are rather pricey at $29.99 for a 16″ x 24″ print.
At CSN Philly, Dave Zeitlin talks to Brian Carroll, who made his 350th league appearance in last weekend's win over NYCFC. Carroll says, "In any offseason now and the previous couple of years, you just never know when it's gonna be the last year. I've tried to enjoy as much as I can every single day and put everything I can into that year and once we get to the offseason see what the conversation is like and see if things are able to work out. So far I've been able to continue to improve my role and help the club no matter what capacity it may be in…I've enjoyed my time here. Yes, we haven't made the playoffs [since 2011]. But I've enjoyed playing in front of these fans. It's been a fun club to have this stage of my career with. Hopefully I'm able to keep going."
At the Union website, Matt Bodiford on Tranquillo Barnetta.
At Metro, Jeff McMenamin compares the Union's strong start this season to the strong start in 2011.
Philadelphia Sports Nation says to Union fans great things are coming.
Bethlehem Steel FC
Bethlehem Steel (9th place, 7 points, 2-2-1) ends their three-game homestand when they host first place Louisville City (13 points, 4-1-1) on Sunday at 3 pm (YouTube).
Head coach Brendan Burke said,
Our group's excited because we have seen some of the better teams in the East. We're excited to know we're there and at times have pinned down a few of these teams…It's very much a week-to-week process. I've been very happy with it so far. We do feel a part of [the Union's success], and we do feel it's important work to support the first team's efforts. It's ultimately what we're all here for….In terms of producing results on the weekend, that's part of learning how to be a pro. You need to understand how to accomplish things in the game, how to win games, how to close out games and be tough to break down. We're getting that as a group. I'm certainly satisfied with the progress. Progress is a word you'll hear me use a lot throughout the year.
The Louisville lineup includes former Union man Chandler Hoffman, who leads the league with 7 goals. Burke said, "I think Chandler is in a really good run of form right now. I think he is a poacher, a finisher, a slasher and a guy who might be termed a 'fox in the box' by some people. With Chandler keeping him in front of you and keeping tabs on him at all time is the most important thing."
Reading United
Reading United has announced three Union Academy products — Brett Campbell, Billy McConnell and Will Campbell — are returning to the club for the 2016 PDL season.
Philadelphia Union Academy
The Union Academy teams face off against their counterparts at Players Development Academy on Saturday. While the Union U-13/14s host PDA at YSC at 4:30 pm, the U-15/16s and U-17/18s are on the road for their games at the PDA Soccer Complex in Somerset, New Jersey.
Local
Harrisburg City Islanders (10th place, 6 points, 2-3-0) are on the road to face reigning USL champions Rochester Rhinos (8th place, 7 points, 2-2-1) on Saturday (7 pm, YouTube). Previews at Harrisburg City Islanders, USLsoccer.com, and Rochester Rhinos. At Brotherly Game, Sean McPherson notes the City Islanders have appealed the red card Bobby Warshaw received for dangerous play in last weekend's 2-1win over Orlando City B.
Ocean City Nor'easters have announced they will host DC United in a friendly on Saturday, May 21. Press of Atlantic City reports the DC side will consist "mostly of members of the Washington team's senior academy (under-23 squad)."  Nor'easters general manager Kevin Nuss explains, "The academy teams of the MLS teams don't have a league, but they play each other. The senior academy teams are still a very high level. There could also be some players from their (MLS) team who don't get first-team minutes. That's why we scheduled the game, because we want a good test. Our (Premier Development League) is really tough, and we want a good challenge to test ourselves and prepare us for a good season." Philadelphia Union hosts DC on Friday, May 20.
Allentown's Danny Barbir came on in the 40th minute in the US U-19's 3-1 loss to Slovakia 3-1 in their final group match at Slovakia Cup on Thursday. Despite the loss the US faces Russia in the tournament final today.
MLS
Former Union man Zach Pfeffer has been loaned by Colorado Rapids to USL side Charlotte Independence, along with defender Dennis Castillo. Rapids Vice President of Soccer Operations and Technical Director Paul Bravo said, "For Zach, this represents a chance to get regular minutes." The loan announcement notes, "Per the Right of Recall incorporated in both loan agreements, Colorado Rapids retain the right to recall either player at any point during the MLS regular season, subject to MLS roster compliance guidelines."
Real Salt Lake has waived midfielder Adolfo "Fito" Ovalle, who signed with the club as a homegrown player in March of 2015.
The Detroit News talks to some of the owners of NPSL-side Detroit City FC for their thoughts on the MLS expansion bid in Detroit. MLSsoccer.com (1, 2) has more on the bid. ESPN looks at the prospects for MLS expansion in San Diego, San Antonio, Detroit and St. Louis.
David Beckham, and Miami Beckham United partner Tim Leiweke, were in Las Vegas to support Oakland Raiders owner Mark Davis' plan to build a $1.4 billion, 65,000-seat stadium. In addition to being the new home of the Raiders, Beckham and Leiweke believe the stadium could help the city land a MLS franchise. Beckham said, "To bring a great organization like the Raiders is incredible, but it's bigger than that. It's about the MLS (Major League Soccer) coming here, it's about bringing in the biggest European teams like Manchester United." More at Las Vegas Review-Journal and SI.
NWSL
Buzzfeed reports Facebook's livestream of last weekend's Orlando Pride game — the social media giant's first-ever livestream of a professional sports broadcast — took place on Alex Morgan's Facebook page. The first and second half of the game were streamed as separate posts on Morgan's Facebook page and combined to reach an estimated total of 554,000 unique viewers. In comparison, the stream of the game on YouTube reached 76,000 viewers.
US
Elsewhere
Will Leicester defeat Manchester United on the road on Sunday and win the Premier League title? Check out the latest Footy on the Telly for broadcast information for that game as well as other live games over the upcoming week on TV, online, and on satellite radio.
Reuters reports, "Michel Platini appeared before sport's highest tribunal on Friday to appeal against his six-year ban from football and the suspended UEFA president said he was optimistic he would win his case, for which the former FIFA president Sepp Blatter is among the witnesses." A decision could be rendered as early as next week. More from the AP.
AFP reports Argentine first division side Tigre "is offering fans implantable microchips that will open the stadium turnstiles on match days, no ticket or ID required." Tigre secretary general Ezequiel Rocino said, "The scanner will read the data on the implanted chip, and if the club member is up-to-date on his payments, will immediately open the security turnstile…We're not doing anything invasive, just accelerating access. There's no GPS tracker, just the member's data."