Photo:
US Open Cup qualifier
On Sunday, West Chester United hosts Salone FC in the second round of local Open Division qualification for the 2016 US Open Cup. Kickoff is at 5 pm. Look for an article on West Chester United here at PSP later this morning.
Philadelphia Union
On Thursday, MLS announced key offseason dates. The player movement fun will begin on Dec. 8: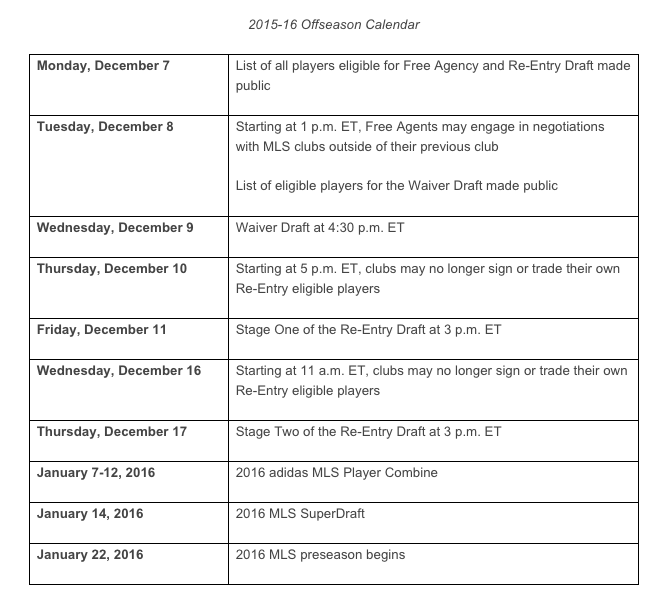 You can watch Andre Blake and Jamaica host Panama in a World Cup qualifier tonight at 8:50 pm on beIN Sports.
Brotherly Game's season review series continues with a look at Richie Marquez, Steven Vitoria, and Ethan White.
Local
Grant Wahl presents his case for why local lass Carli Lloyd should be SI's Sportsman [sic] of the Year.
Pittsburgh Riverhounds come from behind 6-5 win over Harrisburg City Islanders — Pittsburgh scored three goals in stoppage time — is one of the USL's Best Moments of 2015.
At Brotherly Game, Matt Ralph looks at six area schools that have earned berths in the NCAA Division III championship tournament. For the first time in 18 years, ten-time national champ Messiah isn't one of them.
MLS
At SI, Grant Wahl mentions, "I'm also told there's a pretty good chance MLS owners will change the rules and bring more TAM money into the system for next season." TAM, that's Targeted Acquisition Money to you and me.
DC United have re-signed midfielder Matt Deleon to a contract extension.
Vancouver Whitecaps have re-signed midfielder Matías Laba to a "multi-year" contract extension.
Patrick Vieira on becoming head coach of NYCFC:
Of course, I still have a lot to learn about the MLS. But what was important to me was to have the right people around me who can help me to understand how things work in the MLS. But at the end of the day, these are football matches. It is 11 against 11, the size of the goals are the same from here to Europe. It's just to be clear about the philosophy, about the way I want to play, and I will adapt myself — I don't have any doubt about it…
I think my philosophy is quite really clear," Vieira said. "I want to play really attractive football, really offensive football. I would like to create chances, to score goals. This is the way that I grew up as a player, and as manager this is the philosophy I will try to push the team to do.
You can watch video of Vieira's interview here.
Looks like Sigi Schmid will remain head coach of Seattle Sounders in 2016.
The Seattle Times reports Adrian Hanauer is the new majority owner of the Sounders, with previous majority owner Joe Roth will remain as a minority owner. An update at Sounder at Heart says Hanauer now has a plurality of shares rather than a majority.
Four MLS stadiums made FourFourTwo's list of the 100 greatest soccer stadiums in the world.
The Miami Herald has posted a letter from Tim Leiweke outlining Miami Beckham United's vision for the team and how it will benefit the Little Havana neighborhood where it hopes to build a stadium, the city's school district, to which it will transfer ownership of the stadium, and the city at large.
Miami Herald reports David Beckham met with the superintendent of the Miami-Dade school district on Wednesday. Alberto Carvalho said, "I came away feeling very comfortable about the decency of this guy…He told me this is the one place in the world where he wants to have his name associated with a a soccer team." The report says approval of the plan by the school board "is considered a certainty." Nevertheless, purchase of land from property owners at the proposed stadium site remain an obstacle, with the final hurdle being a referendum on March 15, the same day as the presidential primary in Florida.
San Antonio Business Journal reports, "San Antonio's City Council has cleared the path for a joint city-county purchase of Toyota Field involving Spurs Sports & Entertainment. With a unanimous vote on Thursday, Council members have authorized city staff to negotiate the terms and conditions of a purchase agreement for the soccer stadium with Gordon Hartman and his nonprofit group SOAR (Sports Outdoor and Recreation)." San Antonio Express-News endorses the deal. More at KTSA.
US
The US qualification campaign for the 2018 World Cup begins tonight in St. Louis against St. Vincent and the Grenadines (and, yes, I would buy records from a band with that name). Needless to say, anything from the US other than a right royal a$$ whooping will not be acceptable. Oh, and that the game is being played in a baseball stadium is plainly ridiculous. (Here's an idea: If your city doesn't have a suitable soccer stadium, or an American football stadium that can be used for a World Cup qualifier — without that obnoxious gridiron striping, of course, — your city doesn't get to host the game. Pretty simple, really.) Coverage of the game starts at 6:30 pm at ESPN2, Watch ESPN, UniMas, and Univision Deportes.
ESPN reports Tim Howard will start tonight ahead of Brad Guzan.
Previews and such at PSP, Washington Post, LA Times, Fox Sports, SI, Goal.com (US, SVG), Soccer America, and US Soccer Players.
Here's Landon Donovan's take on what's wrong with the US team:
I think what's probably happened is there's a little too much inconsistency within the team and the players in terms of who's playing. When you come from your club team you play one way and when you come to a national team, it's inevitable that you're going to play a different way based on what the coach thinks or based on other players you're playing with, so you need some semblance of continuity and the ability to get to know the people around you. I think there's just been a little too much mixing and matching of players and positions. Our players are definitely good enough and they know they're good enough but I think they need to be put in positions to succeed and then have some time to jell together.
Donovan also disagrees with the decision to leave Clint Dempsey off the team for the opening round of World Cup qualifiers and says he's starting to get the itch to coach.
MLSsoccer.com and St. Louis Post-Dispatch have reports on Klinsmann's thoughts on national team newcomers Darlington Nagbe and Matt Miazga. More on Nagbe via Eight by Eight at The Guardian.
In an article at ESPN on concerns about Klinsmann's options in identifying and integrating the next generation of young players into the senior team, Taylor Twellman is quoted: "A lot of the players coming through the system lack personality and character on the field. When I call MLS games and just watch these games, I feel like I'm watching a bunch of clones. I feel like the players 21 and under are all the same."
At Yahoo Sports, Leander Schaerlaeckens on why expecting Klinsmann to quickly duplicate the German national team's success with the US team was unrealistic.
ASN reviews the US U-23s loss to Brazil on Wednesday. The teams play again on Sunday (3 pm: FS2, Fox Sports Go, Fox Sports Go).
The Daily Mail reports comments from FIFA's chief medical officer, Jiri Dvorak, on the new US Soccer policy banning headers for players aged ten years and younger:
To our very best knowledge there is currently no true evidence of the negative effect of heading or other sub-concussive blows.
Results from studies on active and former professional football players in relation to brain function are inconclusive.
When comparing recreational and professional football players, there is no doubt that the latter group was and is more exposed to all football activities including heading from early childhood than recreational players.
Fortunately, football does not belong to the high-risk sports for brain and head injuries.
Hmm…"no true evidence" seems a bit, I don't know, off.
CNN talks to former USWNT player Cindy Parlow Cone about how concussions ended her career.
Elsewhere
The World Cup qualifier between Argentina and Brazil that was scheduled to be played on Thursday night was postponed because of heavy rain. It's been rescheduled for today and you can watch it live on beIN Sports and beIN Sports en Español at 7 pm. If you hate America, that is.
For more on this week's upcoming games on TV, online, and on satellite radio, check out the latest Footy on the Telly.
The Press Association reports, "Spain's UEFA vice-president Ángel Villar Llona has been fined 25,000 Swiss francs (£16,000) for failing to cooperate with an investigation into the 2018 World Cup bidding process. Villar Llona, the senior vice-president in UEFA, has also been warned by FIFA's ethics committee but has escaped a ban." More from the AP.
Well known crook Jack Warner denies he had any agreement with the German football federation ahead of the vote for the hosting rights for the 2006 World Cup. Warner said in an email,
Sirs, if I have said it one time I have said it 1000 times and that is that I have no intention of talking or writing to anyone about my 30 year sojourn in the FIFA. Nor do I have any intention of joining the international media circus whose only objective seems to be to demean and to denigrate.
Suffice it to say however that I have never ever had any agreement of any kind with anyone on Germany's hosting of the 2006 WOrld Cup.
Hilarious!