Photo: Paul Rudderow
Who: Philadelphia Union vs Chicago Fire
What: 2015 regular season game
Where: PPL Park
When: Sunday, August 16 at 7 pm
Watch: Fox Sports 1, Fox Deportes, Fox Sports Go, Fox Soccer 2Go
Whistle: Mark Geiger; Linesmen: Matthew Nelson, Danny Thornberry; Fourth Official: Marcos De Oliveira
Philadelphia Union have had some bad performances this season. Columbus. LA.
But even if they execute it poorly, Jim Curtin's men always know the plan. Is the same true about Chicago Fire? After Wednesday's US Open Cup semifinal performance, it is difficult to say.
If Chicago had a gameplan, it was the type of system a rec league captain draws up in the moments before a game when everybody has finally shown up. Get the ball to those two good guys. If they aren't open… kick it up to the Fast Guy. Fast Guy, you go get it. Everyone else, just don't wander too far from where you start.
The Fire were bad. They were real, real bad.
How bad was Chicago?
In fact, they were so ill-prepared that one is forced to wonder if their scouting tape on the Union was secretly replaced with Three Stooges videos and nobody noticed.
From the opening whistle, Cristian Maidana had as much freedom as he has ever found against a MLS opponent. Returned to the middle after making way for Tranquillo Barnetta against Orlando City, Maidana simply sat between Jeff Larentowicz and Joevin Jones waiting for the ball to find him. And it did. Over and over again.
And amazingly, Chicago seemed even less prepared for Philly in the second half, losing any semblance of midfield shape as they sought to move Harry Shipp off the wing and into the game.
Shipp and Maloney have combined for 85 key passes in MLS play this season. The next most creative player on the Fire has only eighteen. Much like the Union when Chaco Maidana is under wraps, Chicago has no recourse when their playmakers disappear. Well, that is not entirely true. They can always go long to David Accam.
Straight to Accam
And they did. As they have for the past month, the Fire relied heavily on Accam to create somethings out of nothings. Chicago had only two key passes from open play, and one was Eric Gehrig's 50-50 header win that fell to Kennedy Igboananike for an ambitious bicycle kick. The other was a frankly terrible ball from Lovel Palmer that bounced off of Accam's midsection, hit off Tranquillo Barnetta's swinging foot, and bounced free for Accam to fire at John McCarthy. Calling it a key pass is, let's say, a stretch.
Notably, the direct-to-Accam route dried up in the second half as the Fire midfield tried to push forward and lost the time granted by sitting so deep (see Accam's hilarious second half passing/shooting chart). But by compressing the field, the Fire did get the previously AWOL Shaun Maloney more involved. Maloney has hardly lived up to his designated player status this season (a critique which could be leveled at, oh, every DP Chicago has signed) but he has generally been productive in a blue collar sense. The question all season has been whether Maloney should be doing more or whether he is simply a man alone, with zero time and even fewer options.
Wednesday's game provided no answers. Maloney's increased involvement — and Shipp moving to a more central role — coincided with no other changes in Chicago's shape. The fullbacks were unable to get forward to take the newly opened space on the wings and Igboananike continued to prove that he's a better ninja than striker.
Fire lineup
It would be difficult for Chicago to be this bad again on Sunday. But they will probably try. Gilberto's injury likely means either Igboananike or the husk of Mike Magee will start up top with the same midfield behind them. Frank Yallop has the option of using Michael Stephens into the middle and sliding the rookie Matt Polster to right back. Polster will struggle to be less effective than Palmer, but Stephens has fallen below the suspended Matt Watson on the depth chart, suggesting Yallop will be loathe to use him on the road.
In short, expect a very similar Fire lineup and a lot of direct play into corners.
Union lineup
The Union have some bigger lineup decisions to make. Vincent Nogueira may be available this weekend, but Jim Curtin is likely to move the midfielder along very slowly so as not to jeopardize his health for the US Open Cup final in a month and a half (also, the Union still have too many international players on the roster, though Curtin said green cards may be in the works for some).
Curtin also needs to find rest for players like Brian Carroll, Sebastien Le Toux, CJ Sapong, Michael Lahoud, and Tranquillo Barnetta. Each player has put in a ton of minutes, including midweek games, and need to be rotated out in order to stay fresh for the stretch run of the season.
Fernando Aristeguieta is a ready-made replacement for Sapong (who Lahoud mentioned after Wednesday's semifinal win had played the game "with a bum knee"), but it is less clear how Le Toux, Carroll, and Lahoud can get breaks.
Carroll and Lahoud have backstopped a pair of shutouts, but Philly has scored only once during those two matches. And though it would be wrong to say that the defensive midfielders do not deserve credit for the Union's improved defense, it is worth pointing out that the shutouts have come against teams with very broken offenses. Go back over Chicago's past four games and you will quickly discover that if they are not earning questionable penalties or playing Accam in behind, they are not generating a lick of offense. Orlando has similarly relied on Cyle Larin's unsustainable strike rate to compete.
Sunday's match will likely provide another opportunity for Zach Pfeffer to earn his spot on the depth chart. It will be interesting to see if Curtin allows Pfeffer a free attacking role or continues to let the 20-year old develop as a box-to-box player. Pushing Pfeffer forward would grant a rest to Maidana (Barnetta should certainly sit as well) and allow Warren Creavalle to step into a deeper midfield role. In other words, it will give the Union a chance to see how strong their bench is as the transfer window closes.
On defense, the only change may be a rest of Maurice Edu, who played at less than 100% on Wednesday. Ethan White may be preferred to Steven Vitoria since, as noted above, Chicago main threats come through deep balls.
Prediction: Union 2-1 Chicago
Philly should make major changes as they seek to rest players going into the last two months of the season. Without much depth, the Union need to take advantage of this opportunity to take their foot off the gas pedal against a bad opponent. Chicago, on the other hand, has little to play for and even less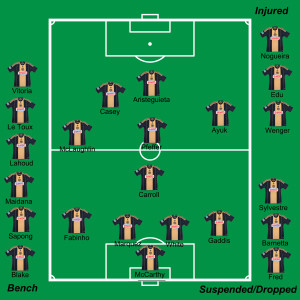 to look at depth-wise. They are likely to continue trying to find a working midfield that allows Maloney and Shipp to find space. Good luck with that.
Is it also possible that the Union will have Andrew Wenger available for selection this weekend? It seems unlikely given Curtin's comments in this week's press conference that the winger is taking longer to recover from his concussion than was hoped. But should he be available, at this point, Jim Curtin should be distributing minutes to players that haven't had the better part of a season to prove their worth. The facts are facts: Wenger has not produced. And no, it is not simply a case of bad luck. Wenger has taken shots at the same rate as Sebastien Le Toux but created far fewer key passes than the French winger. Let him rest; try someone new.
The Union should win on Sunday. But at this point in the season, it is just as important that they avoid major injuries and see what useful parts they have outside of the best eleven. Philly's problem all year has been defense and depth. They will learn little about the defense playing against the broken offense of Chicago.
They can learn plenty about their depth.