Photo: Earl Gardner
Philadelphia Union
After the Union scrimmaged Harrisburg City Islanders on Wednesday morning — winning 1-0 for what it's worth — Jim Curtin held his weekly press conference (full transcript here at PSP).
Perhaps the biggest news to come out of Curtin's remarks was that he "still would lean toward John [McCarthy] being the starter for this week" against Toronto rather than Andre Blake.
Curtin acknowledged recent remarks from Blake that he was "100 percent" ready to start after recovering from knee surgery late in the offseason. "I want every player to say that. I want every player who's not starting to tell me that they're 100%, they're fully fit to play 90 minutes." However, Curtin said Blake had an issue with his knee while training last week — "I don't want to call it a setback, but he felt the knee, it was scary for him" — and that while he's close to be ready to start, he's not there yet.
Had a discussion with Paulo Grillo, our goalkeeping coach, yesterday and he sees what the rest of the staff sees in training, where Dre is getting closer to himself but he's not quite there yet…There's a plan with Andre, and a long term one. So you don't want to throw him into a game now where he might not be ready, something goes wrong and we're going back to John and then confidence in both goalkeepers is at a low. So again, you have to handle it the right way. I know the pressure of the number one pick and the fans and a lot of people want to see him out there. But I still want to do what's right for Andre and what's right for Philadelphia at this moment.
Blake said, "I'm feeling pretty good. Step by step, day by day, I'm feeling much better…But until the coaches think I'm ready, I'm not gonna get in. It doesn't really matter what I think. I'll just make sure I'm ready whenever my number is called."
Curtin reaffirmed there will be lineup changes for the Toronto game. "Obviously, Ayuk was dangerous on the day and gives us a spark. I thought CJ put in a good shift and those are a few guys that are in good form for us right now. And Fernando looks like he'll be back with the group, so that's a change. And then defensively there could be a change or two as well." That Ayuk and Sapong are likely to start on the wings rather than Andrew Wenger and Sebastien Le Toux would seem to be buttressed by the fact that in the Harrisburg scrimmage both played with the Union's second half lineup.
The first half lineup for the scrimmage was Gaddis, Edu, Will Campbell (Union Academy — Not sure if White entered the game later, but Richie Marquez played for HCI for the first half), Williams; Lahoud, Pfeffer; Sapong, Maidana, Ayuk; Casey. Curtin said Vitoria did not train with the team on Wednesday. "He has a little bit of a tight groin. We'll see how it progresses, but we're hopeful that he'll be available."
Curtin did not sound optimistic that Vincent Nogueira was ready to return: "Vincent was running today. Still swollen in the ankle. Was a pretty serious ankle injury. He had an injection — a PRP injection — to try to speed up the recovery process. But it's not ready yet. It'll be very tight for Toronto."
He did sound optimistic that Fernando Aristeguieta would be available would be ready to return from his hamstring injury: "Fernando feels good. Didn't participate today in the game with Harrisburg, but I think he's a probably option for the weekend." We'll see on Saturday if he's ready to start or if Curtin chooses to begin with Conor Casey.
Curtin said a Carroll-Lahoud pairing is "possible," but Carroll is recovering from some hamstring and groin issues he was dealing with in the loss to Columbus. Looking again at the first half lineup in Wednesday's scrimmage, it seems much more likely to expect Pfeffer to replace Carroll for the Toronto game. Curtin said, "We get Zach (Pfeffer) back at home. Unlike last game, I'd like to play a little more offensively in midfield…Zach coming back, he had some life today in the exercise with Harrisburg…Zach is a guy who is still working on the defensive side of the ball. So the eight role is a little bit different for him. But he gives you an option in midfield where he can make a final pass and score you a goal."
Other highlights from the presser:
"If I was to judge our group: Defensively we've been an F as a team. Offensively: I'd still say it's incomplete because Vincent hasn't been consistently out there, Fernando hasn't been consistently in training with the group, Chaco's finally getting back on the field. And Seba and Andrew would tell you their production hasn't been where they hold themselves to standards-wise. So I'd say we're incomplete on the offensive side."
"Possession-wise, we've been a disaster this year in terms of keeping possession, staying calm, moving that extra two yards on the field that creates an angle to play out of a tight spot. And then confidence. Confidence goes a long way in possession. When you have confident players, they want the ball in tight spots. And right now we'd rather shy away from moving the extra yard or two to keep possession."
On building confidence: "The only way you do it is to go through the 90 minutes and come out on top. That's the only way to build confidence. You can talk about seeing a sports psychologist, you can talk about being great doing extra work after training, you can do extra weights, you can eat better, you can do all these things. But until the 90 minutes go by and you come out the end of it and know you put in a good performance, nothing cures it."
"It's too early for must-wins. We need good performances at this stage. We need to be able to look up and look at each other in the locker room after 90 minutes and say, 'We're getting better.' Last game we couldn't do that. Last game we couldn't look at each other. We were disgusted with how we performed. And that's not the way this team is capable of playing. It starts with a good performance. It starts from there. I think to label it a must-win: It's too early. There's too much of the season left. Yes, we're aware that it's creeping up on a third of the way through, but it's too early for must-wins."
More from Curtin's press conference at MLSsoccer.com, Philly.com, Delco Times and Brotherly Game.
At the Toronto FC website, three storylines ahead of Saturday's game and a podcast that includes discussion of the game.
From the Toronto FC website also comes this comic strip: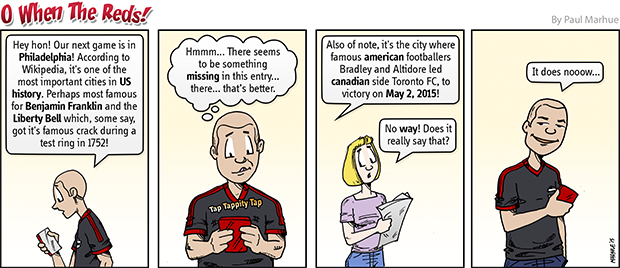 Hahaha. Wiki vandalism and phoning it in. In more ways than one. I guess we should be happy there wasn't a goalkeeper joke.
At Brotherly Game, Jared Young and Eugene Rupinski have a great Q&A with Union assistant coach BJ Callahan and Union Academy director of sports science Garrison Draper on how the team uses analytics. Fascinating stuff.
At American Soccer Analysis, Jared Young's "Pscore" rankings, an attempt to measure statistically how "proactive" a team is in play, has the Union at No. 17 in the league. In March, the Union were ranked at No. 8.
Philadelphia Sports Rants has some suggestions to answer the question of what now for the Union until help hopefully arrives in the summer transfer window.
Local
Ocean City Nor'easters have announced John Loiodice as the head coach of the club's new U-23 team. Loiodice was most recently assistant coach of Rowan University's men's team.
MLS
Former Union man Jack McInerney scored in the 89th minute minute after the Impact had earlier taken a 1-0 lead over Club America in Wednesday night's CONCACAF Champions League final at Montreal's Olympic Stadium. Unfortunately, between those two goals, Dario Benedetto had scored a hat trick, and Oribe Peralta had scored a goal of his own, to give Club America the 4-2 win and the Champions League title (5-3 on aggregate).
McInerney said after the game, "We've done great in this tournament. We played well with our style of play, by counterattacking against these Central American teams. In MLS, it's going to be a little bit different, but we have a skillful team and we're going to see a lot more of the ball. Players grew close when we traveled and we can use that to our advantage for rest of the season."
At Goal.com, Ives Galarcep on how the quest for an MLS team to win the CONCACAF Champions League will remain an uphill battle as long as spending restrictions remain in place in the league.
Recaps at Montreal Impact, Montreal Gazette, The Globe and Mail, MLS Soccer.com, Fox Soccer, SI, USA Today, the Guardian, and Reuters.
In league play, NYRB came from behind to draw 1-1 at home with Colorado and so remain the only undefeated team (3-0-4) in MLS.
The league disciplinary committee has suspended Chicago's Matt Watson, Real Salt Lake's John Stertzer, and Kansas City's Servando Carrasco. Houston, Kansas City, Vancouver, and DC were also found to be in violation of the league's mass confrontation policy.
The Independent Review Committee has overturned the one-game suspension of Houston's Jermaine Taylor for the red card he received in last weekend's 4-4 draw with Kansas City.
This just in from the Department of What's With The Argyle, Kansas City have unveiled a new "a monochromatic white and metallic silver" third kit that will debut this weekend when they host Chicago. I thought MLS third kits were no more?
An editorial at the Orlando Sentinel questions the efforts of some Florida lawmakers to remove authorization for state sales-tax rebates that would mean $30 million in funding for the construction of Orlando City's new stadium.
A "source familiar with discussions" at NYCFC about their stadium plans tells the New York Daily News that Tuesday's New York Times report suggesting the team could build a new stadium at Columbia University's athletic complex is "beyond premature." The source explains, "At the end of the day, there's really nothing going on. There's nothing to discuss because it's not even at the embryonic stage."
LAFC managing partner Henry Nguyen has made it clear the team wants nothing to do with anything associated with Chivas USA, even something good like the Chivas USA Academy.
A bill to fund renovations at the stadium that serves as the home of NASL side Indy Eleven failed to make it out of committee before the end of the legislative session.
US
At the Tournament Delle Nazioni semifinals on Wednesday, the US U-15s defeated Italy 5-4 on penalty kicks to advance to the tournament final where they will face Austria on Friday. Union Academy defender Rayshaun McGann was an unused substitute in Wednesday's game.
The US U-23 team will gather for a camp in England in September during which they will play their England and Qatar counterparts ahead of CONCACAF's Olympic qualification tournament in October. The team will participate in the Toulon Tournament in France at the end of May where they will face France, Netherlands, Costa Rica, and Qatar.
Elsewhere
A report on the FIFA website describes meetings held earlier this week to discuss potential changes to the Laws of the Game, "including proposals to amend Law 3 to allow a fourth substitution and the potential use of video replays to support match officials."
Reuters reports, "Legia Warsaw, expelled from the Champions League qualifiers in August, have lost their appeal against the elimination after sport's highest tribunal rejected their claims that Uefa had been too bureaucratic."
ESPN reports, "Some 100 PSG fans and the Association of Angry Fans against Financial Fair Play have brought a case against UEFA before Paris' High Court, arguing that certain FFP rules prevent investment and go against free competition, thereby maintaining the established elite." The Association of Angry Fans against Financial Fair Play has to be the best organizational name I've heard in ages. Can't help but wonder if in French it spells out some kind of equally funny acronym.
At SI, Jonathan Wilson's "What if" series continues with the 1970 Brazil World Cup team vs. the 1974 Netherland's World Cup team.
The AP reports from Brazil, "A Palmeiras fan has died from head injuries after being attacked by Santos supporters following the teams' match in the final of the Sao Paulo state championship at the weekend."