Photo: Paul Rudderow
Philadelphia Union
Some quick notes from Jim Curtin's weekly press conference on Wednesday (full transcript here at PSP).
Curtin emphasized a point he's made many times: For the Union to be competitive, it needs every player on the field to be performing at their top level. Describing some "hard talks" within the team, Curtin said,
[T]o a man, the majority of the guys would be in agreement that they're not playing to their max potential as individuals. And I think we probably have three or four guys that maybe are hitting that and, like I've told you guys before, we're not elite enough to just go into games and have only three or four guys performing at their best. We have to have the entire group all in it, performing together. Good. Not great. We're going to be in games; if we have 4-5 bad performances we're going to struggle. Again, getting everyone on the same page: Everyone's in it together. Still a tight-knit group and they want to fight. But we've hit the point where the discussion ends and talk is cheap. And we have to move forward now and show it on the field with our actions.
Curtin said of Cristian Maidana,
Chaco, in the course of any game that he plays, he has highs and lows in terms ground covered and fitness-wise. A lot of special players do in that No. 10-type role. They tend to pick their moments. When they get on the ball they're obviously very special. The dirty running isn't his favorite thing to do. He's shown in the past that he can do a defensive job for us and we'll ask him to do that…If you think back to last year, when he had that stretch where he was in form, he was 90 minutes, he was ready to go 90 minutes. So that's what we're looking to get him back to. That's when we're at our best is when he's on the field. That is a certainty.
More from the press conference at Delco Times.
Cristian Maidana on his recent injury: "When I got injured, I knew I was going to miss three to four key games. And we knew we could have won those games. But that's already in the past, so I just have to keep my head high and think about what's coming up next."
Maidana said his goal on Sunday was particularly special because it happened on his daughter's birthday. "It was one of my best goals. I don't have that many goals in my career, but it was one of the best ones. And there are still plenty of weeks left so I can score many more."
Fernando Aristeguieta on adjusting to MLS: "The most difficult thing has been the contact that referees allow. It's hard, because in Venezuela and France the same contact wins you a foul. If you win a foul, you're getting something for the team. Here, you receive more (contact) and don't get anything from it. That's the most difficult thing. But I think it's a good league, it's (offensive minded) and the teams play very vertical and fast." More from Aristeguieta at Union Tally and the Union website.
Curtin described Vincent Nogueira as "a little iffy" for being available to face Columbus on Saturday. "He's nursing an ankle and still pretty swollen. It's… questionable whether he'll be ready. The question always becomes do you want him to push through it and play 60-70 percent and possibly risk losing him for a few more games or do you want him to get this ankle right to where he's the Vincent that we all know. And I think right now I lean towards getting him back to 100 percent before we put him back on the field."
Here's the latest injury report from the league website:
OUT: M Eric Bird (hernia repair recovery, DNP 4/5)
D Fabinho (right heel contusion/fasciitis)
M Vincent Nogueira (right ankle sprain, DNP 4/19, did not train 4/22)
D Raymond Lee (left quad strain)
Massive Report paraphrases Crew head coach Gregg Berhalter's comments about the Union: "Of this weekend's opponent, the Philadelphia Union, Berhalter said they will bring intensity. He said the side's record doesn't indicate how good they are. He said it's a conference game so it will be tough."
Columbus Dispatch on Mohammed Saeid's increasing role on the Crew.
At Brotherly Game, Jared Yong has a thought provoking opinion piece with the eye-catching headline, "I long for the days of John Hackworth." Writing that under Hackworth, "For a brief time the Union were playing beautiful soccer" — albeit "Frustrating soccer in the end" —  Young continues, "Curtin has retrenched and built a counterattacking team that prioritizes defensive shape more than possession. The result is more direct and less attractive football." He concludes, "If a bunker team can't bunker, what is left to be done?"
Also at Brotherly Game, Andrew Stoltzfus takes a glass half empty, glass half full look at the Union over the past three games.
Philadelphia Sports Rants considers the current state of the Union.
The Union-Dogfish Head Brewing Company partnership figures in a look at the connections between MLS teams and local brewers in an article at MarketWatch.
Local
At the Harrisburg City Islanders website, a preview of Friday's road game against Charlotte Independence (formerly Charlotte Eagles).
MLS
Montreal Impact scored a massive road goal at the Azteca against Club America in the first leg of the CONCACAF Champions League final on Wednesday night. Indeed, Montreal was winning the game 1-0 until Club America equalized in the 89th minute in what finished as a 1-1 draw. Former Union man Bakary Soumare played the full 90 while Jack McInerney remained on the bench. There were, shall we say, some bewildering referee decisions in the game. Recaps from MLSsoccer.com, Montreal Impact, CBC Sports, SI, Fox Soccer, Yahoo Sports, The Guardian, Soccer America, Goal.com, SBI, ProSoccerTalk, Reuters, and the AP.
NYCFC forward Tony Taylor is out for the rest of the season after suffering "an anterior cruciate ligament (ACL) rupture with lateral collateral ligament (LCL) damage" in last weekend's home loss to Portland.
Meanwhile, David Villa is likely to miss his second straight game with NYCFC while he recovers from a hamstring injury suffered in the 1-1 draw with the Union last Thursday.
At Fusion, Bobby Warshaw looks at some of the factors that contribute to why it can be so difficult for foreign players to adjust to MLS.
Cuauhtémoc Blanco has retired.
Multiple reports from Florida suggest Orlando City's new stadium plans could be stalling because state lawmakers still have not approved $30 million that was expected to be part of the funding for the stadium. Reports at Orlando Sentinel, WFTV, and the AP.
More on the ongoing funding issues at Vice Sports.
Grant Wahl reports he's "learned" that when Cristiano Ronaldo's contract with Real Madrid expires in 2018, he wants to play inLos Angeles. "It could be the Galaxy or LAFC, and while talks have yet to take place between Ronaldo and any MLS teams, L.A. is Ronaldo's preferred destination. Meanwhile, I'm told it's looking more likely every day that LAFC won't start play until 2018. That means we could see Ronaldo debut for a new team in a new stadium that year." Or, we might not. You know, given that "talks have yet to take place between Ronaldo and any MLS teams," and much can happen in three years.
Don Garber will be participating in a live Q&A on Facebook on Friday.
The Minnesota United stadium funding debate continues on the op ed pages of the Star Tribune. Also at the Star Tribune, more on different funding formulas that have been used in MLS stadium construction.
At US Soccer Players, Jason Davis observes of the influx of TV money into MLS,
There's no guarantee that the TV sports bubble holds…If Major League Soccer's TV revenue does not keep pace with the rate of expansion, many new owners will be holding the bag on franchises not worth what they paid for them. That will have a disastrous effect on the amount of money they'll be willing to spend on soccer. A competition full of underfunded teams is something MLS supposedly left behind.
Money is pouring into a league that still doesn't draw significant television audiences. Major League Soccer's future hinges on what happens first. That disparity resolves itself with big gains in ratings, or the bubble on sports rights fees bursts and the league goes back to getting what it deserves.
Ireland's RTÉ Sport says of TV coverage of MLS, "In many ways the standard of MLS coverage mirrors the standard of play. It would a tad harsh to call it primitive, but there's no doubt it's still second division."
US
The US U-23s defeated Mexico 3-0 on Wednesday night with goals from Mario Rodriguez, Christian Dean, and Jordan Morris who, you will recall, scored his first senior team goal in the 2-0 win over Mexico last week.
Recaps from MLSsoccer.com, LA Times, ESPN, SI, US Soccer Players, Stars and Stripes FC, and SBI.
In a post published at ASN before Wednesday night's game, Brian Sciaretta talks to US U-23 head coach Andi Herzog.
That new USWNT kit
The US first kit for the Women's World Cup was unveiled on Wednesday and it's the black and white one that Nike phoned in was recently leaked. Kudos for making it available in men's sizing (and for the kits being made from recycled water bottles). Other than that, they suck. Should we expect this combination of "fresh inspiration and modern style" to be worn by the US men — albeit minus the two stars above the crest — at the Gold Cup? Probably, don't you think? Even if I hope not?
Alex Morgan said of the kit, "The black and white are different from anything we've ever had before. They're very clean. You know it's not a lot of red, white and blue in the white one because they wanted a clean look. I think it stands out in the fact that it is clean and just simple and I love that." (Clean and simple, you mean like the Centennial kit?)
At CBS Sports, Igor Mello notes the "clean" look seems to end at the socks, which are described as "volt yellow." Mello continues on the "uncharacteristic home uniform,"
With the away kits already several shades of blue, Nike shied away from the traditional red-white-blue scheme for the United States' standard home look.
Instead, the manufacturing company dressed them more like a club team and less like an international team that has won two World Cups (1991, 1999). Sure they look clean with a black stripe down the sides, but check out the volt yellow socks that have nothing do with the American flag, and everything to do with Nike's newest soccer cleats.
Gross.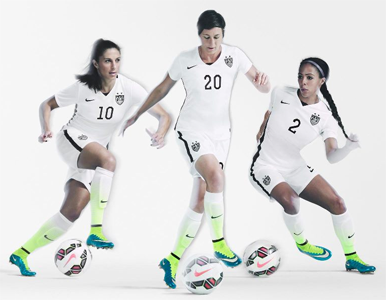 Yep. Stay tuned for the new "clean" black and white version of the US flag from Nike without all that dirty red and blue stuff.
The issue, of course, isn't the "clean" look, it's the absence of any red and or blue to go along with the white kit, not even on the now monochrome crest. Outrage from fans about the absence of red and blue in the new kit prompted this response from Charlie Brooks, Nike's vice president of North America communications:
Not every team pays homage to the flag. Take Germany's kit for example, world champions. The German flag is yellow, red and black. The kit is white with black trim on it. I understand people asking about the colors, but there's also that level of not all national teams have to represent the flag.
"Take Germany's kit for example"? You already have, Nike. As for the rest of PR flack's comments? I call bulls!t.
Oh, and the associated warm-up gear that was also released sucks, too. Grey, black, and volt yellow? Ridiculous.
More on the latest Nike abomination new jerseys at USA Today, SI, and Fusion, .
Speaking of new jerseys, looks like local lass Carli Lloyd may captain the US at the Women's World Cup.
Elsewhere
FIFA General Secretary Jerome Valcke on handing the broadcasting rights for the 2026 World Cup to Fox without bidding: "We have done nothing wrong. The deal is good for FIFA, the deal is good for Fox. That's the most important part, and we have done everything which is in line with international standards." Yes, the deal is good for FIFA and for Fox. That is the most important thing.
The AP reports, "UEFA has published Champions League regulations for next season confirming a seeding change to reward national league winners. Top-seeded teams in eight groups will be the defending Champions League winner plus titleholders in the seven highest-ranked countries."
Reuters reports, "Greece's Football Federation (EPO) could be suspended from international football over government interference should a proposed new sports law be voted in, FIFA and UEFA have warned."
The draw for the 2015 Pan American Games in Toronto is taking place (although the press release that I saw doesn't say when). In case you're wondering, the men's soccer tournament will feature U-22 teams from North and South America, while the women's tournament will have no age restrictions.