Photo: Daniel Studio
Philadelphia Union
A Union depleted by injuries and suspensions are on the road this weekend to Kansas City in search of their first win of 2015 (Sunday at 7 pm: Fox Sports 1, Fox Deportes, Fox Sports Go). The latest injury report from the league notes:
OUT: M Cristian Maidana (left MCL sprain, DNP 3/29, did not train 4/1)
OUT: M Eric Bird (hernia repair recovery)
OUT: D Sheanon Williams (right hamstring strain)
OUT: F Conor Casey (right low ab strain)
QUESTIONABLE: F C.J. Sapong (concussion, fractured cheekbone)
As of Wednesday, Steven Vittoria was away from the team to be with his wife as the couple's second child was about to be born. Jim Curtin said in his weekly press conference the "hope" was that Vittoria would be back in time for the KC game. Zach Pfeffer and Fred are both suspended for Sunday's game.
If you haven't done so, checkout Adam Cann's excellent preview here at PSP. More previews at MLSsoccer.com and Brotherly Game.
At the Sporting KC website, a "by the numbers" look at the history between the two teams.
The Inquirer and MLSGB on the Union's hopes to turn things around in April.
In a ranking of the "proactivity" of MLS teams at American Soccer Analysis, the Union come in at No. 8.
Former Union man Freddy Adu was officially unveiled to the press on Thursday by his new club, Finland's Kupion Palloseura. Adu says returning to the USMNT is "a goal" and that he still hasn't been paid by his last club, Serbian side FK Jagodina, where he made one appearance as a substitute during a six-month spell with the team.
Union Academy
The Union Academy U-16s were scheduled to play Aspire Academy (Qatar) in a Generation adidas Cup placement game on Thursday but, as of this writing, no score has been posted on the tournament webpage at MLSsoccer.com, nor has a result been tweeted from the Academy Twitter account. Before Thursday's scheduled game, the Union had finished third in Group C of the Champions Division with a 1-2 record.
Local
Harrisburg City Islanders are on the road again as they look to bounce back from last weekend's season opening 5-2 loss in Pittsburgh. The team faces South Carolina's Charleston Battery on Saturday at 7:30 pm (YouTube).
Harrisburg have released defender Coady Andrews, who had been with the team the last two seasons. Head coach Bill Becher said, "We tried to bring Coady back this season, but due to personal reasons he needed to be closer to home. We wish him nothing but the best."
Harrisburg have signed former Lehigh University goalkeeper Ciaran Nugent. More at the Lehigh Athletics website.
Former Ocean City Nor'easter goalkeeper Keasel Broome has signed with New York Cosmos.
Junior Lone Star are traveling to Puerto Rico for four games, April 7-13, including a game against the Puerto Rico national team, as they prepare for the start of the NPSL season.
MLS
Seattle Sounders have waived forward Kenny Cooper and reports indicate interest from Montreal. He would surely be a fine addition to the Union but his 2014 salary of $265,625 is no doubt prohibitive.
Sounders general manager Garth Lagerwey said of Cooper, "Would I have loved to trade a player rather than waive him and get nothing for him? Yes, I would prefer to trade him. But there was not a market we were able to explore. … Guys with big [salary] numbers are a little bit more challenging to move in the short term."
Columbus have re-signed goalkeeper Steve Clark to a new contract.
Rafael van der Vaart has confirmed he is leaving Hamburg at the end of the season. Asked of his future plans, van der Vaart said, "Everything's open at the moment, but I can imagine playing in America. I want to keep playing at a good level for a few years."
US
The USWNT plays New Zealand in St. Louis on Saturday in a friendly (4 pm: Fox Sports 1, Fox Sports Go). Some 32,000 tickets have been sold for the game so far, the first of four games for the USWNT before the start of the 2015 Women's World Cup.
At SI, USWNT head coach Jill Ellis talks about her roster. More on the roster, which Ellis wants to trim to 23 before players return to their club teams to prepare for the NWSL season, at Soccer America.
Hope Solo said of her recent suspension, "I think the 30-day suspension was probably really good for me. I took time to myself, I did things I needed to do, I dealt with some issues I needed to deal with…It's been very healing. It was a really healing 30 days, and not just those 30 days, but since then. It's not like I did something in 30 days and stopped.
Abby Wambach says it's "highly unlikely" she'll play at the 2019 Women's World Cup: "My body is slowing down and it's time for the next generation to pick up where I leave off and hopefully they can keep the tradition and standard set very high." Many would say it's well past time for the next generation to take over the team.
ASN talks to USWNT defender Julie Johnston.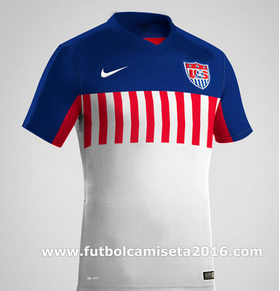 At SI, Brian Straus on key developments from the USMNT's March friendlies.
At Goal.com, Ives Galarcep includes former Union man Amobi Okugo on a list of five MLS players who are playing their way into a USMNT call-up: "The former Philadelphia Union midfielder might be flying under the radar, but he has been the glue holding the Orlando City midfield together through a promising first month in existence. Okugo is fifth in MLS in passes completed (182) and boasts the highest passing percentage in the league (89.22) among players in the top 30 in total passes." SMH.
The US defeated Jamaica 7-2 on Thursday to advance to the semifinals of the CONCACAF beach soccer championship.
Images of a new US first kit are making the rounds. If the kit, of which presumably counterfeit copies can be bought for less than $17, is in fact the new first kit, it is yet more evidence that Nike needs to fire its design staff. Hopefully it's just a late April Fools' joke.
The latest Soccer History USA podcast is now available and looks at the origins and founding of the AMerican Soccer League, the first major professional league in the US, in 1921.
Elsewhere
Reuters reports, "Morocco can play in the 2017 Africa Cup of Nations qualifiers after the court of arbitration for sport (CAS) upheld 'in large part' their appeal against Confederation of African Football (CAF) sanctions." You will recall that CAF banned Morocco from participating in the next two editions of the Africa Cup of Nations after it withdrew from hosting the 2015 tournament finals because of fears of Ebola. More at the AP.
ESPN reports, "Spanish police have arrested and charged a 17-year-old who wrote on Twitter that he was preparing to bomb this season's Copa del Rey final."
Checkout the latest Footy on the Telly for listings of live soccer on TV, online, and on satellite radio for the upcoming week.