Photo: Daniel Gajdamowicz
Last Saturday, difficult circumstances prevailed when Philadelphia Union ultimately conceded twice to an excellent FC Dallas side. It was an ugly game that saw an early injury to Sheanon Williams, an unfortunate red card to Zach Pfeffer, and a soft opening goal served up by Fabinho.
Despite such grim moments, the Union actually played a fairly decent game on the defensive side of the ball.

With the exception of Fabinho's ultimately fatal error, the Union did a reasonable job of containing the Dallas attack through the efforts of Maurice Edu and Vincent Noguiera, along with Steven Vitoria and Ethan White. These four members of the central spine combined to close down the attacking space and win a great deal of balls played both through the air and on the ground in the defensive third.
The main source of concern was the continued struggle to mark along the wings, which was especially difficult given Sheanon Williams' injury and the subsequent shuffling along the back line. Andrew Wenger did well to track back and mark when he was paired with Ray Gaddis, but struggled in his partnership with Fabinho. After struggling throughout the game, the paring ultimately miscommunicated a vital mark which led to FC Dallas's second goal.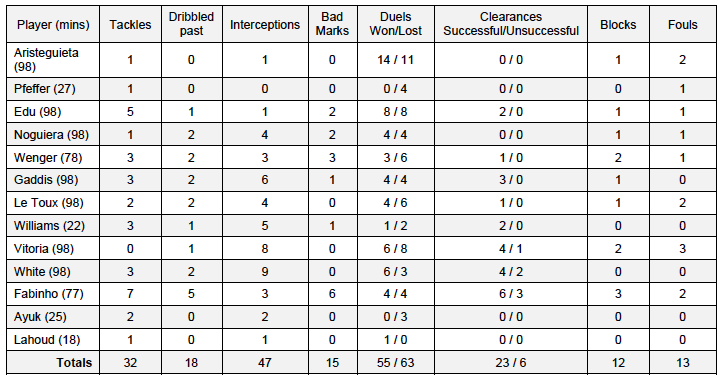 Before his injury, Sheanon Williams had his own struggles with Fabian Castillo's pace. But he adapted quickly to playing conservative, positionally disciplined defense which greatly helped in containing Castillo along with the rest of FC Dallas's attack. He did so to the tune of 3 tackles, 5 interceptions, and 2 clearances, all in a span of only 22 minutes. It was a shame that he saw his day cut short by hamstring tightness.
His early departure was unfortunate in two ways: it took him off the field, and it put Fabinho on it. In the first article I wrote for PSP, I noted that the Union allowed .63 more goals per game with Fabinho on the field, and he continued to show why.
If you were to look at Fabinho's stats, you'd be amazed to see that he completed 7 tackles, 3 interceptions, 6 successful clearances, and 3 blocks. Unfortunately, he accomplished these actions while getting dribbled past 5 times, unsuccessfully clearing the ball 3 times, and losing his mark or keeping his teammates' marks onside 6 times.
For an explanation of this bizarrely stuffed stat sheet, one only needs to look at the all or nothing manner in which Fabinho plays defense. He is eager to step up in order to maintain pressure and pick off passes, and either looks absolutely brilliant or gets left in his opponent's wake. The poor clearance that gifted the opening goal was his worst mistake, but it certainly wasn't his only one. The true shame of his play is that he really does have the physical gifts to be a decent fullback, but the enigmatic way in which he plays the game leaves fans in an uneasy mixture of amazement and dismay.
After a rough game against RSL, the Union center back duo of Ethan White and Steven Vitoria had a greatly improved outing. The pairing combined for three tackles, seventeen interceptions and eight clearances while they were forced into a series of difficult counterattacking situations. I still wouldn't be entirely confident in their ability to defend one-on-one against elite MLS speedsters such as Castillo, but they were much more solid in their positioning along the passing and shooting lanes. Both still need to work on their distribution out of the back, but this was by far their best game of 2015.
Maurice Edu also deserves a ton of credit, especially since he had to play further forward with his team down a man. His 5 tackles and 8 successful duels represented a tireless work ethic that he showed all game, all while contributing on the offensive side of the ball as well. We'd hope that he doesn't have to do quite so much in a full strength side, but his performance and intensity definitely bode well for the future.
Goalkeeping
Rais Mbolhi's day can be described as up and down. He showed an excellent command of his box in completing 8 interceptions of various crosses and through balls, and made great strides in his rebound control since last week.

While he did handle crosses and through balls very well, Mbolhi showed some signs of struggle with the ball at his feet. It's definitely something to keep an eye on as he heads out to face his old nemesis, Chicago.
His day will ultimately be remembered for his indecision on the first goal. To be fair, it was an extremely difficult circumstance to be put into, but he likely could have reached the ball if he was further up his line, and the resulting shot wasn't necessarily an easy save, but it was definitely a shot that he'd like back.