New CBA
What a difference 12 hours makes.
On Wednesday morning, it was easy to believe that the 2015 season opening would be delayed by a work stoppage, whether in the form of a strike or a lockout. Come Wednesday evening, and it was, as Nick Sakiewicz put it, "game on!"
Following multiple reports on social media that began to emerge shortly before 7:30 pm, MLS and the MLS Players Union confirmed in a joint statement released just before 9:30 pm that an agreement had been reached.
At Goal.com, Ives Galarcep reported the players union "had agreed in principle to a new CBA" with a 12-7 vote. "Sources confirmed to Goal USA that players from New York City FC, the New York Red Bulls, FC Dallas, Colorado Rapids, Sporting Kansas City, Montreal Impact and Real Salt Lake voted to reject the league's last offer and strike." Galarcep added, "one of the 12 votes in favor of accepting the new deal was cast by a team player representative whose teammates actually wanted to strike."
Speaking on ESPN SportCenter after the announcement, league commissioner Don Garber said of the lead up to the deal, "I think anytime you have labor negotiations between players and management, there's so many different issues; everybody's trying to ensure you can create an agreement that allows everybody to feel good. In this case, the players feel good: They've got more movement than they've had before –more than we probably thought we would provide when this league was launched. They'll be making more money and have more benefits, and our owners will have stability, we'll have a system that continues to allow them to invest very smartly, and strategically, so we can continue to try to build this league into one of the great soccer leagues in the world.
Orlando City player rep Tally Hall said, "When you take a step back and look at the deal we have, a free agency system in place that other leagues in North America had to have several work stoppages…and we get something in place without a work stoppage and I think it changes the dynamic of the league."
Nevertheless, reports quickly — and, one should say, unsurprisingly — emerged of dissatisfaction among some players with the new CBA, at least among anonymous player sources. One unnamed player told SI, "Players are disappointed and upset with the union reps and [MLS Players Union executive director] Bob Foose. Not only did this deal destroy the future of the American player, it barely helps the current group of players." (If you think "this deal destroy[s] the future of the American player" is a bit over the top, you're probably not alone.)
ASN says "several" unidentified players echoed disappointment in Foose's leadership.
Goal.com quotes an unnamed "veteran" player as calling the deal "An absolute disgrace." The unnamed player said further, "We have been talking about this for over a year, staying united and this what we came up with? We caved in under pressure…This is why our league is still considered a second-tier league…We are not going to be competing with European leagues with this new CBA. We are going to be competing with the NASL."
The full details of the new CBA are supposed to be released later today, but here's a summary of what has been reported so far:
free agency for players 28 years of age or older, with at least eight years experience
salary increases for such players ranging from 15-25 percent depending on the player's existing salary
an increase in the league minimum salary from $36,500 to $60,000 per year, a 64 percent increase
an undisclosed increase in the salary cap, which currently stands at $3.1 million (reports suggested a 7 percent increase, which would equal $217,000. ESPN's Jeff Carlisle tweeted on Thursday morning that the increase would be yearly.)
a five-year term for the new CBA
Soccer America notes of the free agency requirement, "Of the 220 players Soccer America projects to start on the opening weekend of play, just 29 players or 13 percent would qualify for free agency if they were out of contract."
While questions remain about the full details of the new deal, you can see some earlier assessments given what has been reported at PSP, ESPN, Soccer America, Deadspin, and Brotherly Game.
More reports on the new CBA from FMCS, Orlando Sentinel, ESPN, LA Times, Kansas City Star, Chicago Sun-Times, Columbus Dispatch, ASN, Goal.com, Fox Sports, ProSoccerTalk, SBI, Bloomberg, the Guardian, BBC, Sky Sports, Toronto Sun, SportsNet.ca, the Canadian Press, the Sports Network, Reuters, and the AP.
At World Soccer Talk, Kartik Krishnaiyer explains how "[t]he ultimate loser in the MLS CBA agreement is likely to be the ambitious North American Soccer League":
The newly agreed upon CBA takes the minimum MLS player salaries away from the levels where NASL teams can poach guys from MLS clubs. This almost completely undercuts NASL's ability to compete for mid and lower level MLS players. The new CBA also ensures that players in MLS can move within the league after a certain period of time. NASL clubs have benefited directly from signing veteran MLS players with mid-level salaries, whose rights were held by a club they did not want to play for…While Tampa Bay, New York and also Minnesota can continue to compete with MLS clubs for players, this CBA probably prices the rest of NASL out of competing for legitimate first division players.
Had a work stoppage happened, the Independent Supporters Council of North America was calling on supporters groups "to show up at their stadium this weekend, just as they would if games would be played. Whether you normally tailgate, march to the match, or gather at a local establishment, our presence at every MLS stadium in the league will send a strong message of support for the players and demonstrate to owners lost revenue."
Philadelphia Union
After the announcement of the new CBA deal, PSP, Philly.com, CSN Philly, Union Tally, and Philly Soccer News.
Given how the Union finished out the preseason, it seems pretty likely that the Union backline will be Ray Gaddis, Steven Vitoria, Ethan White, and Sheanon Williams. At the Delco Times, Jim Curtin tells Matthew De George, "I'm a guy who (thinks) consistency along the backline is a necessity. Obviously you're going to have maybe an injury or two during the year, but playing with the same four guys, that's a huge thing. Keeping zeroes will get us points, so we know that." Curtin is also happy with how much more vocal on the field the backline is.
Ethan White says of partnering with Vitoria, ""I usually like to be paired with a guy that's dominant in the air, and I like to be the one that covers a lot of ground. think it suits both of us pretty well…Obviously it's going to grow as the season goes on but so far it's been great. He likes to communicate. I like to communicate. The chemistry is going to build some more but we have a good starting point."
At Philly.com, Jonathan Tannenwald has a fine read about Jim Curtin and his path to being the Union's head coach.
Brotherly Game looks at the Union's depth at attacking mid.
In an Eastern Conference preview at ESPN, Doug McIntyre has the Union on the playoff bubble along with NYRB, NYCFC, Toronto, and Orlando.
The Philadelphia Union narrowly missed out on the second season in 2014. Had there been a sixth spot, the team would've qualified. So expect Jim Curtin's largely unchanged team to be right in the mix once again, especially if new strikers Fernando Aristeguieta and C.J. Sapong develop chemistry up top.
(Also at ESPN, Jeff Carlisle has a look at the Western Conference.)
Soccer America's Ridge Mahoney predicts a 9th place finish for the Union: "Philly is putting a lot of faith in loanees." At the Orlando Sentinel, Paul Tenorio predicts the Union will finish last in the East.
A season preview from the Sports Network.
At Goal.com, former Union man Amobi Okugo shares his take on the Union:
They never really made that next step to try to get me to stay, but that's their plan. I can't hold that against them and I'm in a better situation with Orlando, so it worked out for both parties. There are no ill feelings…
I just feel like Philly as an organization, they don't really stick to one thing. When we first started out, we built around Seba Le Toux, Danny Mwanga, Danny Califf. The next thing you know, they're gone.
We were successful in our second year, with the stingy defense and a solid team — then we got rid of that team. Then we built through the youth: myself, Jack [McInerney], Zac [MacMath], Michael [Farfan], Sheanon [Williams]. We had a good group. Now how many guys are there from that list of names?
Local
Rutgers University-Camden has named David Hodgson as the new head coach of it's women's team.
MLS
In CONCACAF Champions League play, DC United defeated Costa Rican side Alajuelense, 2-1, but are eliminated from the tournament on aggregate after losing the first leg on the road, 5-2.
At Soccer Gods, Ryan Rosenblatt lays out all that is wrong with the CONCACAF Champions League. "Everything the CONCACAF Champions League could be, should be, might be, it isn't. Instead, it's a taxing, costly, irrelevant tournament that isn't serving anyone. And it's time for MLS to get out." Most of the time, aren't MLS teams are just happy to get out of the group stage? Hey – oh!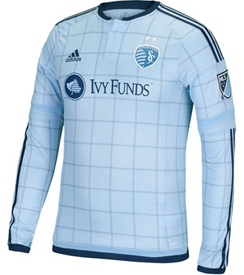 Sporting Kansas City will be sporting a new first kit this season. Even with the Henley collar (I'm a big fan, ask anyone), it's terrible. Unless it's an homage to my pajamas. What's that? The "'window pane' design with the hash lines" is "inspired by the Kansas-Missouri state line as with recent jerseys"? No, it's still terrible.
The AP reports,"The Miami-Dade County Commission has agreed to offer soccer star David Beckham a site near Marlins Park for a Major League Soccer stadium."
Reuters reports, "Soccer may be a hot commodity in the US sport market but poses no threat to the NFL, which will remain King of the Hill for the foreseeable future, Fox Sports president Eric Shanks said on Wednesday." Shanks goes on to provide a remarkably misinformed description of the soccer in the US in 1983, "the year of the Cosmos and Pele and Beckenbauer." While the Cosmos had the best regular season record that year, Tulsa Roughnecks won the Soccer Bowl, with Toronto Blizzard the runner up. Pele left the Cosmos six years before in 1977, Beckenbauer left the team in 1980.
US
After going down 1-0 in the first half, the USWNT defeated Norway, 2-1, in their opening game at the Algarve Cup in Portugal courtesy of a second half brace from Delran's Carli Lloyd.
Lloyd said after the win, "I hate losing."
More on the win from Fox Sports, SI (1), SI (2), SBI, ProSoccerTalk, and the AP.
Hope Solo was in goal for the US for the first time since her recent suspension from the team. The Kirkland Reporter reports, "The city of Kirkland has filed an appeal with King County Superior Court after a Kirkland Municipal Court judge dismissed domestic assault charges against U.S. women's soccer team player and Kirkland resident Hope Solo." Kirkland.
The US faces Guatemala today in CONCACAF U-17 Championship group play (6 pm: Fox Sports 2, Univision Deportes, Fox Sports Go, Fox Soccer 2Go). Having already defeated Cuba (5-0) and Trinidad and Tobago (2-0), the first place US team will face Honduras and Jamaica after today's game.