Photo: Earl Gardner
On Wednesday, Jim Curtin said that Zach Pfeffer is seriously challenging Cristian Maidana for the creative role in the Philadelphia midfield. Pfeffer is a huge talent. And on a team that was wore down chasing a US Open Cup and a playoff berth, he should have received his first dose of regular playing time last season.
But if Cristian Maidana is healthy, Cristian Maidana should play.
It would be easy to dismiss Maidana as simply a good playmaker. But by almost any measure he was more than that in 2014: He was elite.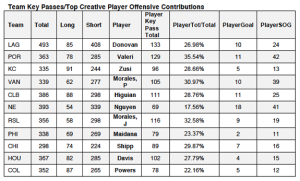 Only 14 players in MLS averaged over three key passes per 90 minutes in 2014. Maidana is in that group, along with a who's who of buzzed-about MLS talent. Above Maidana are Brad Davis, Landon Donovan, Diego Valeri, Graham Zusi, Federico Higuain, and Javier Morales. Pedro Morales and Fabian Espindola round out the top ten.
Removing corner kicks from the equation narrows the list of players averaging three or more key passes per 90 minutes to eight. And the seven players above Maidana are the creme de la creme of the MLS creative crop: Donovan, Valeri, Javy Morales, Davis, Higuain, and Pedro Morales. And then Maidana. The numbers are similar controlling for corners and free kicks (all dead ball situations), with Zusi sneaking above Maidana, but the rest of the leaderboard remaining the same.
Any way you spin it, Maidana was creating chances last season at a rate that rivalled the most revered playmakers in the league.
Which leads to the question: Why would Philly consider Maidana anything but a nailed-on starter?
There are two-and-a-half possible answers.
Short shifts
The biggest issues for Maidana in 2014 were health and fitness. The Argentine's fitness record looks like a textbook example of why the MLS summer schedule is so brutal. Maidana played more than 80 minutes in more than two consecutive games twice all season. His longest streak of 80-plus was five, though that number is a bit deceiving: The first two came before the World Cup break, and the last three followed it.
The Union's primary playmaker, then, gave them 80 or more minutes in only 13 of his 23 starts. That's a paltry 43 percent. And it means that only two-thirds of Philly's league matches saw Maidana in the starting eleven, and only 38 percent  of games saw him on the pitch for any of the final ten minutes. That is a lot of absenteeism to build around.
Maidana is surrounded by less illustrious company in this realm. While Landon Donovan went at least 80 minutes in every match he started for the Galaxy, the Morales' are actually more damning comparisons. Vancouver's stud maestro Pedro Morales — older than Maidana by nearly two years — went at least 80 minutes in 85 percent of the matches he started. The ageless Javier Morales lasted at least 80 minutes in 90 percent of the matches he started for Real Salt Lake. Portland's Diego Valeri: 80 minutes or more 85 percent of the time.
The two players who shared Maidana's lack of stamina yet also managed to make significant creative contributions are Stefan Ishizaki and Gaston Fernandez. Ishizaki lasted at least 80 minutes in about 55 percent of his starts while contributing 2.56 non-corner key passes per 90 minutes. Fernandez went at least 80 minutes in 53 percent of starts and gave the Timbers 2.27 non-corner key passes per 90. Maidana's 3.00 non-corner key passes/90 compares favorably to both Ishizaki and Fernandez, but context raises red flags.
Ishizaki and Fernandez were key players on their respective teams, but neither was a primary playmaker. Ishizaki's numbers pale in comparison to Landon Donovan's, and Fernandez played a similar second fiddle to Diego Valeri. Maidana, on the other hand, was clearly the creative hub for Philadelphia, with Vincent Nogueira the only other Union player in the top fifty key passers in MLS (the Galaxy feature six players; Portland four).
Maidana's creative instincts are elite, but whether it was fitness, a confluence of unlucky injuries, or coaches deciding that the team's most potent creative force was a late-game luxury, the Argentine raised questions about his ability to be a foundational player by logging under 2000 minutes in his first MLS season.
A playmaker only
Maidana's second issue is that he is not primarily a playmaker, he is only a playmaker.
Although Maidana profiles as an elite creative force, he does not threaten the net nearly as much as his comparable playmaking brethren. Valeri, Pedro Morales, and Higuain all notched double-digits in goals while putting an average of 35 shots on target between them. Maidana's numbers look a lot more like Graham Zusi (5 goals; 13 SOG), Brad Davis, (4; 15) and Dillon Powers of Colorado (5; 12). Zusi, of course, had a wide role setting up one of the best strikers in MLS last season while Davis and Powers played further from goal than Maidana and may be more comparable to Vincent Nogueira (2; 14).
Is it too demanding to ask that a top class playmaker also contribute more directly to the goals total? Not in the Union's system. With attackers pushed high and wide on each wing, Philly should be spreading the defensive midfield out and creating confusion on the counterattack. A well-timed late run should be able to find the time and space to threaten the goal.
Maidana was instrumental in formulating many of the Union's best counterattacks last season. But when he was not placing the pass that released the break, he struggled to find the right runs following up the play. The attacking midfielder in a 4-3-3 needs to be a threat from the central area on top of the box in order to draw out central defenders and, ideally, take some small measure of the scoring burden of the front three.
Yes, it is a lot to ask. But it is also the nature of the position, and it is the next step that the Union will need Maidana to take if the club is going to finish above the red line in 2015.
…and a half
The half-reason is one of those curious dilemmas that arise whenever eleven players with various tendencies and habits are pushed onto a field together and asked to play soccer: Sometimes everyone complements everyone else. And sometimes two guys want to be in the same spot on the pitch. This can be a big problem, but it doesn't have to be.
The Union stumbled onto two very good midfield players who are extremely adept at sneaking out of the tumultuous central areas of the pitch and finding space near the wings. Nogueira and Maidana both thrive in escaping to the fringes of the pitch to find the time needed to play balls into space for Philly's speedy wing attackers. It would be difficult to argue that Nogueira and Maidana stepped on each other's toes. As the season progressed, Maidana actually showed an incredible intuition for how teams were defending and where that would open space. Early in the year, he drifted right. But in Jim Curtin's system, he tended to find more space on the left, where Andrew Wenger would push extremely high and pin back his defender.
Thus, Maidana's tendency to split wide, while adaptive and modern, may not be an ideal fit for a Union side that already clogs up the wings. This is hardly an indictment of Maidana as much as it is possibly the best argument for Zach Pfeffer.
Pfeffer is much more of a central playmaker who can trail plays and finish them off. He will not create at the same elite rate as Maidana, but he will offer balance to a midfield that could look deserted when Nogueira and Maidana crept wide.
Yet, the half reason is just that. It is not an overpowering argument, nor should it even give the coaching staff pause. If Zach Pfeffer is going to be in the first eleven, the Union will have to adjust to fit him in the same lineup as Cristian Maidana most nights. While Maidana may not have spent nearly enough time on the pitch in 2014, he used his 1,889 minutes well.
And the Union need him to break 2,000 if they want to play more than 34 games in 2015.