Photo: Courtesy of Ojogo
Philadelphia Union
It took longer than most fans would've liked (thanks to Valdes Saga, Part 43), and it isn't an outright purchase, but the Union did a nice bit of business on Monday with the acquisition of center back Steven Vitoria on a one year loan with the option to buy from Benfica. The visible troubles in the Union central defence through much of Saturday's preseason loss to Jacksonville only made the news a little sweeter.
After the Vitoria announcement, Vancouver Whitecaps made an announcement of their own: They had "acquired allocation money from Philadelphia Union in exchange for right of first refusal" for the defender. The amount of allocation money has not been disclosed.
As Section E of the league roster rules on discovery signings explains, while discovery claims "expire following each season," they also sometimes do not: "If the League and player are unable to reach an agreement during the season, the club that first filed the discovery retains the right of first refusal in the event the player is later signed by the League." And so, because Vancouver made a bona fide offer for Vitoria last season, they retained right of first refusal when the Union made an offer that Vitoria accepted.
Jonathan Tannenwald has a good breakdown of the league rules at Philly.com.
At their practice facility in Clearwater today, the Union will scrimmage against Tampa Bay Rowdies. Unfortunately, the scrimmage, which kicks off at 6 pm, will not be streamed.
At Delco Times, Matthew De George notes, "Vitoria is with the team in the training camp in Clearwater, Fla., and could be available as soon as Tuesday's exhibition game with NASL side Tampa Bay Rowdies."
The latest Daily Doop says Vitoria was partnered with Ethan White during training on Monday when the team was playing 8v8. It will be very interesting to see who his partner is on opening day.
Reports on the Vitoria announcement from PSP, Philadelphia Union, Philly.com, Delco Times, CSN Philly, Philly Soccer News, Brotherly Game, Playing for 90, MLSsoccer.com, Goal.com, and the Sports Network.
The Union has a new "Mic'd Up" video. This time, Jim Curtin, Danny Cruz, and Ethan White are wired for sound. I love this sort of thing:
Columbus Crew waived former Reading United left back Ben Sweat on Monday. Having acquired Chris Klute from Colorado in a SuperDraft trade, Crew head coach Greg Berhalter said of Sweat, who was drafted in 2014, "The major point is that … we didn't want to stop his development …We wanted him to be able to compete and play games and we didn't feel like we'd put him in a situation like that this year, so for his development it was best to move him along." A left back development project for the Union, perhaps? Anyone?
At World Soccer Talk, Paolo Kolnay has devised popularity ranking of MLS teams based on Google search information over the last three years. Noting that "Total searches are likely to be, in general, also correlated with the size of the team's fan base," Kolnay has the Union ranked at 13th in the league. Kolnay also notes, "The popularity rankings are generally reasonably correlated with each franchise's overall value as estimated by Forbes Magazine."
Local
Harrisburg City Islanders have unveiled a new logo to mark the 12th anniversary of the club. It is unclear from the announcement on the club website if the logo will be used on kits to replace the team's existing "crest" with the palm tree, the one that is, you know, not very good.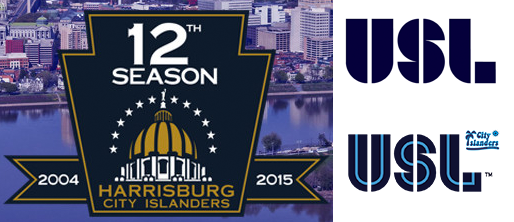 Soon after the announcement from Harrisburg, came a league announcement: "Starting today USL PRO will compete simply as the USL. We have reached a point in our evolution where we can confidently call ourselves United."
With the announcement of the name-change came a redesign of the league website and a new logo. Following the lead of MLS, the logo can branded with the colors of each team in the league. The announcement from the league says, "The new logo is not a corporate logo: it is a tribal mark, something to be taken to the heart of each club's community, personalized and worn with pride. This new design system will be explored and developed by our clubs and their fans from this season on." All of which is good.
The announcement is unsurprisingly filled with the kind of breathless PR-speak that is par for the course with this sort of thing, even if the overblown language tends melt the brain of most people. Given all the talk in the announcement of the need to "pioneer a pathway into the future game across North America," and "the dawn of a new era,"  I do find it interesting that the logo looks like it was designed in 1973. Anyway, it's certainly an improvement over the old logo.
MLS
Comments from Brad Evans, one of Seattle's MLS Players Union reps, underscores the importance of free agency in the current CBA negotiations — and the players' willingness to strike in order to achieve it:
I think at this point a strike is imminent if we don't get what we want. And that's kind of where we stand. If that's what it takes, that's what it takes. But we all have to be smart about it and we've all got to look at the repercussions, but we've got to know that a lot of players have built this league and feel they should be rewarded with some sort of movement where they play.
Right now we're far off from where we want to be. It's going to take some fighting. It's going to take some grittiness. It's going to take everyone staying together, but at the end of the day I hope we can get something resolved…
We feel we deserve it now. We feel we've put in another five years of growing this league and especially those that have played in the league for 10 years. We think we should be able to choose where we go. We don't want astronomical prices. We understand the economics of it. We've had a phenomenal economics team look at where the league stands, where we stand as players, and we want what is fair for everybody.
At ProSoccerTalk, some interesting comments from Geoff Cameron on the CBA and his experience with the last CBA negotiations before heading to England.
Sporting Kansas City defeated Tucson FC, 4-2, in their final match at the Desert Friendlies preseason tournament on Monday.
New England Revolution have confirmed that Jermaine Jones will undergo surgery for a sports hernia today. On Monday, Jones announced via Instagram that he would be having surgery, but did not say what the surgery was for. He did say he'll "be out for a couple weeks," but it is unclear if he'll be available for the start of the season.
Eddie Johnson is dealing with what Steven Goff reports at the Washington Post is "a medical issue believed to be related to a heart condition." DC United head coach Ben Olsen told Goff,
My concern is for Eddie, his well being. It's not about us at this point. We just have to wait and see what the news is when he goes and gets that last appointment, and then we will deal with it from there. If he is good to go, great, we'll work him back into fitness. If not, he will have to go a different road…
Goff says, "Even in a best-case scenario, Johnson will not play in a competitive match for quite a while."
San Jose Earthquakes have announced they have sold more than 11,000 season tickets for the new Avaya Stadium. The team has capped season ticket sales at 12,000.
Orlando City have announced more than 30,000 tickets have been sold for the home opener against NYCFC on March 8.
FC Dallas has announced Arizona United as their USL PRO affiliate for 2015.
NYCFC have announced new Youth Development League, "which will form a central part of their talent development program."
While admitting the delays have been frustrating, David Beckham says "some really good progress" is being made on securing a site for his MLS franchise in Miami, adding, "At some point in the next couple of months there will be some announcements."
South Florida Business Journal reports Miami officials are encouraging Beckham to consider locating the stadium on ground near Marlins Park where the Orange Bowl once stood. The league wants a downtown location for the stadium.
US
The US has been drawn into Group A for the upcoming U-20 World Cup. Soccer America, which notes the "draw was much kinder to Coach Tab Ramos' team than two years ago," has a scouting report on the team's opponents in the group: Myanmar on May 30, followed by host country New Zealand on June 2, and Ukraine on June 5. SI has three thoughts on the draw.
At SI, Liviu Bird on how, after the January camp, the USMNT continues to search for a tactical identity.
Will there be a January camp next year? Jurgen Klinsmann said, "Once we sit back and talk through all of the pros and cons, we'll figure it out. But it could be very well an Olympic team camp next January."
ASN on some of the questions raised by the USWNT's loss to France on Sunday.
At US Soccer, quote sheets from Sunday's USWNT and USMNT games.
At the LA Times, Kevin Baxter on how the Hope Solo show may be wearing thin at US Soccer.
What's Landon Donovan been doing during his retirement? Oh, you know, traveling around the world, enrolling in college, getting engaged.
Elsewhere
FIFA has validated the presidential candidacies of Sepp Blatter, Prince Ali Bin Al Hussein, Luís Figo, and Michael van Praag. The election will take place on May 29.
At SI, Grant Wahl considers some of the thinking behind — and possible ramifications that could result from — the US not supporting Sepp Blatter in the election.
That final report from Mark Pieth, who was tasked with coming up with a reform program for FIFA? From World Soccer: "German magazine Der Spiegel has reported that criticism of Blatter in Pieth's final report was watered down by the world football federation's legal adviser, Marco Villiger."
Speaking of FIFA reforms, Ultra Violet has launched an online petition aimed at getting FIFA to pay women players at the World Cup the same as men players.
Reuters reports, "The Spanish and Portuguese leagues have filed a legal challenge with the European Commission over FIFA's decision to ban the third-party ownership of players.
Reuters reports, "Families of fans who died outside an Egyptian soccer stadium on Sunday when security forces barred fans from entering will be offered 25,000 Egyptian pounds ($3280) in compensation."
The AP reports on the horrific scene in Egypt,
Survivors described it as a corridor of death: a narrow route of high, chain-link security fences and barbed wire that thousands of soccer fans were filing through before entering the stadium to watch their team play.
Then, mayhem broke out. Those at the front of the line were turned back by police. Those in the back continued to press forward. Jittery police fired tear gas into the middle of the crowd, creating what survivors said was "like a whirlpool" – sucking people into a crush of bodies with no way out.
The Daily Mail reports on the discovery of wreckage in the Andes that may be of a plane that disappeared in 1961. Among the passengers were players from the Chilean team Green Cross, who were returning to Santiago from a Copa de Chile match in Osorno when their flight disappeared.