Photo: Daniel Gajdamowicz
Philadelphia Union
On Tuesday, the Union announced the one-year loan of Zac MacMath to Colorado Rapids. In return, the Union receive Colorado's lowest second round draft pick in next week's draft. At present, that is the 41st pick. (The Union's first pick of the draft comes in the second round, 31st overall.) If Colorado decide to retain MacMath at the end of the season, the Union will receive their highest first round pick in the 2016 draft.
MacMath sent a message to fans on Twitter and Facebook:
I can't say thank you enough to all my fans, friends, staff, coaches, and teammates. It's been a pleasure playing for you these last four seasons. Without all of you, I wouldn't be the player I am today. The spirit and toughness of Philly is forever ingrained in me, and I'm incredibly grateful to have started my professional career here. It is with great excitement, but some sadness, that I leave Philadelphia and embrace the opportunity to play with the Colorado Rapids. I hope many of our paths will cross again. Thank you for everything!
And for all my @SonsofBen, don't ever stop doing what you do. Keep yelling, keep reppin', keep making waves in and out of the soccer community. You'll be missed.
Before the announcement, Kevin Kinkead reported at CBS Philly that the Union have no plans to sell Rais Mbolhi, who will "be the starting goalkeeper on opening day." Kinkead reports the Union also "still plans to loan out backup goalkeeper Andre Blake."
More reports on the loan from PSP, Philadelphia Union, Inquirer, Daily News, Philly.com, Delco Times, CSN Philly, Brotherly Game, Philly Soccer News, Colorado Rapids, Burgundy Wave, MLSsoccer.com, Soccer America, SBI, Goal.com, Playing for 90, and Vavel.
The 2015 schedule is to be released today. When it comes out, we'll be able to compare it to the home schedule that apparently was briefly viewable on the online accounts of season ticket holders on Tuesday: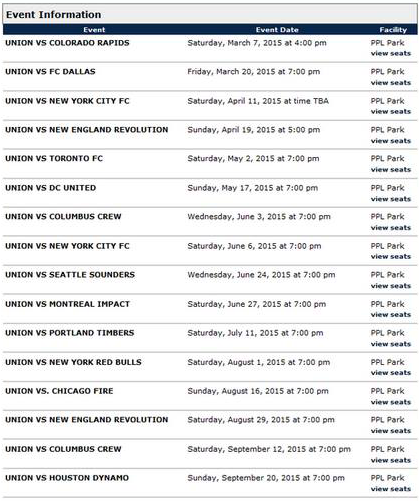 An Orlando City schedule that also briefly appeared on Tuesday on Ticketmaster has the expansion side hosting the Union on Aug. 8.
The Sons of Ben will be hosting a pre-SuperDraft party at the Fieldhouse next Thursday, 8:30 am-12 pm. There will be a post-draft gathering at Misconduct Tavern, 3 pm-6 pm.
Brotherly Game has a season review of Sebastien Le Toux.
Local
Soccer America has a Q&A with Joe Cummings, the president of the NSCAA, ahead of next week's convention in Philadelphia.
MLS
Bruce Arena tells the LA Times that Steven Gerrard will join LA Galaxy in July. A signing announcement should come later today.
Gerrard says in the Times report,
I want to finish my career very strong. I want to add some more medals and trophies to my collection. So I think it's a match made in heaven, really.
One of the reasons why I chose the LA Galaxy was because of the success they've had recently. But also the plans for more success in the future.
The report also has comments from LA president Chris Klein.
Goal.com reports, "The midfielder traveled to London on Tuesday night and is expected to finalize a contract with the Galaxy on Wednesday morning."
Goal.com reports that NYCFC are close to signing Mix Diskerud.
At Metro New York, Kristian Dyer (remember him, Union fans?) reports that New York Red Bulls have fired head coach Mike Petke. Maybe that has something to do with a report at Big Apple Soccer by the same reporter that Petke's assistant coach Robin Fraser is headed to Toronto.
As expected, Kansas City have signed midfielder Roger Espinoza.
Chicago have signed Brazilian striker Guilherme "Guly" do Prado, who last played for Premier League side Southampton.
LA Galaxy have re-signed forward Alan Gordon.
Real Salt Lake has agreed to transfer fee, sending defender Carlos Salcedo to Chivas de Guadalajara.
As expected, Garth Lagerwey has been named the new GM of Seattle Sounders. A post on the Sounders website says former GM Adrian Hanauer "will remain an owner and focus on the business operations of the club." Presumably this means he will focus on a new stadium for the Sounders. More at Salt Lake Tribune, Seattle Times, and Sounder at Heart.
Former Dynamo assistant coach Steve Ralston and goalkeeper coach Tim Hanley, both of whom resigned from the Dynamo last week, have joined their former boss Dominic Kinnear at San Jose.
The Orlando Sentinel wonders why "MLS, NYCFC and Manchester City" can't admit they handled the Frank Lampard situation wrong "from start to finish."
Former Columbus Crew midfielder Daniel Paladini is facing six misdemeanor charges stemming from his domestic violence arrest in October. Paladini was suspended with pay by the league following his arrest. Columbus declined to pick up his option at the end of the season and he was not claimed in the Re-entry Draft.
NWSL
Jeff Plush has been named the new commissioner of the NWSL. Plush has extensive experience through serving as managing director of Colorado Rapids and on the MLS board of governors.
US
A judge declined to rule on a motion to dismiss the domestic violence case against Hope Solo on Tuesday. The trial is scheduled to begin on Jan. 20.
Kevin Payne, the former DC United president and CEO, has been named CEO of US Club Soccer. More at Soccer America.
Elsewhere
A profile piece at Reuters on Prince Ali bin Al Hussein, who announced he will challenge Sepp Blatter for the FIFA presidency, says he "became the youngest member of the FIFA executive committee when he was elected to the governing body in 2011 but the Jordanian has never been over-awed by the more established members on soccer's top table."
At the Guardian, Owen Gibson says Hussein has little chance of defeating Blatter.