Photo: Archie Pennell's 1911-1912 Pennsylvania League championship medal (Daniel Gajdamowicz).

Joe Dowds and his wife Susan travel from Scotland several times a year to visit their daughter and her family in south Jersey.
Last September, Dowds, who lives in East Kilbride outside of Glasgow and is a permanent deacon serving the Diocese of Motherwell, sent an email to Philadelphia Inquirer sports editor John Quinn asking for help with information about a championship medal that had been awarded to members of the professional Tacony FC team following the 1911-1912 season of the city's Pennsylvania League. The medal was now in the possession of Dowds' friend Eddie Craw, whose grandfather, Archie Pennell, had played for Tacony after immigrating to the US from Scotland some time in the early 1900s.
"Unfortunately I cannot give a lot of information about my grandad," Craw later told me in an email. After immigrating to the US he "worked as a miner and steelworker, played soccer and golf." In addition to the Pennsylvania League championship medal for the 1911-12 season, Pennell "won a Pennsylvania golf medal [in] 1913."
When Dowds was transferred to St. Joseph's parish in Blantyre, he met Craw, one of three sacristans at the church there. Craw was interested in learning more about the medal because, as Dowds later told me, "It was Eddie's desire that the medal work its way back to the land that it came from."
Quinn forwarded Dowds' email to his Philly.com colleague Jonathan Tannenwald, who in turn forwarded it to me to see if I could help.
Thus began several months of email conversations between Dowds and myself as we tried to decide who would be best to give the medal a new home.
Last Friday, those conversations culminated in the medal's return to Philadelphia after 103 years when it was presented on Eddie Craw's behalf by Dowds to Southeastern Pennsylvania Soccer Hall of Fame (SEPA SHOF) president Bob Kozlowski, and vice president Gordon Dunlop, Jr., at the Parkwood Youth Organization building in the Far Northeast section of the city.
"Having a possession of that stature from that long ago will help us to teach and open up Philadelphia and the surrounding area's eyes about how soccer started in this area," Dunlop said after the medal was presented to SEPA SHOF.
"Today in society, sometimes there's a lack of looking back at the past, and that's what this medal will help us do," Kozlowski added, noting that the organization's motto is "Honoring the past, building the future."
From its founding in Kensington in 1947 until 2008, SEPA SHOF was known as the Philadelphia Oldtimers Soccer Association. With its founding, the Philadelphia Oldtimers began a tradition of honoring achievements in Philadelphia and US soccer. In 1953, US Soccer took over this role nationally with the creation of the National Soccer Hall of Fame. Today, SEPA SHOF continues to honor the past each May with an annual awards banquet to celebrate the latest inductees into its Hall of Fame. Aside from building the future with its work to promote soccer in southeastern Pennsylvania, Philadelphia Union fans will know SEPA SHOF through the Coats for Chester charity drive it organizes in the fall.
Dowds, who described Craw as a "quiet man," said, "He will be very happy that the medal has now come back to its homeland, the land where his grandfather played football and won that medal."
He added, "Eddie is a very strong Celtic fan and I'm certain he'll be happy to learn that SEPA have a Celtic pendant in their trophy cabinet!"
In addition to the return of an important piece of Philadelphia's soccer history, Friday also marked the end of a personal journey of discovery about a player from Scotland — Archie Pennell — and his connections to some very significant events in Philadelphia and US soccer history.
"With the passage of time, Eddie didn't know too much about it," Dowds told me of Pennell's time playing soccer in the US.
I have written a good deal about the Tacony team in the past, so it was both easy for me, and a pleasure, to provide information about Pennell's time with an important team from Philadelphia's long soccer history. Little did I expect that I would find that Eddie Craw's grandfather also has an important place in US soccer history.
One of Philadelphia's most successful teams
The first local newspaper account of Pennell with Tacony comes from a match report in the Philadelphia Inquirer at the tail end of the 1910-1911 season that lists him as working as a linesman in a Tacony game against Trenton on April 22, 1911. (At the time, it was common for teams to provide one linesman each for a game.) When the match report was published, Tacony was about to claim its second Pennsylvania League title in a row after winning the championship for the first time following an undefeated 1909-1910 season.
The 1909-1910 season was also when Tacony won the American Cup tournament, the first Philadelphia championship in the tournament since the John A. Manz team lifted the cup in 1897. At the time, it was the closest thing in the United States to a national championship, and some 29 clubs hailing from Massachusetts to Pennsylvania began that edition of the tournament. After winning both the American Cup and Pennsylvania League championships, the 1909-1910 Spalding Guide, then the unofficial yearbook of soccer in the US, called Tacony "the team of the year."
When Tacony FC won the American Cup in 1910, the neighborhood of Tacony already had a 20-year history in Philadelphia soccer, with a Tacony team joining Philadelphia's first organized soccer league, the Pennsylvania Association Football Union, for the league's second season in the fall of 1890.
While soccer was booming in Philadelphia at the beginning of the 1890s, the decade would prove to be tumultuous for soccer, mainly because of the economic crisis that followed the Panic of 1893. Particularly hard hit in Philadelphia were working class neighborhoods like Tacony, precisely those industrial neighborhoods that, filled with immigrants from England, Scotland, and Ireland, provided the strongest support for soccer in the city at that time. It took years for the economy, and soccer in Philadelphia, to recover.
But by 1901, soccer in Philadelphia was booming again, and by 1905-06, Tacony FC was playing in the first division of the city's Allied Association of Football Clubs league. By the 1908-09 season, Tacony was starting to cement its place as a local powerhouse in the game, finishing the season in third place in Philadelphia's professional Pennsylvania League.
A little more than a month and a half before that first newspaper report connecting Pennell with Tacony in April of 1911, the team was defeated in the semifinal of the 1910-1911 American Cup by the Howard & Bullough team of Pawtucket, Rhode Island. The semifinal loss was Tacony's first defeat in two seasons. Howard & Bullough would go on to defeat Tacony's Pennsylvania League rivals Hibernian over two legs in the final. The deciding game was played the day the first Inquirer report mentioning Pennell with Tacony was published.
The championship medal Pennell received for the 1911-12 season was awarded after Tacony's third Pennsylvania League championship in-a-row.
Pennell and Tacony
The 1911-12 season began with Archie Pennell was Tacony's starting goalkeeper, backstopping the team through eight-straight wins in league play by the start of the new year.
Tacony, as the former American Cup champions, was invited to travel to play two games over Christmas of 1911 in St. Louis, then the soccer hotbed of the Midwest. It would be the first such trip by an East Coast club.
The players left Philadelphia by train on the night of December 22, 1911, arriving in St. Louis late on December 23. In addition to Pennell, among those with the team was Tommy Hyslop, who had represented Scotland twice against England — scoring the opening goal in the 2-1 win in London on April 3, 1897 — and had also played for Rangers, Stoke City, and Sunderland. Also with the team was Bobby Morrison, a former Scotland youth player who would go on to be a big part of Bethlehem Steel FC, the most successful US soccer club of the first quarter of the 20th century. Indeed, Scottish-born players made up much of the Tacony team.
To this point, Tacony's only loss of the 1911-12 season had come in the first round of the American Cup to the West Hudsons. On Christmas Eve, only hours after arriving in St. Louis, Tacony played St. Leos, the champions of St. Louis, to a 4-4 draw. On Christmas Day, Tacony finished its visit to St. Louis with a 3-1 loss to Innisfails.
A review of the trip in the Philadelphia Inquirer blamed Pennell for the team's failure to win in St. Louis: "Pennell, who has shown splendid form between the posts since he first donned the red shirt, was a complete failure, which accounts to a certain extent for the local champions losing the final game against Innisfails. Pennell was unable to do himself justice, allowing the easiest shots imaginable to roll into the net." It's difficult to say how fair this assessment was — playing two games in two days after what was surely an exhausting 24-hour train trip must have been a factor for all involved.
Nevertheless, according to available newspaper accounts, Pennell does not appear to have played another game for Tacony, though his eight wins with the club in league play before the St. Louis trip would be enough to guarantee that he would receive the Pennsylvania League championship medal that his grandson donated to SEPA HOF.
From Philly to Brooklyn

I'm a soccer historian so, naturally, I was curious to see what I could learn about Pennell after he was awarded the championship medal. My research revealed a continuing connection with Tacony even after Pennell moved on to other teams.
By the start of the 1912-13 season, Pennell was in goal for Tacony's Pennsylvania League rival Wissinoming (and, interestingly, Wissinoming's keeper was now playing for Tacony). Pennell faced his former team with Wissinoming three times in the fall of 1912, losing each time. One of those defeats was a first round American Cup loss on October 26, 1912. If the Inquirer was quick to blame Pennell for Tacony's failure to win in St. Louis, this time the paper reported, "Pennell, the tall custodian of Wissinoming, saved some remarkable shots and the defeat could not be placed on his shoulders." When the teams met again on January 18, 1913, Pennell was in goal when Wissinoming defeated Tacony, 2-1.
At the start of the 1913-14 season, Pennell was now playing for Brooklyn Field Club of New York's National Association Football League, the team with whom he would go from having an important place in Philadelphia soccer history to having an important place in US soccer history.
Pennell returned to Philadelphia with Brooklyn for a preseason exhibition game on September 20, 1913. Given his continuing connections with the team, it isn't surprising to learn that Brooklyn's opponent in Philadelphia that day was Tacony. Sometime during the game, in which Brooklyn were the 2-0 victors, Pennell suffered a broken hand. As the Laws of the Game made no allowance for substitutions at this time, Pennell finished the game in goal. A month later on October 25, a benefit match was played for him at Marquette Oval in New York.
After two months of recovery, Pennell was back in the starting lineup when Brooklyn defeated Newark Rangers, 5-1, on November 23 in league play. The Brooklyn Daily Eagle reported, "Pennell, who played his first game for Brooklyn since he broke his right hand in a contest with Taconys, in Philadelphia, made many brilliant saves which brought the spectators to their feet."
Pennell was Brooklyn's goalkeeper when they defeated Bridgeport City in the second round of the American Cup on November 27. When Bridgeport protested the game, Pennell was in goal for the replay on December 28, won by Brooklyn, 5-1.
The win set up a third round American Cup meeting with — you guessed it — Tacony on January 17, 1914.
It was a wild affair when Brooklyn visited Tacony Ball Park, which was located at State Road and Unruh Street, not just between the players, but between players and spectators. The trouble began when Brooklyn forward Robert Millar, who had played for Tacony the previous season, got into a heated exchange with a spectator on the sidelines, who then entered the field of play. The Inquirer reported that Millar struck the spectator, while the New York Tribune reported that the player and spectator were separated before blows could be exchanged. Regardless, the "crowd poured onto the field," resulting in an interruption of play. In the end, Pennell was again defeated by his former club, with Brooklyn this time returning home the 2-1 losers.
But Pennell and Brooklyn FC were still alive in a new tournament, one that would quickly supplant the American Cup as the contest to decide the champion of the United States.
From local champion to national champion
When the United States of America Foot Ball Association, known today as the United States Soccer Federation, was founded in 1913 — and Philadelphia soccer administrators were instrumental in its founding — one priority was creating a new national soccer tournament, one that was truly national in scope. At the time, that tournament was called the National Challenge Cup. You know it better as the US Open Cup, which saw its 2014 final played in September at PPL Park, where Philadelphia Union were defeated 3-1 in extra time by Seattle Sounders.
Forty clubs entered the inaugural edition of the Open Cup tournament in 1913-1914, with entrants from New England to Philadelphia (seven teams from Philadelphia leagues entered the tournament), and as far west as Chicago. Pennell was in goal for Brooklyn in the second round win over Brooklyn Rangers on December 21, 1913.
A week after their loss to Tacony in American Cup play, Brooklyn defeated Bethlehem FC of Philadelphia's Allied American League, 1-0, on a penalty kick at Marquette Oval in the third round of the Open Cup tournament. As the scoreline indicated, it was a close game. Afterwards, Bethlehem protested the result: Brooklyn had been 30 minutes late in taking the field to start the game, and Bethlehem alleged that the home team had also fielded ineligible players.
Interestingly, Bethlehem's protest also stated that Brooklyn's starting goalkeeper for the cup tie, W. Haughie, was not on the roster the Pennsylvania club had received from their opponent before the game. Which begs a question: Was Archie Pennell the goalkeeper on the roster provided to Bethlehem before the start of the game? If so, his absence would certainly have been noted by his former Tacony teammate Bobby Morrison, who was now with Bethlehem.
Bethlehem's protest was denied and Pennell was in goal for Brooklyn in the next round when they defeated Yonkers FC, 4-1, in the US Open Cup quarterfinals on March 28, 1914. With Haughie in goal, Brooklyn defeated New Bedford FC in the tournament semifinals and then won the inaugural US Open Cup championship with a 2-1 victory over Brooklyn Celtic on May 16. The week before the final, Brooklyn had finished play in the National Association Football League as league champions.
A remarkable journey
Since I began researching and writing about soccer history eight years ago, one unexpected pleasure has often come from being contacted by people looking to learn more about family members who, decades ago, once played soccer in Philadelphia. Whatever the original purpose might be when I begin research to help such people, I invariably come across information that makes an already enjoyable and worthwhile pursuit even more so.
Archie Pennell's story is no different: I began by looking for information about a player's time with a historically significant team in Philadelphia soccer history and ended up learning that he soon become a national champion.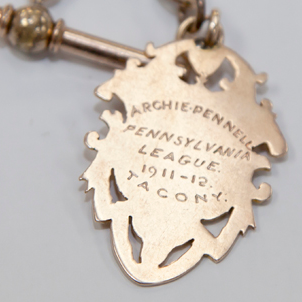 In the span of three seasons in the US, Archie Pennell won two professional league championships, the 1911-1912 Pennsylvania League championship in Philadelphia, and the 1913-1914 National Association Football League in New York. With Tacony, he was also part of the first visit to St. Louis by an East Coast team. Pennell also participated in four national cup tournaments, being eliminated in the first round of the 1911-1912 American Cup tournament with Tacony, and being eliminated by his former club Tacony with Wissinoming in the first round of the 1912-13 edition, and reaching the quarterfinals with Brooklyn before being eliminated by Tacony in the 1913-14 tournament. In the inaugural US Open Cup, he was in goal for Brooklyn's second round and quarterfinal victories on the way to winning the first ever US Open Cup championship. After leaving Tacony, Pennell faced his former club almost as many times as he had played for them.
I can find no further reports of Pennell playing in Philadelphia or New York following the 1913-1914 season. Perhaps, like so many of his countrymen, he returned home to Scotland with the start of the First World War in August of 1914. Craw told me he returned to Scotland "with more cash than he left with, bought a farm and mining contracts in local mines."
Whatever path Archie Pennell's life took after 1914, I am both honored and grateful to have played a part in fulfilling his grandson's desire that the medal should find its way "back to the land that it came from."
Thanks to Archie's Pennell's accomplishments, and his grandson's generosity, the history of soccer in Philadelphia and in the United States is a little bit richer.
For more on the Southeastern Pennsylvania Soccer Hall of Fame, click here.