Photo: Paul Rudderow
2015 is almost here, which means new signings, a new season, and new playoff hopes for Philadelphia Union fans.
But before we jump ahead, let's take one final look at 2014. What really happened? What do the numbers say? And what does the Union really need to make the postseason in this coming campaign?
When the team failed to reach the playoffs this year, one narrative that was spun by myself and others was the idea that the offense faltered down the stretch.
It's true, to a certain extent.
The bad patch was a three game stretch that extended into October, with the Union failing to score in back-to-back games against Houston (draw) and D.C. United (loss). The club then meandered through a 1-1 draw with Chicago before a defensive breakdown against Columbus resulted in a 3-2 loss and elimination from postseason contention.
It's true that a DP striker could solve a lot of problems for this team, but that's true for most clubs in Major League Soccer. When Conor Casey and Sebastien Le Toux cooled off, the team did struggle, but it was probably the defense, extending back to John Hackworth's tenure, that ultimately cost the club in 2014.
Just looking at a few basic stats, here's how 2014 played out:
Goals scored: 51 (tied for 9th in MLS, tied for 4th in the east)
Goals conceded: 51 (13th-worst in MLS, 4th-worst in the east)
Wins: 10 (ranked 14th in MLS)
Pass success: 76.8% (15th out of 19 teams)
Possession: 48% (overrated, especially when the team carved out a successful counter-attacking shape)
Shots per game: 13.7 (tied for 5th best in the league)
Shots on target per game: 4.5 (tied for 11th)
Only these teams conceded more goals than Philly:  Toronto (54), Houston (58), Montreal (58), Portland (52), Chivas (61), Colorado (62)
Here's a closer look at the season, which I'll divide in half by manager.
John Hackworth's tenure (Mar. 8 to June 7)
Games played: 16
Wins: 3
Losses: 7
Draws: 6
Goals scored: 23 (13 through the first 12 games, 10 in the final 4 games)
Goals conceded: 27 (15 through the first 12 games, 12 in the final 4 games)
Goal differential: -4
There were a couple of different storylines for Hackworth's part of the season.
First and foremost, the final four games of his tenure provided some real statistical outliers. The club scored 10 goals in the final four games, and conceded 12 in that same stretch, so it looks odd on paper. When the offense finally got going, the defense was very poor.
The story in March and April was finishing. The Union just couldn't seem to close out a game. It started with the season opening draw in Portland, then carried over in the draws with Montreal and Chicago just a few weeks later.
The offense hit a real rough patch in mid-April, beginning with a 2-1 loss in New York. The Red Bulls went down to 10 men in the second half, and Philly couldn't find the back of the net until the 80th minute. The offense would go on to score just two goals in the next four games.
By the time the offense got it turned around, the Union's makeshift defense had fallen apart.
With Austin Berry out of favor and injured, and the Aaron Wheeler experiment completed, Hackworth turned to right back Sheanon Williams to move inside to center back. Even before trying this setup, he had a right back playing on the left (Ray Gaddis) and a center back pairing that included a forward (Wheeler) and a midfielder (Amobi Okugo).
The defense shipped five goals to New England, four goals to Los Angeles, and three more to Vancouver. Ironically, the offense had its best stretch of the season in that same time period, when it scored 13 goals in just five games. That included three against the Revs, three against Chivas USA, and three against the Whitecaps.
For much of the early part of the season, it just never seemed like there was any consistency in offense or defense. Hack was let go on June 10.
Jim Curtin's tenure (June 11 to Oct. 26)
Games played: 17
Wins: 7
Losses: 5
Draws: 5
Goals scored: 29
Goals conceded: 24
Goal differential: +5
These numbers don't include the run to the U.S. Open Cup final. If you added those games, it would look something like this:
Games played: 22
Wins: 10
Losses: 6
Draws: 6
Goals scored: 38
Goals conceded: 30
Goal differential: +8
First, you have to admit that the offense started clicking while Hackworth was still in charge. That carried over into Jim Curtin's first couple of games.
The team continued its onslaught with three goals at New England, three goals against Colorado, and three goals against New York.
If you combine the final four games under Hackworth and the first four games under Curtin, this is what it looks like: Eight games, 20 goals scored, 19 conceded, three wins, two draws, three losses.
In a lot of ways, that stretch tells the story of the season. The team averaged 2.5 goals over an eight game stretch, but only managed three wins and 11 total points. The point productivity did not match up with the offensive output.
May 17: Union 3-5 New England
May 25: Union 1-4 Los Angeles
May 3: Union 3-0 Chivas USA
June 7: Union 3-3 Vancouver
June 28: Union 3-1 New England
July 4: Union 1-2 FC Dallas
July 12: Union 3-3 Colorado
July 16th: Union 3-1 New York
The interesting thing is that those numbers didn't necessarily carry over into the U.S. Open Cup games on June 17 and June 24. The Union struggled to extra time wins against Harrisburg and NY Cosmos before the July 8 2-0 home win against New England.
Either way, this midsummer stretch was really the most interesting and important cross-section of the season.
The problem with Jim Curtin's tenure is that the team really didn't have any margin for error. The club had dug itself such a huge hole that three or four late-Summer losses would essentially keep it out of the postseason.
The Aug. 15 loss in Houston was expected after Philadelphia had played Dallas to extra time in the U.S. Open Cup semifinal only three days before.
And whether it's unpopular or not, I'll go ahead and say the Union got lucky during the three-game win streak that began on August 24. Philly coughed up a two-goal lead but ended up beating a terrible San Jose team at home. The club then saw Toronto FC in twice in a four-day span, taking on a team that was going through turmoil and breaking in a brand new head coach.
Sep. 13 is really where it started to go wrong. The Union needed a stoppage time penalty kick to salvage a 2-2 home draw with New York. Then, the offense faltered in a 0-0 home draw with Houston. That preceded a 1-0 road loss to D.C. United.
The late collapse to Chicago and the three-goal meltdown versus Columbus ultimately saw the team eliminated from playoff contention.
So what's the story here?
There was obviously no way the offense could keep up its midsummer pace. The defense ultimately collapsed in the home loss to Columbus. I'm also buying into the idea that the loss in the Open Cup final probably had a physical and psychological effect on the rest of the season.
There's also the idea that Conor Casey and Sebastien Le Toux went cold in the fall, and there may be some truth to that. Casey scored in both Toronto games, then didn't find the net for the rest of the season. Le Toux's injury against D.C. at the end of September kept him out of the next home game against Chicago, and he scored just one goal in September and October.
But it's interesting to look at some of the offensive stats in the summer. Take a look at these charts for "penalty area entries":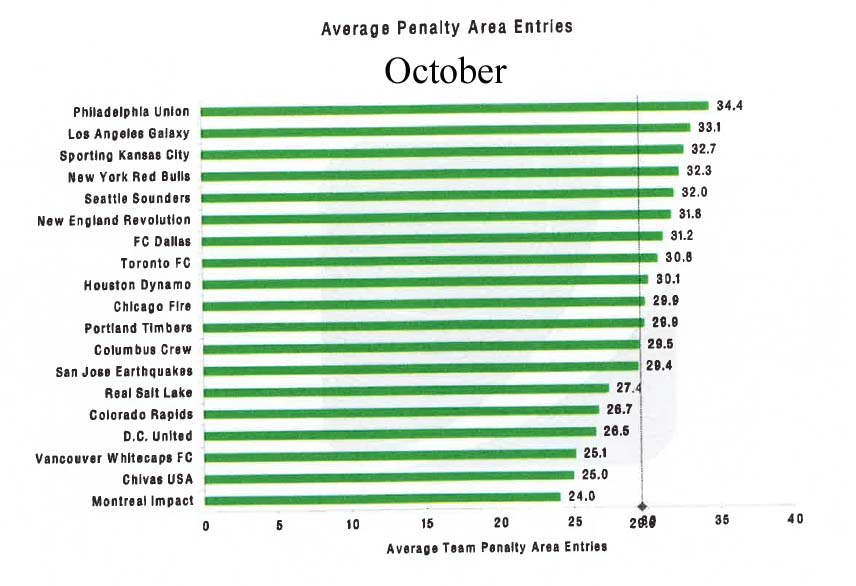 Surprisingly, Philadelphia was at the top of the league for many months in the category of "average penalty area entries".
You'll hear a lot of people talk about "final third entries" these days, and that's a statistic that measures passes delivered into the opponent's third of the field. We usually look at long passes, ground passes, short passes, flicks, and through balls when we calculate that stat.
These charts are a bit different, as they only measure the number of times that a club gets into the penalty area during the course of the game. You can see that the Union was right up there with the best clubs in the league for much of the Summer. It just seemed like they weren't finishing as many chances as they created. There also isn't a ton of variation from top to bottom, but you see a club like Montreal that just was not getting forward at all.
Conclusions
The offense wasn't nearly as bad as it seemed. The team actually scored the same amount of goals (51) as Eastern Conference champion New England. The team scored more goals than Kansas City (48) and just four fewer goals than a New York team that included Bradley Wright-Phillips and Thierry Henry.
The issue with the offense is that there isn't a game-changer. This is your Designated Player. The Union has never had a 15-goal scorer, despite balanced contributions in goals and assists from Sebastien Le Toux in four out of five seasons. In the 4-2-3-1 or 4-3-3, you rely a lot on your wide midfielders and forwards, and Philly didn't see a ton of contribution on the left until Andrew Wenger started to settle in to a new position.
There needs to be more consistency going forward. The Union got into the box and scored goals in bunches, but went through a couple of dry spells that cost the team a lot of points.
The shots/on-goal ratio was too low. Philly was in the top half of the league in total shots (467) but in the bottom half when it came to accuracy (153 SOG). A little less than one-third of shots were put on frame. By comparison, Seattle put 187 out of 470 shots on target. That's closer to 40%. The Union averaged 13.7 shots per game and 4.5 shots on goal per game.
The Union led the league in corner kicks with 211. They were also near the top of MLS with seven penalty kick attempts (all seven successful). Both of these numbers complement the penalty area entries statistic, which suggests to me that, overall, the team was more committed to getting into the final third.
Carlos Valdes needs a rest. The defense wasn't exactly airtight when he returned after World Cup duty. If Carlos sticks around for 2015, he should be a lot better than he was in the Fall.
The team needs the fullbacks to overlap and join the attack. Surprisingly, Philly led the league in crosses per game, but they weren't getting much offense from Ray Gaddis on the left, who averaged less than one cross per game. Most of the time, you'd see Cristian Maidana float out wide and cross inside, or Sheanon Williams put a ball into the box from the right side. As far as Gaddis, this lack of offense isn't necessarily his fault. After all, he is a right-footed fullback playing on the left. There's nothing harder than playing the overlap on your weak foot and trying to cross into the box. I think this is why Curtin rates Fabinho higher than we do.
The team needs more goals from Vincent Nogueira and Cristian Maidana. Curtin talked about this after the season. Maidana had two goals and eight assists, but Nogueira added just two goals and three assists. Even in the No. 8 role, Nogueira is good enough to contribute at least 4 goals/6 assists in 2015. Maidana can easily reach six goals/10 assists in his advanced role. Each of these guys had the same amount of goals as Leo Fernandes, Brian Brown, and Pedro Ribeiro.
The defense needs to be in place from the beginning of the season. You just can't have a forward, a midfielder, and an out-of-position fullback playing on the same back line in 2015. The best defenses in MLS have continuity and familiarity with one another. That's also contingent on what position Maurice Edu plays in 2015.