Photo: Paul Rudderow
Philadelphia Union
The Union announced on Wednesday three new corporate partnerships with Dogfish Head Brewery, Musselman's and Delaware Express. The Dogfish Head partnership will mean "a new destination beer garden at PPL Park in 2015." Musselman's becomes the official applesauce of Philadelphia Union, PPL Park and Eastern Pennsylvania Youth Soccer, while Delaware Express will be running the shuttle service from the Chester train station to PPL Park.
At the Union website, Pedro Ribeiro talks about the challenges of leaving his family behind in Brazil to attend Coastal Carolina University, and the support he found in the States. Looking ahead to 2015, Ribeiro said, "I don't believe in sophomore slump, what is that? I know what [coach Curtin] wants from me and what I need to be successful here. So my job is to learn as much as I can and work on my game. I need to define who I am going to be as a player. I love playing in Philadelphia and I hope in this season I can give back to an organization that helped me in my dream of playing this game for a living."
Nick Sakiewicz sent out an open letter thanking season ticket holders on Thanksgiving. You can read it here.
The latest installment of the Union's Top Ten fan-vote contest features Andrew Wenger's first goal in the 4-2 win at home over San Jose in August versus Danny Cruz's goal in the 3-1 road win against New England in June. Zach Pfeffer's goal against LA won last week's contest.
The Brotherly Game's "You be the GM" series continues with Michael Lahoud.
Union Academy
The US Soccer Development Academy Winter Showcase kicks off this weekend in Lakewood Ranch, Fla., and the Union Academy U-15/16s and U-17/18s will be there. The U-17/18s face Seattle Sounders on Saturday at 1:15 pm, then play Real Salt Lake AZ at 4:15 pm on Sunday, and St. Louis Scott Gallagher Missouri on Tuesday at 9 am.
The U-15/16s face Seattle at 12 pm on Saturday, then San Jose Earthquakes on Monday at 11 am, and BSC Connecticut on Wednesday at 11 am.
Sons of Ben
The results of the Sons of Ben Board elections were announced earlier this week on Facebook. Julian Brown and Matt Gendaszek won seats on the board.
The latest Sons of Ben newsletter has info on the Help Kick Hunger charity event, which will be taking place on Dec. 13 at Brauhaus Schmitz, 6 pm – 9 pm.
Local
Former Harrisburg City Islanders forward Lucky Mkosana talks to Big Apple Soccer about why he signed with New York Cosmos.
The Trenton Times have named Hightstown High School's Dakota Mills their Girl Soccer Player of the Year. "Mills, a four-year varsity starter who combines outstanding speed with devastating ball skills, finished her career with 72 goals, including 34 this season."
MLS
The second leg games of the conference finals take place this weekend. On Saturday, New England hosts New York after winning the first leg, 2-1. Kickoff is at 3 pm (NBCSN, Univision, NBC Sports Live Extra). On Sunday, Seattle hosts LA after losing the first leg, 1-0. Kickoff is at 9:20 pm (ESPN, ESPN Deportes, Watch ESPN).
Thierry Henry says he still hasn't decided if he will retire after this season. "Nothing is clear. I still haven't taken a decision and it's not my thing to speculate. One thing is certain: I am going to stay in football, to coach, as a pundit, official, we'll see."
Robbie Keane really, really hates artificial turf, which he will have to play on against Seattle on Sunday. "I've said it before and said it so many times. If this league wants to progress — or any league in the world — turf has to go. It's very simple. Very, very simple. It's not good enough. In this day and age, playing on turf, it's not good enough. It's completely different to play on. I don't care what anybody says, I've played on it. It's completely different — it's not good for you. So if this league wants to progress, the turf 100 percent has to go."
At Soccer Gods, Steve Davis says players and coaches bear some responsibility for the leagues officiating woes.
At SI, Brian Straus on what we know about the process and timeline of the current phase of expansion.
Miami New Times wonders if the city has blown its shot at an MLS franchise.
Former Toronto head coach Ryan Nelsen's next job could be on the staff of the New Zealand national team.
US
The German Football Association has announced it will host the US in a friendly on June 10 in in Köln.
In the latest FIFA rankings, the US drops five spots to No. 28 (in the last rankings the US dropped six spots to No. 23). Mexico dropped three spot to No. 20.
At Bleacher Report, Tim Howard on the recent string of disappointing results:
What people have to understand about Jurgen is that his focus is on Russia. It's not about beating certain teams.
Of course, everyone wants to win, but he has to identify players, create a good squad with a balance of old and young, and you don't do that in September and October of 2014. He's looking at what it's going to be like in 2018.
It's not so much about one particular result as much as it is about the one ultimate goal.
ESPN on the best and worst USMNT moments of 2014. Also at ESPN, four things to expect from Jurgen Klinsmann in 2015. Shockingly, the wearing of more bitchin' US Soccer apparel is not included.
At The Northern Echo, Sunderland manager Gus Poyet on Jozy Altidore's future:
There have been plenty of rumors that Jozy's agent was coming, but I've not seen him yet. As a manager I'm going to use him (Jozy). It will be a surprise for a few. I'm not saying I'm going to use him on Saturday, but I'm going to use him in a nice way and I'll use him because we need him. He's our player and he needs to do something special for us.
He's not started many games under me but in these three games we need to use the squad very well. They're three tough games and we'll have to utilize the squad. We need to use it well and up front we have Jozy, Connor and Steven Fletcher. Jozy's the main striker on the bench at the moment so we'll use him a lot.
During the (good) run last year, he was more important for us than people might think, especially going on in the last 20 minutes of those five games, when he played very well. At that time he needed to come in and produce, and he did that. He produced well at Chelsea in particular.
Sunderland faces Chelsea, Manchester City and Liverpool over the next eight days.
Ade Akinbiyi telss the Stoke Sentinel that he's not surprised out Geoff Cameron's success in the Premier League because of the versatility he saw in Cameron when they both played for Houston Dynamo.
You can watch a live stream of the US U-17 MNT against England at the 2014 Nike International Friendlies in Florida today at 6 pm on the US Soccer website.
Vice Sports on the heyday of the Major Indoor Soccer League in the 1980s.
Elsewhere
Quoting comments made to Frankfurter Allgemeine Zeitung, ESPN reports, "FIFA ethics judge Hans-Joachim Eckert has said he would welcome Michael Garcia's report into the bidding process for the 2018 and 2022 World Cups being published in full — if the governing body's ethics committee passes a resolution to allow it."
Eckert also said his summary of the report is not the end of the investigation and admitted that "it would have been better to have a parallel news conference" when the summary was released "to answer questions and remove ambiguities." He explained, "The statement in judicial sense is not a final report nor a reasoned holding and certainly complex. But thus an impression was created that my statement whitewashes FIFA or all acting persons involved in the bids and votes for the 2018 and 2022 World Cups. That is definitely not the case."
The Press Association reports that three current FIFA executive committee members are under investigation by Garcia: Angel Maria Villar Llona, of Spain, Michel D'Hooghe, of Belgium, and Thailand's Worawi Makudi. Also under investigation are former FIFA executive committee members Franz Beckenbauer and Chile's Harold Mayne-Nicholls.
The BBC reports that Sajid Javid, Britian's Secretary of State for Culture, Media and Sport, has written to FIFA president Sepp Blatter calling for the release of the full report into the investigation of corruption in the bidding for the hosting rights for the 2018 and 2022 World Cups. Javid said, "Without the disclosure of the full report, FIFA risks not just further damage to its own credibility, but significant damage to the reputation of football as a whole."
At SI, Ben Lyttleton on the power struggle between Sepp Blatter and Michel Platini.
Also at the BBC, Ben Smith looks at how the "oil-rich billionaires" of  Qatar, Abu Dhabi and Dubai "have planted a flag at the heart of the sporting landscape in recent years."
Real Madrid will remove the Christian cross from their logo after signing a three-year deal with the National Bank of Abu Dhabi. The Guardian explains, "The crest, which was originally designed in 1931, usually contains a cross on top of a crown but that has been removed for use in the Middle East in order not to offend Muslim sensibilities in the region. The original design will continue to be used in Europe." Fox Sports reports this is not the first time Real Madrid has removed the cross from its logo: "In the oil-rich Emirates in 2012, Real Madrid made the same change to smooth the way for a partnership with a UAE resort." The Algemeiner reports the Abu Dhabi deal was announced in September.
In more logo news, Reuters reports, "Valencia have said they will not use a new version of the club logo, which has been opposed by DC Comics for being too similar to its Batman symbol." No word on if the Vampire Football Club of San Francisco are traveling in a time machine from 1915 to sue DC Comics: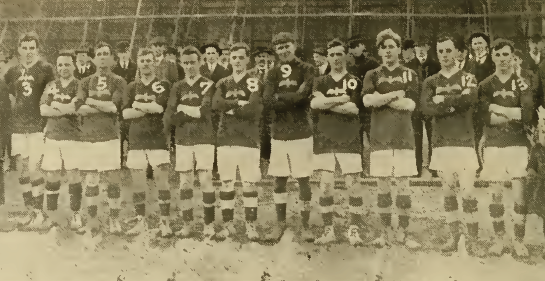 Reuters reports, "Spain's anti-corruption prosecutor could be ready to file charges in a suspected case of match-fixing involving La Liga clubs Levante and Real Zaragoza early next week." In question is a game on the final day of the 2010-11 season, which Zaragoza won, thereby avoiding relegation.
The AP reports that Spanish side Rayo Vallecano "has opened a bank account to collect donations for an 85-year-old woman whose eviction last week sparked an outcry." The report says Carmen Martinez "was evicted from the apartment she owned and lived in for decades in Madrid's working-class neighborhood of Vallecas. Her son had used it as collateral for a 40,000-euro ($50,000) loan and could not make payments after losing his job."
Moving on from Spain, the Guardian reports, "The Bastia striker Brandão has been sentenced to one month in prison and handed a €20,000 fine for head-butting the Paris Saint-Germain midfielder Thiago Motta in August."