Photo: Earl Gardner
Midway through the first half of Thursday night's dismal 1-1 draw between Philadelphia Union and Chicago Fire, Alexi Lalas took time out from his busy schedule, one that included calling the game for ESPN, to succinctly sum up the first 87 minutes of the match: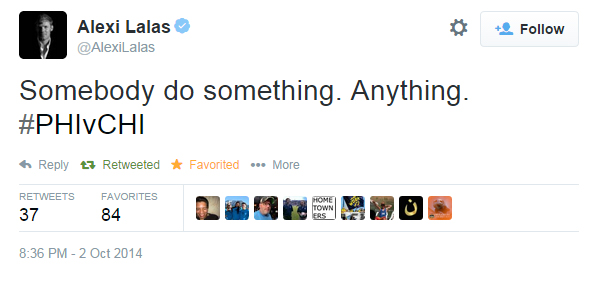 How's that for analysis?
Oh, I have to write more? Well…
On a night when neither team came prepared to support their lone striker, the Union and Fire combined to put 2 shots on target before Amobi Okugo grabbed what looked to be a sure winner just before stoppage time. Then. Well. Yeah.
Where was the attack?
Before everyone sharpens their pitchforks, pause for a moment to remember just how inept the Chicago Fire were in this match. Of course, Cristian Maidana needs to put his 56th minute shot on frame and, two days on, most fans are still trying to figure out just how Brian Brown mishit his open look so badly. But those are only two instances on a night that lacked a genuine attacking impetus from the hosts.
In a match that still set up well for the Union despite injuries to critical attacking pieces, Sebastien Le Toux and Conor Casey, Jim Curtin missed the chance to take advantage of a Fire team reeling their way towards a disappointing 9th place finish. Considering Chicago fielded a backline that included Alex, an attacking midfielder, Lovel Palmer, a journeyman whose best days are well behind him, Patrick Ianni, an old-fashioned hatchet man, and Baky Soumare, who has suffered through one of his toughest professional seasons, the table was set to attack the Fire. Throw in two plodding defensive midfielders, both with limited range and on the wrong side of 30, and the Union had a raft of options for how to break down MLS' "King of Ties".
Instead, Curtin stooped to Chicago's level, and with the soon to be retired Logan Pause getting his first start in midfield since July, the Union boss handed Fred his third start of the year, sliding Maidana to the wing. Adding another playmaker to the mix was a head-scratching decision considering the Union interim manager had spent the week bemoaning his team's lack of bodies in the box, despite good service. "On our home field, we'll have to do a good job committing more numbers into the box," Curtin said after a 1-0 defeat at RFK Stadium, "We have to have more commitment from Chaco, from Vincent, from Amobi to get in the box late." And while he managed to get that commitment from precisely one of those players, the addition of Fred to the midfield puzzle meant that the Union had even fewer numbers to naturally get forward than they had against DC.
Where was Wenger?
With no Le Toux on the right side, the match set up as a showcase for Andrew Wenger, whose late season form has quieted much of the angry murmuring surrounding the conditions of his acquisition. But while Wenger has become a menace on the ball, he remains a reluctant runner without it. Whether it is Ray Gaddis or Fabinho at left back, whenever the fullback receives the ball in an advanced position, Wenger's first movement is assured. Always stepping to the touchline, Wenger wants to make space to receive a pass to his feet. And while that is not a bad first instinct for a wide player, it cannot be the only one, especially when it is an attacking midfielder on the ball. A complete non-threat to run, Palmer was simply never made to fear Wenger might creep in behind him. While Le Toux and Cruz thrive on balls played in behind, allowing them to turn their defenders, Wenger waits patiently on the wing for his chance to run with the ball.
So, if Pedro Ribeiro looked isolated up front, that's because he was — badly. With Fred easily marshaled by Pause and Jeff Larentowicz, and Maidana slinging in crosses from wide areas and trying to make the final pass from nearly every position, Wenger needed to get in the box and make something happen. Instead, he too was on the periphery, watching Maidana and trying to do the same. So, after saying in his weekly press conference, "I'm happy with the amount of chances we're creating, we just have to have a little more commitment to get in the box and finish some of them, get on the end of stuff," Curtin's squad ended up with even fewer numbers crashing the box than against either DC or Houston.
Player Ratings
Rais Mbolhi – 1
He had one thing to do and he did it wrong. Perhaps Thursday night's disastrous mistake was simply the natural confluence of the poor distribution and the cavalier, casual attitude Mbolhi has shown in goal since arriving in Philadelphia. It is not his fault that he is being scrutinized far more intensely than your average MLS goalkeeper, but so far, Mbolhi's presence and quality on the pitch have not lived up to the hype and cost of his signing.
Ray Gaddis – 6
Given Chicago's lack of real offensive threat, Gaddis strode forward more often than is normal for the typically stay at home fullback. The chance to run on the Union's right flank was a clear demonstration of how much more potent he can be driving forward on his dominant foot. But while his man marking was still top notch, Gaddis' struggles to read the play, especially when the ball was in the air, followed him across the pitch.
Maurice Edu – 6
Solid and dominant at the back yet again, Edu made sure that Amarikwa never got an inch of space in the Union's box, where the Fire attacker can be handful. Attempted to press forward in support of his midfield, though most of his runs were of the aimless variety, as his teammates failed to press up with him to provide options.
Carlos Valdes – 5
Solid if unspectacular in the back, Valdes continues to appear to be laboring. Lacks the fluidity in his game that Union fans remember and they will hope that a few extra days off before the critical home match against Columbus will give him time to get back to looking more like himself.
Fabinho – 6
Perhaps his finest showing in a Union shirt. Seriously.
Amobi Okugo – 7
The team's most dedicated player, Okugo was frequently seen trying to raise the energy level and berating listless teammates. It felt erily similar to when he was one of the few players committed to the cause against New York in the final game of the 2012 season. Should have been the hero on the night and would have thoroughly deserved it.
Vincent Nogueira – 5
For a player with as much quality as Nogueira possesses, he looked like someone who was just going through the motions.
Cristian Maidana – 3
Somehow managed to do both too little and too much deployed against an attacking player deputizing at fullback. When drifting wide from the center channel, Maidana has a wing with whom he can combine, creating space for each other with sharp, short passes. Deployed as the wide man, Maidana lacked the pace and guile to consistently beat Alex up the wing and tried to do too much with his passing. It was a performance reminiscent of past, oft-criticized showings from former Union players like Michael Farfan and Roger Torres.
Fred – 3
Too slow to keep up with the pace on either side of the ball, Fred was a passenger in midfield, adding few positives. As mentioned above, this was a match that cried out for a pace and Fred's inclusion took the Union down the opposite path.
Andrew Wenger – 5
Woke up a bit in the second half, but it seems unfair to deem a performance as wasteful as Wenger's anything more than average. That panic still looks to be his default whenever a cross or shot is required is something the Union will need to spend significant time helping him address in the offseason and going forward.
Pedro Ribeiro – 4
Fought well against Soumare and put himself in good positions, but guess what? After three starts, the rookie central midfielder still isn't a forward.
Substitutes
Danny Cruz – 5
It was looking like it would be another in a line of typical Cruz performances highlighted by lots of industry, but little end profit, until Cruz whipped in a perfect cross for Brown in the 88th minute. Sure, the striker made a complete mess of it, but Okugo didn't.
Brian Brown – 2
Even by the low bar set for young rookies being forced to acclimate themselves to MLS in the midst of a playoff run, Brown still came up very short. Ponderously slow on the ball and too hesitant to get into the box, Brown also made the least of his two shooting opportunities, shanking a golden opportunity well wide and hoisting a speculative volley badly off target. On the plus side, had he not literally tripped on the ball and had it go through his legs, Okugo would have never scored the opener. So, there's that.
Antoine Hoppenot – 5
While he played 15 minutes at the end of the match, Hoppenot made very little contribution, despite the Union's dire need for offense.
Geiger Counter
Chris Penso – 2
Sometimes it's almost as if — and please read this while making the appropriate air quotes to yourself — MLS referees are trying to "outcool" each other by seeing who can award the most "play-ons" to keep the game "flowing." Penso's nonsensical decision making meant that legitimate fouls were denied both sides, resulting in 22 players who had absolutely no idea what rules were being used to call the match. It is truly impressive that Penso managed to be so bad in a game where so little happened.
Preferred lineup for Saturday's match against Columbus Crew
4-4-2
MacMath; Williams, White, Edu, Gaddis; McLaughlin, Okugo, Maidana, Wenger; Casey, Le Toux