Philadelphia Union
Ugh.
If you felt ill after watching the Union concede a stoppage time equalizer against a team they largely bossed for 90 minutes, all but ending any realistic chance the team will make the playoffs, you were not alone.
It's difficult. It's not in our hands anymore, that's for sure. We're going to need a miracle, more or less. You're going to have to win your last three and then you're going to also need a lot of help. After we scored, after Amobi gets the goal, you feel high, you feel like you have a chance even though that wasn't our best night. And then to have that happen, it's tough for the guys. Sickening is the word that kind of everybody feels right now. It's tough.
SportsClubStats has the Union with an 8.5 percent chance of reaching the playoffs after Thursday night's draw.
That howler of a clearance from Rais Mbolhi that led to the equalizer? Curtin said, "You're taught a very young age at the end of games where to play the ball: You play it forward and if it goes out of bounds a hundred yards from your own goal, that's fine. What happened was a series of mistakes by a lot of different guys. It's sickening. That's kind of the way I feel right now."
Mbolhi said of the goal,
Mistakes happen. It's not the first one it's not the last one, you know? I know how to handle these kinds of situations, but I will admit it's hard for me tonight.
I know we needed the three points tonight, unfortunately I made the mistake in the back. Like I said, it's very hard for me tonight, but this is football. Mistakes happen all the time, but hopeful we can battle back and win the next game.
Presumably, Mbolhi will not be in goal for the next game, which is against Columbus on Oct. 11, as he is expected to be called up by the Algerian national team for African Cup of Nations qualifiers against Malawi on Oct. 11 and Oct. 15. Heck, he could miss the game against Kansas City on Oct. 18, too.
We always shake everyone's hand when we get back in this locker room. We're a team. We win together. We lose together. If we score two goals, it wouldn't have mattered, right?
At the end of the day, we have to pick him up. And we have to help each other. We have to stick together. And we have a group of guys with a manager right now that I believe can do that.
At Goal.com, Ives Galarcep writes that Nick Sakiewicz shares some of the blame for the loss for signing Mbolhi:
Sakiewicz wanted Mbohli and made the deal happen. Sources have confirmed to Goal USA that Sakiewicz was the driving force behind the acquisition, so when his luxury signing committed the kind of mistake that might have just wrecked the Union's season, it is tough not to blame the man most responsible for him being on the field.
With Thursday night's result, Chicago has 17 draws on the season, a new league record. Inside the Fire notes the team could finish 2014 with more points from draws than from wins.
Recaps from PSP, Philadelphia Union, Inquirer, Daily News, Delco Times, CSN Philly, Philly Soccer News, Brotherly Game, MLSsoccer.com, Chicago Fire Confidential, Hot Time in Old Town, US Soccer Players, ProSoccerTalk, SBI, FourFourTwo, Goal.com, The Sports Network, and The AP.
Transcript and video of Jim Curtin's postgame press conference, locker room interviews with Rais Mbolhi, Antoine Hoppenot, Danny Cruz and Amobi Okugo, and postgame quote sheet here at PSP.
Our photo essay of the game will be up later. In the meanwhile, USA Today has a photo gallery.
On a lighter note, from Philly.com: "The Surf and Turf Burger, sold during Philadelphia Union games at PPL Park, was today named 'Best new menu item' and a Silver Spoon Award winner by Venues Today, an international magazine covering the sports and entertainment industry."
Local
Senator Bob Casey (D – Pa.) has called for the public release of the report on the investigation into corruption in the bidding for the hosting rights for 2018 and 2022 World Cups.
This just in from the Department of Not Cool At All, the Ocean City city council is considering a proposal to convert the surface of Carey Stadium, home of Ocean City Nor'easters, from natural grass to artificial turf.
Villanova will have a dedication ceremony on Saturday for the new $3 million Higgins Soccer Complex, presumably before the men's team hosts DePaul at 1 pm. On Wednesday, the Villanova men's team defeated La Salle, 3-0.
Temple is in Tampa on Saturday to face No. 22 University of South Florida (7:25 pm, Bullcast).
The latest in Brotherly Game's weekly five questions with Philadelphia Fury president Graham Charters.
Daniel Heinze, former treasurer of the Horsham Soccer Association, has admitted to stealing more than $64,000 from the youth club. He says he used the money to pay for "household bills."
At icethetics.com, what NHL team jerseys might look like if the were soccer teams. Here's their take on the Flyers: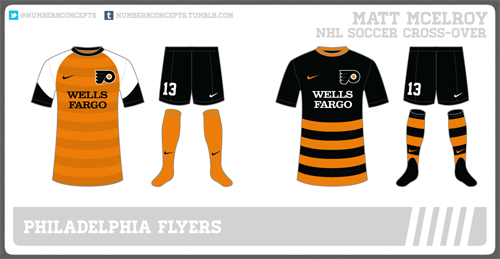 I'd happily wear either of those.
MLS (mostly New York edition)
Red Bulls' head of global football Gerard Houllier tells France Football that Thierry Henry will not be returning to New York in 2015.
Soccer America on recent reports that Red Bull is losing interest in its New York franchise:
In the big picture, the lesson of the Red Bulls is that a wealthy global owner has no guarantee of success even if it is investing in a global sport like soccer in the United States. Indeed, the one thing certain about MLS is that it pays to be local. Almost all the most successful teams have local owners or owners who have embedded themselves in their local markets.
At US Soccer Players, J. Hutcherson writes of the league's continuing push to make New York and Los Angeles each the home of two franchises:
MLS can't resist the idea that they can push professional soccer into the limelight in both of those markets. The question for the future of MLS isn't just whether or not the league even works in NYC or LA. It's if MLS can put so much effort and resources toward the two biggest cities in the country while making sure they do enough to maintain interest in the real American soccer cities.
At Queens Chronicle, more on possible plans to demolish the Aqueduct Race Track in order to build a stadium for NYCFC. Meanwhile, residents in South Bronx say they haven't heard anything about a proposed stadium site in their neighborhood in months.
US
In a wider-ranging interview, Landon Donovan talks to SI about his retirement plans and more. Donovan says he has not spoken to Jurgen Klinsmann about his last national team game, against Ecuador on Oct. 10 (apparently it was Sunil Gulati's idea that he play one last game with the national team). Donovan also said he has not received the apology Jurgen Klinsmann said he was due after his 17-year-old son, Jonathan, posted a mocking tweet when he was not included on the US World Cup roster.
The 20-player USWNT roster for the upcoming World Cup qualifiers was accidently posted on the US Soccer website on Thursday. It has since been taken down and will be officially released on Monday.
Christian Pulisic (PA Classics; Hershey, Pa.) had two assists in the US U-17 BNT 5-2 win over Costa Rica in the Panama U-17 International Tournament. Haji Wright had a hat trick.
Elsewhere
German international and FIFA Ballon d'Or winner Nadine Angerer, who is among the more than 40 international women players who have filed suit against FIFA and the Canadian Soccer Association over the use of artificial turf at the 2015 Women's World Cup, says there are no plans to boycott the tournament.
While current members of the Canada women's team have remained silent about the artificial turf issue, presumably becasue they are afraid of reprisals from the CSA, Canada Soccer Hall of Fame player Carrie Serwetnyk pointed to the Canada men's team being ranked 120th in the world and said of the Canadian Soccer Association,
That terrible men's showing doesn't just happen from mediocre planning and organizing skills, that's from pathetic leadership and poor decision-making over time. Yep, those are the same people who are running the World Cup next year.
I feel like it's sending a continuing message that women are really not important enough.
The New Yorker on headers and concussions.
Lionel Messi will face trial for tax fraud. ESPN reports, Messi's "appeal against being tried for tax fraud has been rejected after a judge found that the Barcelona star should have been aware of how his father, Jorge, was managing his financial affairs
And finally, this just in from the Department of Hahaha, Reuters reports, "Dani Alves has blamed the media for Brazil's unsuccessful World Cup campaign but conceded that the team did not prepare properly ahead of the humiliating 7-1 defeat by Germany in the semi-final."