Photo: Shayna Gosney/Prost Amerika
I think Jim Curtin has done a nice job since taking over for John Hackworth.
For the most part, he's kept things simple, without trying to over-think the team selection process. You see Amobi Okugo in the midfield, you see Sebastien Le Toux bombing forward, and you see Cristian Maidana playing in a central role when he's on the field. Maurice Edu has deputized nicely at center back, and Ray Gaddis seems to be the best option at left back.
The one area that bothers me is the triangle midfield, and the placement of Vincent Nogueira.
It's sort of a trendy thing in soccer writing these days; we like to use positional numbers when discussing tactics and strategy. This is an example of how the numbers look when you've got the 4-3-3 or 4-2-3-1 system that the Union plays.
We really only focus on four numbers when we talk about this shape:
  1.) The number 9 is your center forward
  2.) The number 10 is your attacking midfielder
  3.) The number 8 is your box-to-box guy
  4.) And the number 6 is your traditional holder
Ideally, a full-strength Union team features Maidana as the No. 10, Nogueira as the No. 8, and Okugo or Edu as the No. 6.
Let's use that as the "hypothesis" for the rest of this piece.
Nogueira's unique skill-set

If I ever had to explain Nogs' skill-set to someone who's never seen him play, it would go something like this:
"He's a box-to-box ball mover who likes to drop deep for service, then make connecting passes from back to front"
Nogueira is at his best when he's drifting deep into the formation to collect from the backline or the holding midfielder. From there, we've seen him play short connecting passes and touchline triangles. He's also a very good "field switcher," and he hits the long diagonal pass probably better than any other Union player in the short history of the franchise. Ideally, plays will start from the back, and Nogueira will receive the ball under little to no pressure. Then, he can turn and make the connection with the No. 10 or one of the wingers.
So, the problem with Nogueira at the 10 is that his tendency to drift deep creates a huge hole in the attacking half of the midfield. We saw this from day one, when John Hackworth created the Nogueira, Edu, and Brian Carroll triangle. In the preseason game against New York, Nogueira would ask for the ball in deep areas, which completely displaced the other two midfielders. Carroll is a holder, so he sure as hell isn't going to cycle forward into the 10 spot. Edu looked mostly lost, even when given the opportunity to get forward and take advantage of that space.
That was sort of the theme earlier in the year, when the offense was struggling to score.
A few weeks ago, I asked Curtin about his usage of Nogueira in the 10 spot, and this is what he had to say.
"When Vincent does play in the No. 10 role, he'll tell you that's not his favorite spot. I see that as well. I see what you see. He's probably better in the spot where he can drift around and pick up the ball and pick apart teams that way. It's harder when he has guys behind him, around him, 360 degrees all the time. But he still has the quality to make the final pass. Maybe in our league he can do that, and I still like him in the No. 10 spot in a pinch. But ideally he's next to a holding guy." (July 30th, 2014)
A lack of options?
One of the issues here is that the Union really doesn't have much depth at the No. 10. Most teams don't, because attacking midfielders and trequartistas are incredibly hard to find.
Really, if Maidana wasn't injured, I wouldn't be writing this column in the first place. But Chaco has been out for nearly a month, and Nogueira has been shoehorned into the No. 10 role.
These are basically the two ideas that are running through Curtin's head when he approaches this problem:
A) Should I use two holding midfielders and add defensive protection in exchange for a less effective Nogueira?
B) Or should I keep Nogueira at the No. 8 spot and give Fred or Leo Fernandes a shot in the No. 10 role?
Curtin has gone with option A, choosing to put Nogueira further forward while pairing guys like Okugo and Mike Lahoud, or Okugo and Carroll. He's sacrificed possession and positioning for some extra defense, which I think is deemed a "safer" move by the technical staff.
Option B puts Nogueira in his best role, and allows a guy like Fred or Fernandes (or, god forbid, Zach Pfeffer) to occupy the 10 spot, sitting higher and making a better connection with the three forwards. In this case, you're asking your No. 6 to do the bulk of the defensive duties, because Nogueira certainly isn't a hard-man in the middle. He does cover a ton of space, as we saw in the first game with Kansas City, but you don't get the boring defensive shield that two holders would provide instead.
A tale of two positions
Here's a look at Nogueira's passing chart, and the Union formation, from the recent 2-1 win against Montreal. Nogueira was used in the No. 10 role, with a holding duo of Maurice Edu and Brian Carroll.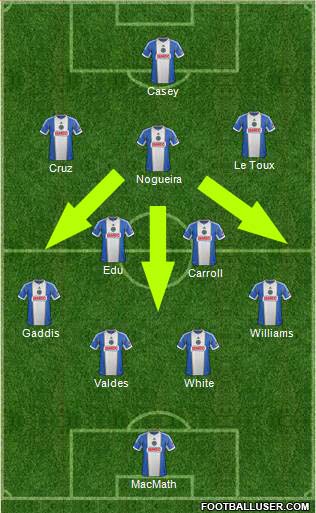 You see that the majority of his passes were played in the midfield, despite being deployed higher up the field. That shows his tendency to sink in and receive the ball, leaving a gap in the CAM spot.
Philadelphia was out-possessed by Montreal, 68 to 32 percent.
Nogueira was just 23 of 28 in passing. He had 1 shot attempt, 1 shot blocked, 0 key passes, 0 cross attempts, and 0 successful dribbles.
By comparison, here's the chart and formation from the 3-3 draw with Vancouver.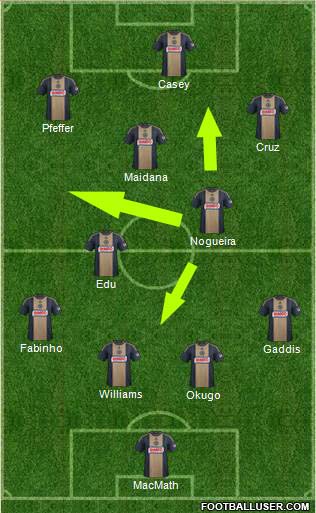 You can see how much more efficient he was in the No.  8 role, with Maidana in front of him and Edu playing behind.
Philadelphia won the possession battle 58 to 42 percent.
Nogs was 49/56 in passing, with 3 shots on target and 1 shot blocked. He had one assist and attempted five crosses.
Both Maidana and Nogueira have been injured for portions of the season, so there aren't a ton of instances where they played together in the No. 8 and No. 10 roles. But it's pretty obvious to me that Vince and Chaco complement each other very well in those spots. I think/hope Curtin will play them in that setup when Maidana returns from injury.