Photo: Earl Gardner
The Carlos Valdes saga has my head spinning, and I'm sure you feel the same way.
Digging through Spanish-language tweets and agent-driven propaganda is hard enough, but when the player himself comes out and claims that he's been waiting five months to be paid, then the situation is officially FUBAR.
Putting all of the speculation aside, let's assume that Carlos Valdes IS coming back to Philadelphia Union.
How does that affect the Union starting XI? (Because I want to talk about things that happen ON the field, not OFF the field)
You've got a team that's playing better under Jim Curtin, with some pieces falling into place.
Amobi Okugo is back in the midfield. Maurice Edu is deputizing nicely at center back. Vincent Nogueira is healthy again, and Cristian Maidana has emerged as a playmaker at the tip of the triangle midfield.
Valdes himself doesn't provide any issues in the formation. He's a center back, and he'll slot right into the starting XI.
Does that mean Ethan White sits on the bench? Or does Maurice Edu move back into the midfield? Who, then, makes way for Edu?
Let's go through some scenarios.
Formation 1 – Keeping it simple
This is the 4-3-3 shape that Philadelphia has been running for most of the year. (It usually plays more like a 4-2-3-1).
In this case, Valdes comes in for Ethan White, and you keep Maurice Edu at center back. I don't get the sense that Edu wants to play center back, but he's been very good in that position since Curtin made the switch.
This is a simple fix that gets your best players on the field without messing around with the midfield setup.
Formation 2 – Swappin' Amobi and Mo
This is the same exact thing as formation 1, but you're putting Maurice Edu in the midfield and dropping Amobi Okugo back into central defense.
The obvious benefit here is that Amobi and Carlos played together on the backline in 2012, so there would be no chemistry issues to overcome.
In this formation, I'd probably put Valdes on Ray Gaddis' side, simple because I think Ray's speed and 1v1 capability pairs well with a bigger ball winner.
Formation 3 – Midfield moves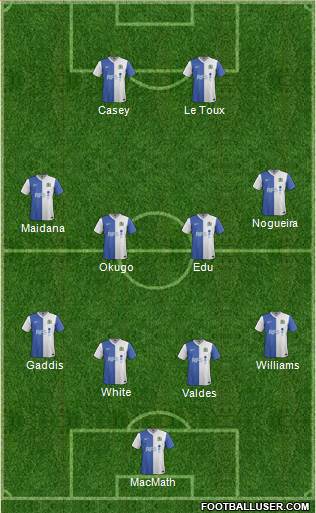 For the sake of switching things up, I decided to put the team in Blackburn kits.
This formation can play like a flat 4-4-2 (think LA Galaxy), or a 4-2-2-2 empty bucket (think Peter Nowak).
In this case, you've got Ethan White pairing Valdes, with Okugo and Edu as a central midfield pairing.
To keep Maidana and Nogueira on the field, you put one on the left and one on the right. It's probably not ideal, but it gets all four players (Chaco, Nogs, Edu, and Amobi) into the midfield.
I'm not sure Maidana and Nogueira will be effective in those wide areas.
Formation 4 – The Christmas Tree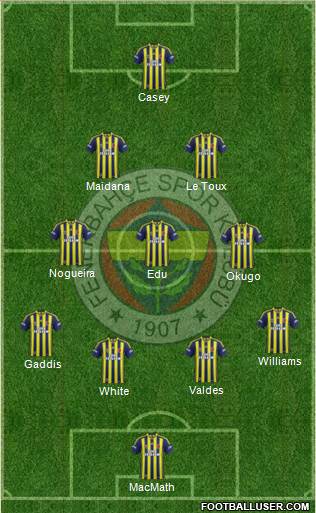 Union players are wearing Fenerbahce kits in this 4-3-2-1.
It's a narrow shape, and you really need your fullbacks to get forward to make it work.
You've got a line of three midfielders in Nogueira, Edu, and Okugo. Maidana can stay centrally in this shape, playing next to another forward with Casey as the target up top.
Jurgen Klinsmann experimented with variations of this shape on the USMNT, getting Michael Bradley, Jermaine Jones, and Kyle Beckerman all on the field at the same time.
Formation 5 – The "Richard McGovern"
My good friend Rick McGovern from the Soccer Desk is a fan of Dutch football and won't stop talking about the 3-5-2.
Philadelphia experimented with the shape in 2012, with Carlos Valdes anchoring the backline for a few games under Peter Nowak.
It didn't really work, but I think it was more about the personnel and less about the formation.
The thing with the 3-5-2 is that it's really predicated on having wingbacks who can run all day long. When you watch Juventus play, they've got Kwadwo Asamoah and Stephan Lichtsteiner bombing the flanks like madmen. The line of three defenders shields a deep-lying playmaker (Pirlo), and the midfield triangle is can be inverted if you'd like.
I think the Union could pull off this shape if they had a left footed wingback. Nogueira could probably play in the Pirlo role.
Final thoughts
These are just a few shapes to take a look at.
You could obviously bench a guy and figure it out from there.
I think the most important thing is to get your best players on the field, and put them where they feel comfortable. Jim Curtin has done a good job of this, moving Okugo into the midfield and letting Maidana play centrally.
You saw what happened on Saturday night when Nogueira had to shift and play higher up the field. He's not an advanced playmaker. He's a box-to-box ball mover who likes to sink and receive the ball.
In similar fashion, you see Sheanon Williams playing better at right back than at center back.
Of course, if Carlos Valdes doesn't return, then I'll have written this article FOR NOTHING!