After a wild, free-scoring, end-to-end group stage, the remaining 16 teams tightened up for the first knockout round.
5 of 8 matches required extra time and tensions (as well as defenses) will try to be even stingier with the quarterfinals beginning on July 4.
At PSP Predictions HQ, the leaderboard is similarly tight.
Kevin Kinkead managed to maintain his 1 point lead over Media Oracles teammate, Jonathan Tannenwald, with PSP's Mike Servedio in third, 2 points off the lead.
In the battle for the cellar (and a gag prize to be thought up at a later date), Kerith Gabriel holds a slim 1 point lead over Greg Orlandini.
Enjoy the quarterfinals!
Union Clairvoyants
PSP Prognosticators
Media Oracles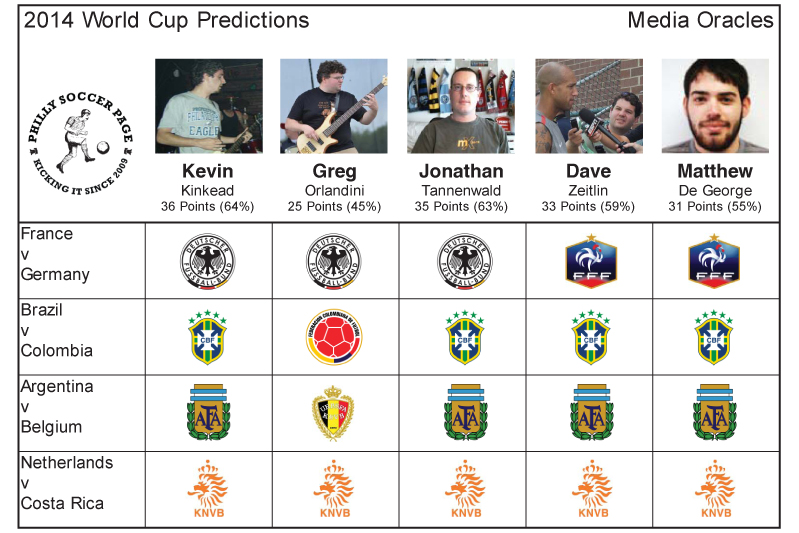 Prediction Notes
Can a team progress deep into a World Cup with 4 centerbacks making up the back line? Apparently not, if the 9 to 6 tally of our experts is to be believed. The French have managed to rebuild themselves following the 2010 debacle and currently boast one of the most complete teams in the tournament, though a victory for Les Bleus would still be considered an upset.
Brazil v Colombia is as evenly split as contest between 15 people can be, with the hosts getting the 1 extra vote. Perhaps that extra vote is taking into account the inevitable, questionable refereeing.
After knocking off the US, there is no reason the Belgians can't progress past an Argentina team that has limped through the tournament relying on pretty much 1 player. Fortunately, that player is Lionel Messi, which is why 10 of our panelists see the South Americans progressing.
Even after knocking off the Greeks (zzzzzzzzz), the Costa Ricans failed to earn a single vote from out panel.