Photo: Courtesy of Philly.com

USA
In a nervy performance, the US is out of the World Cup after falling 2-1 to Belgium in extra time in the Round of 16.
And it hurts.
I'll tell you what, though: All hail Tim Howard!
Facing 39 shots, 17 of which were on goal, Howard made 16 saves, a new World Cup record (since save stats began to be recorded in 1966). Without that performance of a lifetime from Howard, things could've gotten very ugly, very fast. Ever the paradigm of class, Howard said of Belgium after the game, "My hat's off to them. They created a lot of chances. They're top quality players."
Vincent Kompany applauded Howard:
Two words.. TIM HOWARD #Respect #BelUSA

— Vincent Kompany (@VincentKompany) July 1, 2014
Michael Bradley said after the game, "This team showed once again that it has balls."
Jurgen Klinsmann said, "[The game] gave everything to the fans, to the crowd – a real drama, a thriller. We are all very proud of our team, of every player stepping on the field today. They gave everything they had. I think they made their country proud with their performance."
Sunil Gulati said, "I've got to admit, even when we were down, 2-0, I thought we were going to come back. And we had three, four, five chances in the last five minutes."
What has the US learned from their performance at the tournament? Klinsmann said,
What you hope is that your team really takes [the World Cup] experience and understand now what this level means, what the intensity means, what the pace means, and the demands … It's not only going to training and playing a game on the weekend. It's about lifestyle. So much goes into this.
There's still the mental approach.We learn more and more. We're kind of in that process, [trying] to take our game to the opponent, no matter what their name is, [but] we wait too long. "I think there's still a little bit too much respect on our end. When it comes to the big stage, why not play them eye to eye? This is something we have to go through. I don't know how many years it will take.
What makes the finish at this World Cup different from 2010, when the US also fell in the Round of 16? Gulati said,
Because the country was paying attention and I think we're building on something. "Listen, you're not going to have progress every tournament because otherwise whoever wins the World Cup has got nowhere to go. We're building on something. Bob did a great job, Bruce (Arena) before that. Jurgen's building on that and so we've got some new, exciting players. … It's progress on the field and it's especially progress the number of people at home that were paying attention to it.
The way that the people, the fans, embraced the team and the sport in the last couple years will only continue to grow. Especially with a league that is getting stronger and stronger and with the competitions we have ahead of us next year with the Gold Cup, then Olympics and Copa America, and then hopefully the Confederations Cup and then the four year cycle goes into the World Cup in Russia.
I think we've done a lot of work. We would have liked to continue longer in this tournament, there's no doubt about it. There's a disappointment there, it's just normal. … I think there's a lot to build on going forward.
Match recaps from PSP, US Soccer, MLSsoccer.com, ASN, Soccerly, Goal.com, ProSoccerTalk, SBI, New York Times, The Guardian, Brotherly Game, and The AP.
Look for PSP's player ratings later this morning. In the meanwhile here are player ratings from MLSsoccer.com, Soccer America, Soccerly, Goal.com, ProSoccerTalk, ESPN,
ESPN has three points from the game, ProSoccerTalk has three things learned, Soccer America has three lessons from the game, SI has four thoughts. At MLSsoccer.com, Armchair Analyst Matthew Doyle has more points than you can shake a stick at.
At SI, Brian Straus says the US exits the tournament "with defiance."
Also at SI, Grant Wahl says the US is transitioning between eras.
At ProSoccerTalk, Richard Farley on signs of progress, "small but clear."
At the Daily News, John Smallwood says "things look promising."
At The New Republic, Franklin Foer says US soccer "has finally arrived."
At ESPN, an English writer says the US proved "they belong once and for all." At Yahoo Sports, Graham Watson continues the theme, writing, "This tournament has put respect for United States soccer at an all-time high."
ESPN on how young US players shined in the tournament.
There are a lot of articles out there that include a phrase along the lines of  "the US leave the tournament with their heads held high." Here's one example, from The Guardian.
At Soccer America, Paul Gardner writes,
Klinsmann has led U.S. soccer astray. His insistence on ignoring young American talent while he brings in primarily German players with little or no connection to the USA, his preference for Germans on his coaching staff, have moved American soccer away from the much richer ethnic diversity that is the country's natural talent base. Are we supposed to believe this statement of Klinsmann's? — "We are doing everything we can in every corner of the country to find the talent." So he brings in players from Germany, from Iceland, from Norway — areas not hitherto known as corners of the USA.
Only one outcome can justify this gross distortion of American soccer — in particular, the youth development area. That would be success. Clear, unarguable, success.
Well, the results are in, and they are poor…
I think you can argue that appointing Klinsmann — a top world coach with considerable World Cup experience — was worth a try. But he has comprehensively failed to deliver. This is a good moment to underline that the Belgium game — the center of all the current shouting — was a loss. Of its four games in the World Cup, the USA won only one. That is not success or progress. Klilnsmann should be dumped.
Former NBA executive David Kahn has an interesting take on the challenges facing MLS in an article entitled, "World Cup won't make US soccer popular."
Bloomberg View looks into why Latino-American players are under-represented in US Soccer.
Is it time to start calling soccer "one of the five major sports"?
The Huffington Post on the story of Teddy Goalsevelt. He seems like a good guy.
Philadelphia Union
At the Daily News, Jake Kaplan reports on efforts to bring Carlos Valdes back to the Union. Jim Curtin says the Union are "actively looking" at Valdes, who they are "in close communication with." Curtin explains,
I think he's a top center back in MLS. If we can add that piece to us, that's a huge piece.
The huge factor is he's a known commodity. Listen, there are other center backs in the World Cup that have expressed a real interest to come here, like legit starting center backs in the World Cup that would like to be here. However, Carlos knows the league. He's our player still. It's a quick transition.
We think we've made a very positive offer, an aggressive offer to get him back here in terms of upping the ante down the road with him. So he's a guy we think for the long term we want him in a Philadelphia Union jersey.
Power rankings? It's been too long. At Soccer America, the Union move up one spot to No. 14.
Philly.com reminds readers that there "may be another up-and-coming soccer team here at home these johnny-come-latelys can turn their attention to — the Philadelphia Union." The post concludes,
So will American World Cup fans skip work and start cheering for the Union?
Nah, probably not, even though it'd be more entertaining that watching the Phillies.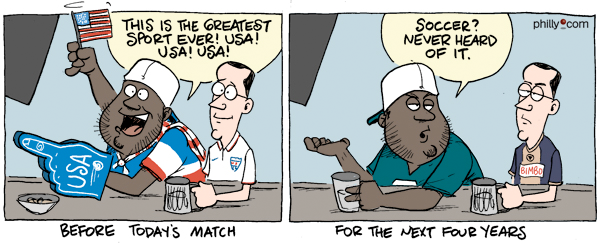 The series at the Union website on local connections to the World Cup continues with a look at Peter Pietras of the Philadelphia German Americans, who played for the US in the 1934 World Cup before winning the US Open Cup with the German Americans in 1936.
Local
Philly.com has reports on watch parties at the Piaza and Commerce Square.
Harrisburg City Islanders defender Coady Andrews has been named to USL PRO's Team of the Week, with Danny DiPrima receiving an honorable mention. Reading, Pa. native Corey Hertzog, who is now with Orlando City, was named Player of the Week after scoring a brace in the 3-0 win over LA Galaxy II.
MLS
Two games tonight. In Eastern Conference play, last place Chicago (14 points) host fourth place Toronto (20 points). In the Western Conference, eighth place San Jose (16 points) host last place Chivas USA (14 points).
Colorado have acquired attacking midfielder Carlos Alvarez from Chivas USA in exchange for midfielder Nathan Sturgis.
Houston have a new shirt sponsor, "global resources company" BHP Billiton.
NWSL
Three games are scheduled for tonight, all of which can be viewed at NSCAA TV and YouTube at 7 pm: Third place Washington (22 points) hosts last place Boston (10 points), seventh place Sky Blue (16 points) hosts eighth place Houston (13 points), and first place Seattle (36 points) is on the road to fourth place Western New York (20 points).
Elsewhere
Belgium will face Argentina, who defeated Switzerland 1-0 in extra time, in the quarterfinals.
The AP reports, "A man who was punched in the head over the weekend while refereeing an adult-league soccer match in suburban Detroit died Tuesday, authorities and a longtime friend of the referee said."