I love to drive. Wanna go to Orlando for pre-season? No prob, hop in. We're leaving Thursday night and we'll have you back by Monday morning. Warning: mandatory stop at South of the Border in South Carolina for a cheesy photo op.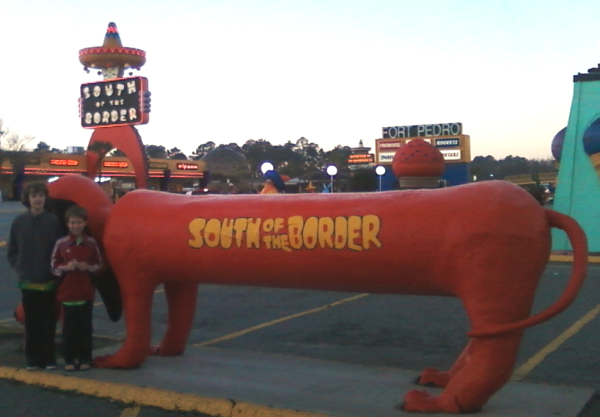 As I write, I am planning my annual pilgrimage to Dallas, which occurs as soon as school is out. I pack up the kids, the cooler, the car, leave my hubbie home and off we go. Yes, I am crazy enough to drive across country with my children by myself. And what's worse –I look forward to it.
We've been driving since 2010 and for three of the five Union years, I've been able to get to a game down there.
The first year was a FC Dallas game. The stadium is actually in the burbs, miles away from anything else. The parking lots are beautifully paved (sorry Lot A). I forced everyone to get there two hours early in the hope we could see the players before pregame and hang out the nifty sheet I spraypainted with DOOP.
When we arrived, I thought I got the time wrong as there was only one other car in the lot. It was a very lonely place. No flags, no tents, no beer…
However, out of that other car popped three people wearing McInerney jerseys — it was Jack's uncle and family. We had a great conversation. It is always nice at away games to see other fans wearing the blue and gold.
Off we went into the stadium. I had specifically asked to sit far away from the Dallas supporters. We walked to the aisle where our seats were and I struck up a conversation with the usher. It went like this:
Me: Where do the supporters sit?
Usher: Normally on the opposite side of the stadium, but today they are sitting in this section.
Me: Oh.
Usher: Don't worry honey, nobody's coming to the game today. You can sit anywhere.
Me: Why?
Usher: Cowboys first preseason game.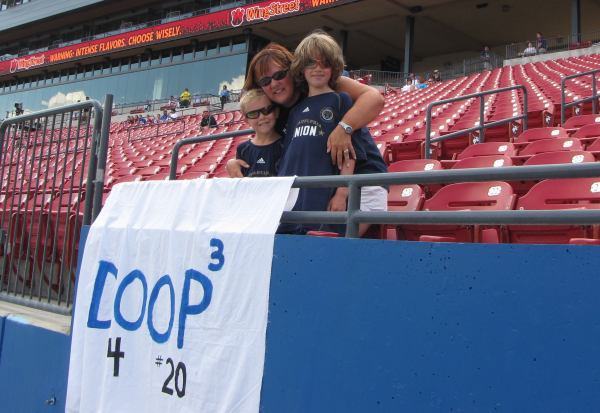 She wasn't kidding, there were maybe 5,000 in attendance for the game.
We moved to sweet seats right behind the Union bench, where we hung our sign out and got ready to DOOP.
And sweat. And fry. Damn, Dallas in August is hot — and I grew up there.
Well, the game was not a win, but we had fun sitting with Jack's family.
We got the scoop on where the players come out after the game, so we hustled over to greet them as they got on the bus.
Last year the Union were playing the Dynamo while I was in Dallas, so I thought, what the heck? I like to drive. My kids said forget it. I forgave them because we had just driven cross country and it was another 8 hour round trip.
So I went by myself, KYW Philly Soccer Show soccer podcasts all lined up, cooler full of Diet Dr Pepper, and ready for my Whataburger and Jack in the Box pit stops.
Houston also has a great stadium — nice architecture. Friendly fans, but damn its hot. Really hot. The away teams tickets are in full sun at the top of the stadium, thankfully far away from the home supporters.
There were six of us.
Sadly another loss, but it was worth the drive to support my boys in blue and meet other Union fans. One fan I have since seen at other games. He has lots of frequent flyer miles.
So this year I'm ready — no sunscreen necessary this time because the Dallas game kicksoff at 9 pm (thank you MLS schedulers).  I have my Doop sheet ready to hang up, though I hear that the attendance is up at the Dallas games, so we might be stuck in a corner somewhere.
I'm hoping to get to DC this year. We're bypassing the NY game since its midweek and even I'm not that crazy.
Left on my bucket list are Portland, Seattle, KC, Toronto and Montreal.
If you are up for a road trip, give me a call. I'll drive and bring my sheet!