Editor's note: This post is part of PSP's World Cup series, in which PSP's writers and a few honored guests make the case for which team you should root for in the World Cup after the United States. Read the full series here.
A few months back, I spoke of my love for the underdog. Forget all of that for the next five minutes. Argentina is No. 5 in the FIFA world rankings, and is one of the three or four favorites to win the World Cup in Brazil. Don't want to adopt a top five team as your second team? I hope you'll reconsider. There's a lot to like here. Argentina brings a heaping plate full of tradition and attractive, attacking soccer, with a little side of crazy.
Tradition
Soccer is an integral part of Argentina's culture, and they have a rich history of success. Argentina played in the first ever World Cup final, in 1930, losing to Uruguay. That was the first of 4 World Cup final appearances, which also include two World Cup victories in 1978 and 1986 (the Maradona "hand of God" year). They have also won the Copa America 14 times, the Confederations Cup, and the Olympics. France is the only other nation to win the World Cup, Confederations Cup, and the Olympic gold medal.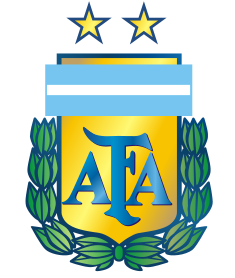 Is there a more immediately recognizable jersey in international soccer? Italy's blue jerseys, the Netherlands orange jerseys, and perhaps Brazil's yellow jerseys stand out among the crowd of course. But Argentina's light blue and white vertical striped home jerseys are arguably the most iconic in international soccer, and have been a staple for this team for over 100 years now.
Attacking talent
This 2014 edition of the Argentina national team may boast the best collection of attacking talent in the entire 32 team tournament. The forwards are led by captain Lionel Messi (Barcelona), one of the top talents to ever play the game, but run plenty deep. Gonzalo Higuain (Napoli), Sergio Aguero (Manchester City), Ezequiel Lavezzi (PSG), and Rodrigo Palacio (Inter Milan) round out a group so talented that there was no room for the mercurial, but highly effective Carlos Tevez (Juventus).
Adding to this high powered attack is midfielder Angel Di Maria (Real Madrid), who brings speed and plenty of high octane attacking guile from the wing. He may well have been the best player on the field during the recent Champion's League final, and will surely be in high demand this offseason.
Argentina is a bit weaker when defending, though they can lean on high end talents like Javier Mascherano (Barcelona) to stabilize the team from his defensive midfield position and transition the team quickly forward. Pablo Zabaleta (Manchester City) will also be heavily relied upon to clamp down one attacking flank, while also springing forward to create width when Argentina gains possession.
Intangibles
I'm fortunate enough to have a brother-in-law from Buenos Aires, so I got the background on life in Argentina long before John Hackworth looped Union fans in on Chaco Maidana's late night steak dinners and his children's bed times. People in Argentina live the life you lived in college, yet it continues long after your 21st birthday has come and gone. Eat a big (and late) dinner consisting of the most delicious grilled meats you've ever had, enjoy a few drinks, and then head out to dance or simply enjoy some late night conversation with friends and family. Argentina knows how to have fun — a team with tradition, talent, and a zest for life.
Looking for a team in good form coming into the World Cup? Argentina won South American Qualifying, scoring 35 goals while conceding only 15 while competing against the likes of Brazil, Uruguay, Columbia, and Chile. The beauty of being a sports fan is watching amazing talent, coming together at the right time, to create magical moments on the field. Argentina checks all of the boxes and has hit their stride as they enter World Cup pool play.
Barring the 2014 USMNT version of the Miracle on Ice, you can't go wrong cheering for La Albiceleste (The White and Sky Blue) to make a run all the way to a potential dream show down with host Brazil!