World Cup!!!
It's finally here and, if you're like me, now you have an actual reason to explain to your boss why your productivity has been so questionable lately. Now, it's not anticipation of the World Cup that is the cause of distraction, but actual World Cup games. Namely, Brazil vs. Croatia, which kicks off at 4 pm (ESPN, ESPN Deportes, Univision, Univision Deportes, ESPN3, Watch ESPN, ESPN Radio, SiriusXM FC).
Local coverage is ramping up:
Carlos Botella, head groundsman for the Amazonia Arena in Manuas, says of the condition of the pitch, "Frankly, Manaus is in bad shape. We've started to implement an emergency plan to try to save the field and improve it as much as possible, but I don't think it'll be in good condition" by the weekend.
The New York Daily News on how Sepp Blatter's "legacy of awarding World Cup bids to more unconventional bidders may be on the line in a Brazil that is not fully ready for the international tournament.
At the Wall Street Journal, a look at why it is risky for retailers to stock national team jerseys that have a player's name on them.
The AP reports from Brazil "Workers at Rio de Janeiro's two airports declared a partial work stoppage beginning at midnight Wednesday, on the eve of the opening match of the World Cup. Rio's Galeao international airport is expected to be one of the country's busiest during the month-long tournament. The walkout also will affect Santos Dumon airport, which provides domestic service, including flights to Sao Paulo, where the first World Cup game will be held on Thursday."
The Onion has background on eleven World Cup teams to watch.
Philadelphia Union
Interim head coach Jim Curtin held a press conference today at 10 am. We'll have more from the press conference later.
Following Tuesday's Hackworth announcement, the Union announced on Wednesday that assistant coach Rob Vartughian has been fired.
Philly.com's Jonathan Tannenwald reports that, according to "multiple sources with direct knowledge that the decision," Vartughian's dismissal was made at the same time as the decision to part ways with Hackworth. "In other words, this wasn't a decision made by Jim Curtin about Vartughian after Curtin was installed as head coach."
More from PSP, Delco Times, CSN Philly, Brotherly Game, and MLS soccer.com.
At Union Tally, Matthew De George has a transcript of Nick Sakiewicz's comments to reporters on Tuesday after the Hackworth firing announcement. Sakiewicz said the firing, and search for a new coach, will not affect the ongoing search for reinforcements in the simmer transfer window. "None of that changes. We're still going to be very active in this transfer market. We've looked at hundreds of players. We need to fill some spots. It's no secret we need a dangerous attacking player."
Sakiewicz said of the search for a new head coach, "We're looking for experience. We're looking for a coach that has been there, done that, that has won and knows how to win championships in the modern MLS. We've got to have coaches and technical staff that can compete at that level, deal with the fan pressure, deal with the media pressure, because it's not MLS of 10 years ago."
The team is currently without a general manager, sporting director, and with Vartughian's departure, a technical director. Sakiewicz said he is considering how to restructure the team's technical staff. "I'm evaluating the structure, and I'm evaluating what is the best model out there. Different teams do it differently, so that may change. It may not."
At The Wooder Cooler, Joel Hoover reflects on John Hackworth's tenure as head coach of the Union and what's next for the team.
Local
After going down 1-0 in the first half, Harrisburg City Islanders roared back with three unanswered goals to defeat Pittsburgh Riverhounds 3-1 on Wednesday night. Jimmy McLaughlin opened the scoring when he finished the rebound from his saved penalty kick. Clesio Baque scored the gamewinner, assisted by Morgan Langley, and Yann Ekra scored the insurance goal, assisted by Cristhian Hernandez. The teams meet again on Saturday in Harrisburg for the third and final game of the Keystonw derby. Match recap from USL PRO and Penn Live.
Before the game, the City Islanders announced that defender Shane Johnson had joined the team on loan from Richmond Kickers. Johnson played the full 90 minutes in Wednesday's win.
Also on Wednesday, Reading was on the road to Long Island Rough Riders where they played to a 0-0 draw. Recap from Long Island Rough Riders.
MLS
DC United (25 points) moves into first place in the Eastern Conference with a 4-2 road win over last place Montreal (10 points). Jack McInerney scored the 12th minute equalizer for Montreal, his fourth in eight league appearances for the Impact, after DC's Luis Silva scored the opener in the sixth minute. Silva would go on to score a hat trick.
In the Western Conference, sixth place Portland (20 points) hosted fourth place Dallas (22 points) to a 2-2 draw. Portland scored a 94th-minute stoppage time equalizer against nine-men Dallas.
In US Open Cup play, Houston defeated PDL side Laredo Heat 1-0, while San Jose defeated USL PRO side Sacramento Republic 2-1.
Montreal Impact have announced the signing of Spanish midfielder Gorka Larrea.
On Tuesday, the City of Orlando served papers to begin the eminent domain process on the church that is refusing to sell its land and so is holding up the start of construction for a new downtown soccer stadium. The church says it will "fight the taking to the end."
US
The closed door scrimmage that was to take place today between the US and Belgium has been cancelled due to traffic concerns. Belgium head coach Marc Wilmots told The AP before the announcement that he "will not take the risk to go to Sao Paulo, looking at the possibility of a strike and traffic jams. I don't want to sit in a bus for five hours."
Jurgen Klinsmann continued his campaign to give every jingoistic sports writer in the US a case of the fits on Wednesday. "I think for us now, talking about winning a World Cup is just not realistic. First, we've got to make it through the group. So let's stay with our feet on the ground and say let's get that group first done, and then the sky is the limit."
Unsurprisingly, Landon Donovan doesn't agree with Klinsmann's view, saying, "As someone who has been in that locker room and has sat next to the players, we agree with the (supporter group) American Outlaws: We believe that we will win. I think that's the way Americans think and I think that's the sentiment."
He does seem to have gotten over being left off of the World Cup squad:
At ASN, Josh Deaver has more on Klinsmann's "and His No-Can-Do Attitude."
At CSN Philly, Dave Zeitlin has ten reasons why the US can get out of their group.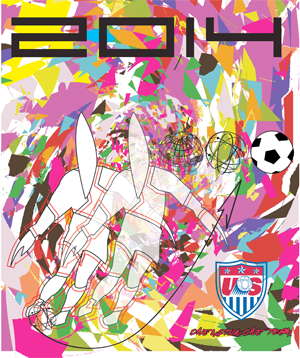 US Soccer has released its official 2014 World Cup poster, designed by "art director" Futura. It is, in a word, terrible.
Sports Pickle has some entertaining reasons to hate the 31 teams who are at the World Cup with the US.
AdWeek reports that soccer is now more popular than NASCAR. Victory!
Elsewhere
Reuters reports, "The lawyer investigating allegations of corruption surrounding world soccer's governing body FIFA said on Wednesday he intended to review all information contained in documents seen by the media recently before coming to any final conclusions." Michael Garcia said,
We've reviewed the recent reports, and all the documents referenced and attached to those reports. The vast majority of that material has been available to us for some time...We have gone to what appears to us to be the original source of that data and we are confident we will have full access to whatever else may be in that data set and we will review that data for anything else relevant prior to issuing any final report.
According to the Reuters report, "Garcia added that his team would consider any material provided to them, but would not delay the publication of the final report indefinitely."
Michel Platini says he can no longer support Sepp Blatter. "I am supporting him no longer, it's finished. I have known him for a long time, I like him, but I'm not favorable to him having another term."
The AP reports, "FIFA President Sepp Blatter has proposed that football team managers should be allowed to challenge referee's decisions during games. Blatter's surprise announcement at FIFA's Congress on Wednesday reverses an earlier pledge that goal-line technology was the only camera review of decisions that he would support."
Blatter also said, "We should wonder if one day our game will be played on other planets. Why not? And then instead of a World Cup we would have an inter-planetary competition."