Editor's note: This is the latest piece in PSP's World Cup series, in which PSP's writers and a few honored guests make the case for which team you should root for in the World Cup after the United States. Read the full series here.
Photos: Barb Colligon
First things first, let's get the obvious out of the way.
Yes, I know about Joel Campbell's pitiful dive. (I'm not giving you a link to it, so don't ask)
Yes, I remember the snow game.
But let's be reasonable. This is soccer and there are scores of players who have done some terrible things and are still loved by millions. The games are contested for so much more than those isolated instances, so forget about those minor indiscretions for now.
Costa Rica is an awesome country.
They're continually voted one of the happiest countries in the world by several different indices. A peaceful country with no army, the government is dedicated to conversing of wildlife due to its extreme biodiversity. And, yes, hundreds of my in-laws reside there.
The Ticos (Costa Ricans) have an expression: Pura Vida. It translates to "pure life" but it's so much more than that. It's the answer to questions such as "How are you?"; "What's up?"; "How do you feel?" or even just a way to excitedly say hello or goodbye. It is a sharing of a country-wide pride in their life and lifestyle. And this proud, happy way of life is seen in their love of futbol.
Before kids can walk, soccer balls are thrown at their feet. Every small rural town or village has a salon (community hall, party/dance hall, etc.) and soccer field in a central area regardless of the town size. Sundays mean church and playing soccer all afternoon and evening. Generators can be found providing electricity to homes solely for viewing national team matches on modest televisions –- and maybe for emergencies.
Costa Rica's La Sele (la seleccion), is excited to return to the World Cup as part of the CONCACAF contingent, after failing to qualify for WC2010. In Group D they are met with not only the challenge of England and Italy, but also the Uruguay side that defeated them in a playoff to deny them access to South Africa 2010. And yes, my Tico friends are nervous.
From back to front, the final squad is full of talented folks about whom neutral fans can get excited. Goalkeeper Keylor Navas was recently named La Liga's Goalkeeper of the Year for his performance with Levante. And US fans have seen Patrick Pemberton in net against the Yanks for the 2013 Gold Cup match in Hartford, Connecticut. His team, Liga Deportiva Alajuelense, recently won the championship of the Costa Rican league (Winter 2013-2014).
From those looking to support players from Major League Soccer, the Ticos defense is strengthened by three such names. Defenders Giancarlo Gonzalez and Waylon Francis from Columbus Crew will be joining Red Bull Roy Miller.
Midfielders will be pulled from mostly European and Costa Rican teams. Names to look for: Celso Borges (AIK, Sweden), Michael Barrantes (Aalesund, Norway) and Christian Bolanos (FC Copenhagen, Denmark).
The most name recognition for this Costa Rican side however, comes from the forward. The aforementioned Joel Campbell will again provide a spark up top. His second most famous moment for the US fan is probably his wonder goal for Olympiakos (while on loan from Arsenal), who won the first leg before losing on aggregate against Manchester United in Champions League play. You can view that here.
Randall Brenes (Cartagines, Costa Rica) and Marco Urena (FC Kuban Krasnodar, Russia) may not be well known to US viewers, but are names to learn, as they are incredibly fun to watch.
The Ticos have suffered a setback in the goal-scoring department, when news broke recently that Alvaro Saborio fractured a metatarsal. Real Salt Lake's star striker has captained quite a few games for the Ticos and would have been a key contributor, but the forward will be out of commission for about 3 months. At the press conference, Coach Jorge Luis Pinto seemed close to tears making the announcement.
And to be honest, so was I.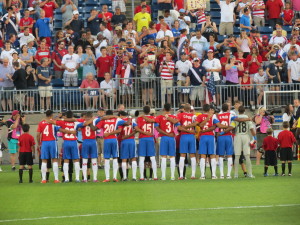 But alas, Costa Rica's most (currently playing) popular player, Bryan Ruiz will be available. Though he's considered a right sided attacking midfield on Dutch team PSV Eindhoven (on loan from Fulham), he could be seen as a forward and likely a team goal leader. Ruiz had great success a few years ago at FC Twente, including Player of the Year in 2010, before going to Fulham. There's a powerful sense of pride Ticos have in the accomplishments Ruiz has made internationally.
I've been fortunate enough to see Ticos play in Gold Cup games, CONCACAF Champions League action, and even a game in Perez Zeledon, Costa Rica. The Pura Vida feeling exhibited by the players and oozing out of the spectators is tangible. It's not just a love of the game, it's a sense of pride and commitment to enjoying the moment that both players and spectators share. It's contagious. It's what got me interested in being more than a casual fan. And though I had watched many games due to being married to a soccer fan, I remember the specific game, DC United vs, Saprissa at RFK in October 2008, that made me want more. Because of that game, I'm extremely grateful to the Costa Rican team and fans that led me to this awesome hobby.
I'd love for each of you to see if you can also sense that Pura Vida during this World Cup too.
Buena suerte a todos.