Photo: Paul Rudderow
On Sunday, news began to appear on social media of the passing of Eric Shertz, a dedicated Union fan and Sons of Ben member. All of us at PSP would like to express our heartfelt condolences to Eric's family and friends. As PSP photographer Earl Gardner, who took the photo below, said, Eric was one of the great ones.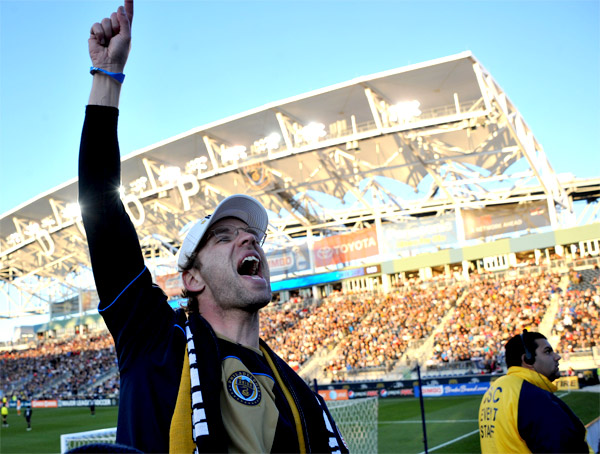 Philadelphia Union
The first game of the season without a goal scored.
Zero shots on goal.
Six games without a win.
1-2-5.
After an auspicious preseason of new acquisitions, and a thrilling season opener in rain drenched Portland that only underscored the promise of a team seemingly reborn, the season start now is one of missed opportunities against beatable teams and points dropped rather than taken.
It's still early in the season — and the team just played three games in eight days — but eight games in and the snake on the Philadelphia Union crest is looking all rattle and no bite.
Andrew Wenger was blunt after Saturday's draw: "It's a poor day."
John Hackworth said, "After a shaky start in that first half, not only did we dominate possession, but we defended pretty well. I think there's frustration from all of us that we didn't get three points today, but at the same time, there's lots of positives to build off."
What were those positives, aside from another day of lovely spring weather? Amobi Okugo said, "It's frustrating, we thought we played well. They got a man down and we we kept pressuring, kept peppering the goal. Unfortunately, it didn't go in…What's most important is us getting the shutout and getting back to the basics defensively. We did that."
Ray Gaddis echoed Okugo's comments. "I know we got together as a defensive group and kind of talked about it. Last year, we were a solid defensive team, and we wanted to get back to the basics."
Despite focusing on the positive, Okugo nevertheless was aware that the Union did not manage a shot on goal. Okugo said, "We all looked ourselves in the mirror and we realized [the first half] wasn't good enough, especially at home. We didn't even have a shot on goal. That's unbelievable to be at home and not have a shot."
In case you're wondering, the last time the Union had no shots on goal was in the 1-0 loss to Los Angeles on April 2, 2011. In that game, the Union also had a man advantage after Chris Birchall was ejected in the 53rd minute. At 90′ + 5, Jack McInerney would also be ejected.
Between the midweek loss in New York and Saturday's draw, the Union have now gone 124 minutes without a shot on goal.
Sebastien Le Toux said, "I think we need a little more desire to get the ball past the defender and start getting the results that we want. We did have a lot of crosses today, but I think that depends on who is in the boxes and I think sometimes it's frustrating when you don't have somebody there to finish it in the box. But more than anything, we have to try to win every ball."
Maurice Edu said, "It's important to start finishing plays in the final third, and at times we are a little bit predictable with the way we go about in the final third. We have to have that real urgency and that real desire to go out there and finish off plays in the final third and then the goals will start coming."
Where is that desire supposed to come from? John Hackworth said after the game, "We should have pressed them from the start. We're not going to give an opponent time and space in our own building. That's not who we are."
He explained, "I think you saw a little bit of the psychology of players probably being a little afraid of making a mistake in the first half. That's hard. There's a lot of pressure on these guys. I try to make sure I tell them, 'Look, we're not perfect. We're going to make mistakes. But let's do what we do every single day. Let's play the way we play.' We're trying to establish that, but it's a work in progress."
Which begs a couple of more questions, questions like why didn't the team press from the start and just who are 2014 Union? If answers are soon forthcoming they will be revealed on the road, with the Union away to Montreal next weekend and then Seattle the week after that before the Union return to PPL Park on May 10 to face DC. After that it's Kansas City on the road and the very real possibility of Maurice Edu being called up for the national team's pre-World Cup camp.
Zac MacMath said, "It's tough because we are obviously in a little bit of a drought and to go up a man again with 10 minutes left and not come away with a win is hard. It's something that we need to start working on because ties are not going to get us to the playoffs."
Yep.
Recaps from PSP, Philadelphia Union, Philadelphia Inquirer (1), Philadelphia Inquirer (2), Delco Times, Delaware Online, South Jersey Times, CSN Philly, Philly Soccer News (1), Philly Soccer News (2), Brotherly Game, MLSsoccer.com, Houston Chronicle, Dynamo Theory, SBI, ProSoccerTalk, Goal.com, Bleacher Report, The Sports Network, and The AP.
PSP video of John Hackworth's postgame press conference, locker room interviews with Amobi Okugo, Sheanon Williams, Andrew Wenger, Sebastien Le Toux and Maurice Edu, and postgame quote sheet here.
At Brotherly Game, Barry Evans has game changers from Saturday's draw.
At the Inquirer, Tim McManus talks to Zac MacMath about the need for consistency. MacMath says, "I want to play every game. I hope I never get a break."
At Goal.com, Ives Galarcep includes MacMath in his look at emerging talents who are making the USMNT player pool deeper.
As much as his peers, Sean Johnson and Bill Hamid, have already garnered the bulk of the attention from the U.S. national team, it is MacMath who has shown the most improvement as a goalkeeper during the course of the past half season in MLS. In 2014, MacMath is playing like a mature and confident goalkeeper with two years as a starter under his belt. He has also shown a penchant for stepping his game up when challenged for his job. Not a bad profile for a 22-year-old netminder who should only keep getting better.
Lancaster Online talks to Andrew Wenger about his move to the Union. Wenger says of what he learned from Marco Di Vaio in Montreal, "A lot of it was just (Di Vaio's) movements in the box, how to approach balls when they're coming in off the cross. The little things about how to prepare yourself before the game and take care of your body. He kept me to a high standard — I think that's what I'll try to take from him."
ASN's Josh Deaver described Zach Pfeffer as one of the standout US players at the Dalls Cup tournament ahead of Sunday's final against River Plate, saying, "Former Hoffenheim winger Zack Pfeffer has likewise provided an undeniable spark for the American attack. In three appearances, the Philadelphia Union homegrown signing has contributed one goal and three assists, including this well-placed pass to set up Rubio Rubin for his 14th minute strike against Fluminense." Unfortunately, the US lost the final 2-0. Former Union Academy goalkeeper Zack Steffen was between the posts. More on the game from MLSsoccer.com.
The Union have a new corporate partner in Danish pharmaceutical company Nova Nordisk.
Local
The no scoring bug seems to have traveled from Chester to Harrisburg on Saturday as the City Islanders lost their home opener, falling 1-0 to Dayton Dutch Lions. Head coach Bill Becher said after the match,
To not score in two games, I'd have never guessed that. I think we have some pretty good attacking players. That's probably the most frustrating thing. While we had it in their end a lot and we had a few opportunities, we didn't have any great chances or great shots. Either we hit it right at [Dayton Dutch Lions goalkeeper Matt Williams] or we made an extra pass. I don't know that we did quite as well as we should have in the final third, but it was in the final third an awful lot.
The Union loanees – Richie Marquez, Pedro Ribeiro, Jimmy McLaughlin, and Cristhian Hernandez — all started. More from Harrisburg City Islanders, Penn Live and Dayton Dutch Lions.
Reading United has an alumni report.
TopDrawerSoccer.com on Etan Mabourakh committing to Penn. Mabourakh is ranked 131 in IMG Academy's Top 150.
Pittsburgh Magazine looks what the Pittsburgh Riverhounds filing for bankruptcy means for the future of pro soccer in, well, Pittsburgh.
MLS
In Eastern Conference play, Kansas City (11 points) is in first place after defeating last place Montreal (3 points) 4-0. Second place Columbus (11 points) drew 1-1 with fourth place DC (8 points). Third Place Toronto (9 points) was defeated 2-1 by Dallas. Fifth place New England (8 points) drew 1-1 with ninth place Chicago (6 points) who, along with Montreal, have yet to recorded a win this season. The Union (8 points) are in sixth place after their 0-0 draw with seventh place Houston (7 points). Eighth place New York (7 points) had the weekend off.
In the Western Conference, Dallas (16 points) remain in first place after defeating Toronto. Second place Seattle (13 points) defeated seventh place Chivas USA (6 points) 2-1 on the road with an 81st minute goal from Obafemi Martins. Third place Salt Lake (13 points) defeated eight place and winless Portland (4 points) 1-0. Fourth place Colorado (11 points) settled for a 0-0 draw with last place and still winless San Jose (3 points). Fifth place Vancouver (9 points) fought back for a 2-2 home draw against sixth place Los Angeles (8 points).
At MLSsoccer.com, a look at former Union man Chris Seitz securing the No. 1 goalkeeper spot at FC Dallas. Seitz says of his time with the Union, "It was kind of trial by fire and I definitely left there a little battered, but it taught me a lot."
The Miami Herald reports that the PortMiami site favored by David Beckham's investment group for a new stadium will cost $50 million more than other sites because of extra costs associated with it being located on a flood plain.
The BBC has a great interview with Matt Reis about his experience during the bombing of last year's Boston Marathon. Reis' father-in-law was severely injured in the first blast and the former New England Revolution goalkeeper's actions in tending to his wounds saved his life.
NWSL
In the second weekend of play, first place Portland (4 points) came back to tie 1-1 with seventh place Sky Blue FC (2 points). Second place Seattle (3 points) had the weekend off. Third place Western New York (3 points) lost 1-0 at home to fourth place Chicago (3 points). Fifth place Washington (3 points) topped eighth place Kansas City (1 point) 3-1 on the road. Sixth place Houston (3 points) defeated last place Boston (0 points) 3-2.
Sky Blue's goal was scored by USWNT defensive stalwart Christie Rampone and, incredibly, was the first goal ever scored in her pro career, a career that spans 110 games as a professional and stretches back to the old WUSA. Rampone joked after the game, "I was boxing out in my basketball move when the ball came across, and I was like 'Do I clear it or put it in? Where am I?'"
US
Sunil Gulati said of his expectations for the US at the World Cup, "Everyone wants to get through the first round: That's our goal. Jurgen has said, 'Our World Cup final is that first game against Ghana.' If we start well, there's no reason we can't get through the first round. Then it's a knockout competition. So get through the first round and then we dream about more."
Gulati also said he's "pretty sure" he'll be able to announce the new USWNT coach by mid-May.
Portland's Darlington Nagbe believes his national team future lies with the US rather than Liberia. He should have US citizenship in 2015.
Elsewhere
Reuters reports, "As if worrying about unfinished stadiums and overcrowded airports wasn't enough, the upcoming soccer World Cup will give Brazilian policymakers another headache: an inflation spike."