Photo: Daniel Gajdamowicz
Another dominant performance, another disappointing result.
The Union turned a win into a draw Saturday for the second time this season, continuing a pattern from last year. They could be sitting atop the standings. Instead, they're mid-table.
But it's early, and this is a team still feeling itself out. Who are the best 11? How best do these pieces fit? That is still a question to be answered for this team, as one would expect with a team that acquired so many key, new parts in the offseason. So let's explore it a bit, as Saturday's 1-1 draw with Montreal may have revealed a bit more of the answers.
As McInerney goes, so goes Maidana
After a stellar first two games against Portland and New England, Chaco Maidana has gone quiet. Union manager John Hackworth has pulled him from the last two games after about 55 minutes to get a spark from Leo Fernandes. One four-game stretch is too small a sample to adequately reflect Maidana's tendencies. But after the first two games, it seemed clear that Maidana had some nasty attacking tendencies. So what happened the last two weeks?
Jack McInerney's performances might lend some insight.
Look at both players' touches over the season's first four games.
| Game | McInerney | Maidana |
| --- | --- | --- |
| @Portland | 60 | 97 |
| New England | 54 | 107 |
| @Columbus | 27 | 41 |
| Montreal | 30 | 67 |
As one goes, so goes the other. However, it may be as much correlation as causation.
McInerney may be a dangerous poacher, but he has played little part in the possession game the last two weeks outside of a terrific pass to set up Vincent Nogueira's goal on Saturday. On the day, McInerney completed just 7 of 9 passes.
Meanwhile, with Nogueira's tendency to bounce from sideline to sideline and sit deeper than a typical playmaker, a hole appears to remain in the center attacking third between the center midfielders and McInerney, unless Leo Fernandes is in the game to fill it. Last year, Conor Casey filled that hole as a target forward.
In all likelihood, this is where the attack is bogging down and why Maidana and McInerney (and Sebastien Le Toux, to a lesser extent) haven't connected with the midfield trio as much the last two weeks. The attack has a missing link.
Does Brian Carroll fit the Union anymore?

Brian Carroll was having a really solid game Saturday until one misplaced pass to Vincent Nogueira set up Montreal's counterattack goal. His defensive takeaway and subsequent pass to Jack McInerney began the break that led to the Union's goal. Carroll led the Union with 24 defensive takeaways (3 tackles, 4 interceptions, 3 clearances and 14 recoveries), with 15 coming between midfield and the 18-yard line in the field's central channel. His play helped limit Montreal to just two shots on target. Carroll is a valuable player for a team, and his overly harsh critics need to accept that.
So what's wrong?
Soccer isn't a game of individuals. It's played by teams, and the key is how a team's parts interrelate. That makes it all the more sadly ironic that a classy, underrated, team player like Carroll may prove excess in the long run.
Philadelphia may have evolved beyond the point where they need a true No. 6 defensive midfielder like Carroll every game. That role typically exists on a team because the No. 6 has to cover for a pure creative attacker in front of him who needs defensive support to shield the back line. Philadelphia doesn't have that player though.
The additions of Nogueira and Maurice Edu, emergence of Leo Fernandes, and move to a 4-3-3 may make Carroll the odd man out. Nogueira may lean more offensive and Edu more defensive, but both are box-to-box midfielders in the No. 8 style, capable of covering vast amounts of ground and contributing at both ends of the field. They can sit at the base of a midfield triangle the way that Portland's Diego Chara and Will Johnson do to allow Diego Valeri freedom to roam in front of them to create as a No. 10 playmaker.
Thus far, Nogueira has filled the Valeri role for the Union, but he likes to sit deeper and may be worthy of the tag, "deep-lying playmaker." With a trio of Nogueira, Edu and Carroll in the lineup, all three like to sit deep, leaving a gap in the central attacking third between them and McInerney.
With Maidana and Fernandes, the Union have a pair of left-footed attackers who can create in the offensive third. By only using one of them at a time and starting Carroll, Hackworth sacrifices offense for defense.
Once the back line gets healthy, he may not need to anymore.
Speaking of that back line …
The Aaron Wheeler experiment is fascinating. He is an absolute beast in the air. His defensive positioning is surprisingly good. Wheeler's long strides enable him to cover a surprising amount of ground. Yes, his distribution is awfully suspect, but that appears to be a function of playing in a completely new part of the field. Given time, he should settle down and read the game better there.
So what happens when Austin Berry recovers?
He goes right back into the starting lineup, of course. Right now, he is more reliable than Wheeler.
Still, one has to wonder about Wheeler's future. He has great athletic ability, size, and instincts. His potential as a center back seems vast. Is it too late in his career to emerge as a top line center back?
In American soccer, it's never too late. He could make a nice safety net if Amobi Okugo bolts for Europe when his contract expires.
Player ratings
Zac MacMath — 5

A perfectly ordinary day at the office: Make the routine plays, don't get challenged much, get beat by the one good shot your opponents get. Fairly typical for MacMath.
Ray Gaddis — 7

Gaddis won six tackles Saturday (and ranks third in the league in total tackles with 19). That's a big defensive game. You can't knock him for the counterattack on the Di Vaio goal. Fullbacks push into the attack in the modern game, and Gaddis can't always show superhuman speed in recovery. Okugo and Wheeler were in adequate position where they could have stopped the goal. In the attack, Gaddis was ordinary, however. The Union miss Sheanon Williams.
Amobi Okugo — 6

Okugo was having a solid game until he waved off defensive help and gave Marco Di Vaio just a tad too much space. Di Vaio made him pay with a terrific curling shot, deflected or not. Sometimes, that's just how it goes: Great players make great plays, and Di Vaio made one. The learning curve continues for this burgeoning star.
Aaron Wheeler — 7

Wheeler was absolutely dominant in the air and made key defensive play after key defensive play. However, his distribution remains a problem, and he deserved at least one yellow card, if not two, on the day. You can't get away with violent shoulder blocks on Justin Mapp every game.
Fabinho — 3

Fabinho brings some nice things to the left back position, like a left foot. But getting outrun by Di Vaio (not exactly known for his pace), connecting on a low percentage of crosses (1/6), and playing subpar defense won't help him hold onto a starting job once Sheanon Williams returns to full fitness.
Brian Carroll — 8

See above. Brian Carroll had a very good game. Teams like New England that need a true No. 6 d-mid should pay attention.
Maurice Edu — 7

Edu completed 39 of 44 passes, and three of his five incomplete passes were headers. Those numbers seem Keon Daniel-like, except that Edu was sending these passes ahead toward the attacking third. Add a solid defensive showing, and it's a good game on the whole.
Vincent Nogueira — 8

His goal was perfectly taken, and he covered a lot of ground defensively, making four tackles. As usual, he was all over the field on both ends. No Union player — and few in MLS — inspires as much confidence on the ball as Nogueira. He looks like an all-star, and this wasn't even his best game.
Cristian Maidana — 4

See above. Maidana disappeared for much of the match before leaving with an injury in the 55th minute.
Sebastien Le Toux — 5

Le Toux completed passes all over the field because he was playing all over the field. Some have made the case that Le Toux's positional indiscipline may hurt other attackers because he fills their spaces. It might be time to see what an entire game of playing Le Toux on the right and Maidana on the left produces. Simplicity can produce wonders.
Jack McInerney — 6

McInerney set up the Union's goal with a good run and an equally good pass. But he touched the ball just 30 times, less than any other starter on the field. Was that his fault or a function of the midfield personnel? (See above.) Likely a bit of both.
Substitutes
Leo Fernandes — 6

Fernandes entered the game and promptly started finding and putting the ball in dangerous spots. He once again filled a gap in the attack that needed to be filled. (See above.) His dead ball service nearly created a goal. Another stellar game that makes the case for more minutes.
Conor Casey — 4

Casey nearly created a goal in the 72nd minute, shortly after coming on for his first appearance of the season. Otherwise, it was a fairly quiet 20-plus-minute stint.
Antoine Hoppenot — 3

Hoppenot came on in the 83rd minute and then didn't touch the ball a single time.
(Guide on ratings: 0 – worst game possible. 1-3: poor game. 4-6: below average to above average. 7-8: good game. 9: great game. 10: perfect game.)
The Geiger Counter
Edvin Jurisevic — 3
There is no way that Andrew Wenger deserved a red card for his 76th minute tackle on Vincent Nogueira if Aaron Wheeler can get away with the kinds of hard first half tackles that put Justin Mapp on his rear end. Jurisevic lacked consistency all game. Had Montreal lost, they would have rightly felt jilted by a poor referee.
Preferred starting lineup for next week against Chicago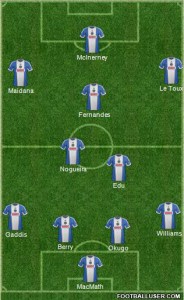 It's time to see what the team's best attacking six look like. They looked awfully good against New England a few weeks ago. The caveat here is, of course, who's available. Edu will on international duty Wednesday night, so whether he plays Saturday for the Union remains to be seen. If he can't go, then Carroll should be his logical replacement, though I'd like to see what Mike Lahoud could do at the base of the midfield triangle when paired with Nogueira. Likewise, Berry and Williams have been out with injuries, and Fabinho and Wheeler are logical replacements for them again if they can't go, with Gaddis back on the right side.