Photo: Michael Long

Philadelphia Union
Previews of Saturday's game in Columbus (6 pm, TCN, MLS Live, MLS Direct Kick, DirecTV) from PSP, Philadelphia Union (video), Philadelphia Daily News, Brotherly Game, and David Murphy's Union Blog.
Crew blog Massive Report looks at how the team has done in previous home openers and notes a Columbus win would be the first time the team has started a season with two wins. The Columbus Dispatch looks at how the team has coped with having a bye week after opening the season with a road win against DC.
John Hackworth said in Wednesday's press conference that Brian Carroll has recovered from the flu-like symptoms that saw him miss last week's win over New England. Carroll says he's looking forward to playing against his former team. "It's nice to be back and feeling like myself again. Whoever we roll out there, we are going to be excited to go out there for [the Crew's] home opener and try to rise to the occasion. You would always like to score against your old team, too. There's always a little something when you play an old team, but it's really just about going out and getting your business done on the field."
Hackworth also said in Wednesday's press conference that the team was being "cautious" with the decision of whether Austin Berry, who left the New England game early with hamstring tightness, will be available for Saturday's game in Columbus and that converted forward Aaron Wheeler would be Berry's replacement if he cannot play. Ray Gaddis, who will likely start for the injured Sheanon Williams, tells Dave Zeitlin of Wheeler, "He's a student of the game. He's always asking questions to the other defenders. He's going to be a great presence in the aerial aspect of the game and winning a lot of corner kicks and goal kicks."
Gaddis adds, "If you stay ready, you don't have to get ready. That's always been my mentality. I think we'll be OK for this fixture against Columbus this weekend."
Gaddis' view is something that Maurice Edu has noticed. "I've been very impressed with the work ethic and the desire of the guys on this team. Most guys are in early and doing the things that they need to do to be better players. Things like this are what's going to make us achieve our goals. On the pitch we'll be a lot more competitive and prepared from that extra work that's put in. That's what makes a successful team."
Edu said he's embraced his role as a leader on the team. "Being in a leadership role is something that I've welcomed here with the Union and something that I'm excited about moving forward. I like to be able to lead by example, but I've also worked on being more vocal on the pitch and let guys feed off of the experience I have. I do whatever I can to help this team win."
Union original Fred is officially back with the club, the team announced on Thursday. While the Brazilian trained with the club throughout preseason, the Union had to acquire his rights via a Waiver Draft. John Hackworth said Fred will add "quality veteran depth to our roster and is also going to be a strong addition to our locker room."
Leo Fernandes says he learns a great deal from watching, among others, the Union's Brazilian contingent, including Fred plays. "I think my creativity on the field, my vision, just by watching some of these players have improved my game tremendously…When I play, I want to stand out, I want to be different. I want to do things that people don't really expect me to do, just be creative with the ball and try to impact the game.
More on Fernandes from the Philadelphia Inquirer.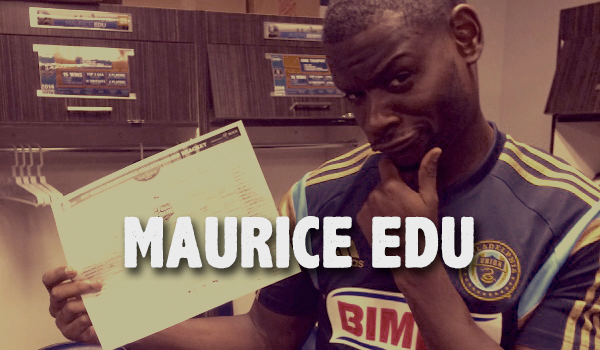 Sebastien Le Toux comes in at No. 8 in the latest Castrol Index Top 20 Performers rankings. In the full Castrol Index, the top five Union players are Le Toux (18th), Jack McInerney (20th), Amobi Okugo (30th), Austin Berry (39th), and Cristian Maidana (53rd).
Edu, along with Austin Berry, Amobi Okugo, and Sheanon Williams, have caught March Madness and present their tournament brackets on the Union website. You can share a photo of yourself along with your bracket via Twitter using the hashtag #UBracket. Topping Edu's photo will be difficult.
Local
The Union's Jimmy McLaughlin and Cristhian Hernandez are now listed on the current Harrisburg City Islanders roster.
At Penn Live, Michael Bullock reports on the progress being made in Harrisburg City Islanders' plan for a new $14 million stadium.
Harrisburg mayor Eric Papenfuse said, "This new facility, once completed, will upgrade the current facility seating to over 4,500 seats, create a new entrance plaza, a new concession area, locker rooms and restroom facilities, a new scoreboard, and a variety of other amenities designed to allow this facility to be a multi-use soccer field, youth development center, concert arena, and a wonderful destination facility completing the north end of City Island. Furthermore, the financing of this project will not involve any City funds."
More from Philly Soccer News. Follow @NEWstadiumHBG on Twitter to keep up to date.
The Drexel men's team has announced that eight new players will be joining the team for the fall season.
MLS
Colorado have waived goalkeeper Matt Pickens.
The appeal against the red card received by Chivas USA midfielder Agustín Pelletieri has been denied.
In related disciplinary-related news, you will recall the ESPN article from Raphael Honigstein we linked to on Wednesday that examined differing perceptions toward diving. His ESPN colleague Jason Davis looks at the motivation behind efforts from MLS to clamp down on diving and asks if the league's approach is the correct one.
Some 2,000 DC residents sent the DC mayor and city council 27,000 emails in support of the proposed Buzzard Point stadium project. That's 13.5 emails per person.
The Timbers and the city of Portland have renegotiated their stadium deal for Providence Park because the artificial turf that was laid down in 2011, and was expected to last until 2019, had to be replaced before the start of this season. The old turf will be used for a futsal field in a city park to be named Portland Timbers Field in exchange for the team paying for the construction of the new field.
In Seattle, the Sounders and the Seahawks have announced that the Sounders' business operations will become independent on April 30, 2014. The teams have shared business operations since the Sounders were admitted into MLS in 2007 and will continue to share CenturyLink Field.
At Al Jazeera America, Graham Parker looks at the competition for players and fans between LA and Tijuana.
Toluca manager Jose Saturnino Cardozo said after his team had come from behind to knock San Jose out of the quarterfinals of the CONCACAF Champions League, "You guys (media) always say that their (U.S. Soccer) level has grown. I don't understand in what aspect. They don't play with purpose."
At ASN, Brooke Tunstall says the reason MLS teams crashed out of the tournament is money. I should think the timing of the quarterfinals at the start of the MLS season when teams are still finding form might also be a factor.
with the Inter Milan one. According to the announcement on the team website, "The winning badge is inspired by the old New York City Subway Token."
NYC FC director of football Claudio Reyna says the team is still working on finding a site for a new stadium. "We're still looking, we're talking to the city. There's a lot of possibilities for the stadium and we're continuing to do our job, which won't be easy but we feel good about it."
So, where will the team play when it enters the league next season? Reyna said, "We're close on that. We'll soon announce where we'll be playing. Within the next month. We expect to have an announcement within the next month."
US
Asked about his chances of making the US World Cup roster, Julian Green said, "Guarantees never exist. No, I just want to perform, show my stuff, and if I'm there, I am there. I just want to step on the gas and in the end, we'll see."
ESPN announced on Thursday that Ian Darke will lead a team of announcers that includes Jon Champion, Adrian Healey, Daniel Mann, Fernando Palomo and Derek Rae for its coverage of the 2014 World Cup.
Elsewhere
Check out the latest Footy on the Telly for listings of the week's upcoming live games on TV, online, and on satellite radio. This week includes El Clasico and the Manchester derby.
The UEFA Champions League quarterfinals will feature Manchester United vs. reigning champs Bayern Munich, Chelsea vs. Paris Saint-Germain, Barcelona vs. Atletico Madrid, and Real Madrid vs. 2013 finalist Borussia Dortmund.
The Guardian reports that British prime minister David Cameron "believes the result of the 2018 World Cup bidding process was 'sorted' in advance, with England's bid team misled by FIFA executives who pledged support, then voted for rivals."
The AP reports, "Sepp Blatter and other FIFA officials involved in choosing Russia and Qatar as future World Cup hosts are facing questions from ethics prosecutor Michael Garcia."