Photo: Courtesy of Portland Timbers
Philadelphia Union
Cristian Maidana has Union fans excited with his impressive debut for the Union in Saturday's draw against Portland. He said after the game, "I felt really good playing with everyone. I was a little surprised because we played so well without any real errors, except for the end [when the Timbers tied the game in stoppage time]. But in reality, I think we surprised as a team. And if we keep playing the way we did, we're going to go very far."
Jack McInerney said of Maidana, "He's a very technical player. He likes to come in underneath and once he gets the ball, I like to make the runs in behind because he looks for me. He's a deadly player and I think it's going to be fun playing with him throughout the year."
In the return of his weekly Inside Doop column at CSN Philly, Dave Zeitlin names Maidana his Player of the Week and says, "Cristian Maidana is good. Really, really good."
Maurice Edu has been named to MLSsoccer.com's Team of the Week, with Amobi Okugo making the bench. No mention of Chaco or Nog?
At The Guardian, Richard Farley says the Union's offseason makeover proved convincing on Saturday, adding "John Hackworth's team may have posted the East's most meaningful result" of the weekend.
During the offseason, did you feel a certain emptiness? Every week through the long, cold winter, did you feel something was missing, especially on Tuesdays? Well, fear not, dear reader, the opening of the MLS season means the return of — you guessed it — power rankings! After ranking them at No. 9 in their preseason power rankings, ESPN has the Union at No. 7 after the draw in Portland. Before the start of the season, SI ranked the Union at No. 10 and now has them at No. 8. At MLSsoccer.com, the Union come in at No. 11. Soccer America has them at No. 12.
In the first Castrol Index Top 20 Performers rankings of the season, Jack McInerney comes in at No. 10. In the Full Castrol Index, the top five Union players after one game are McInerney (No. 10), Okugo (No. 24), Austin Berry (No. 48), Maidana (No. 63), and Ray Gaddis (No. 84).
By the way, Edu, Gaddis, Okugo, and Zac MacMath "will help cook and serve cheesesteaks to customers at Jim's Steaks" today at 2 pm.
In the latest rankings of the top 100 US players at ASN, Jack McInerney comes in at No. 39, Maurice Edu at No. 49, Amobi Okugo at No. 52, Sheanon Williams at No. 84, and Austin Berry at No. 97.
Topps has unveiled a nifty Maurice Edu poster in conjunction with the unveiling of the Union's new home jersey.
At the Union website, Kerith Gabriel has a new weekly column rounding up the latest Union Academy news. In this week's column, Union Academy director Tommy Wilson says that the YSC Academy is receiving applications from across the country. Also, news of the trip to Qatar by "members of the Union Academy, the Union Juniors program and other select players" to participate in a tournament sponsored by Doha's Aspire Academy.
At the Inquirer, Laura McCrystal reports on the Union's consideration of whether or not to have a mascot. A quote from Nick Sakiewicz suggests it is not a question of will the Union have a mascot, but when. Sakiewicz says the team is in no rush to have a mascot, adding, "When it feels right and we can do it in a first-class manner, we'll do it." McCrystal writes, "The decision is no small matter for the Union, which opens its home season this weekend. At risk is alienating the dedicated fans who have helped routinely fill the 18,5000-seat PPL Park in Chester." McCrystal reports that Sakiewicz said discussions with Manchester United inspired the team to consider a mascot.
Local
Harrisburg City Islanders have re-signed goalkeeper Nick Noble and defender Colin Zizzi. More on the story from Penn Live.
LA Salle women's soccer standouts Renee Washington and Courtney Niemiec have been invited to preseason training with two NWSL clubs, Sky Blue FC for Washington, and Portland Thorns for Niemiec.
MLS
Real Salt Lake Goalkeeper Nick Rimando has been named MLSsoccer.com's first Player of the Week for 2014.
Jermaine Defoe has started training with Toronto FC. Defoe says he is "100 per cent" healthy, adding, "It's been a long time talking about it and stuff, so to actually get over (to Canada) and put my boots on and start playing, training. . . it's good. It feels good. Obviously a little bit strange when you first come in, but the lads have been fantastic. Good training session. I feel sharp. So yeah, happy."
Defoe admits that it is an unfamiliar experience to be practicing on artificial turf. Toronto head coach Ryan Nelsen said concerns about artificial turf could mean that Defoe will not play in Toronto's season opener in Seattle on Saturday. "You get the travel, and then you get, not just an artificial field, it's a bad artificial field."
Player moves:
The Professional Referee Organization (management) has filed an unfair labor practice charge with the National Labor Relations Board accusing the Professional Soccer Referees Association (workers) with attempting to intimidate replacement refs.
The overnight ratings for the Seattle vs. Kansas City season opener on NBCSN showed a 283 percent increase over last season's opener. The game was the second highest rated MLS game ever on NBCSN, the Philadelphia vs. New England game on July 29, 2012, won by the Union, 2-1.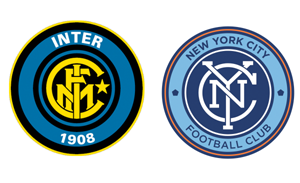 It looks like the league has taken over the trademark applications for the two Los Angeles SC (or FC) crests we linked to recently that were filed by Chivas USA in January.
New York City FC has presented two crest designs for fans to vote on. I look at the circle one and all I see is Inter.
Pepe Reina to MLS rumors, huzzah! Reina said in an interview last week, "I would like to try to do something different in the future. Maybe America or something like that. My idea is to have three or four good years somewhere and then, after that, go somewhere else for a couple more years." So would MLS be the "three or four good years somewhere" or be the couple of crappy years "somewhere else."
US
The USWNT lost 5-3 to Denmark on Monday at the Algarve Cup to finish 0-2-1 in group play. The team next faces North Korea on March 12 for the seventh place in the 12-team tournament.
Head coach Tom Sermanni said after the game, "I think we started the game very sluggishly, that's what went wrong. We were too slow and too predictable and we allowed Denmark to dictate how the game was going to be played."
Megan Rapinoe said, "We're seven months away from qualifiers and even longer from the World Cup, and for the most part, everyone is fit and healthy going into the NWSL season. Of course, we want to have to better results, but it's not time to get to down on ourselves or be panicked. No one wins every game in football and these last two games we played excellent teams and just didn't get it done."
The game was the first time in the history of the women's national team that the US allowed five goals and marks the first time the team has lost two games in a row since the 2001 Algarve Cup.
Brek Shea has been sent back to Stoke from Barnsley, where he was on loan, following an incident on March 1 when he "directed an inappropriate gesture" toward a Barnsley supporter.
Sunil Gulati said of attendance by US supporters to the upcoming World Cup, "Other than the '94 one, which we hosted, I don't think there's any question this will be the most well-attended World Cup by American fans." After Brazilian fans, US fans have requested more tickets than fans in any other country.
Elsewhere
Checkout the latest Footy on the Telly for listings of today's UEFA and CONCACAF Champions League games.
The AP reports, "Fans attending the inaugural match at the new stadium in the jungle city of Manaus were not completely satisfied and reported a lot of unfinished work at the venue, which is set to host its first World Cup match in about three months." In another report, The AP says, "Brazilian constructors say they have installed the giant roofing structure that collapsed after a crane failure at the stadium hosting the World Cup's opening match in three months." With the installation, contractors say the Arena de Sao Paulo is now "98 percent" complete.
Last Friday, two US senators, Mark Kirk (R-Ill.) and Dan Coats (R-Ind.), sent a letter to FIFA asking that the organization "urgently convene an emergency session of FIFA to consider suspending Russia's membership in FIFA, stripping Russia of the right to host the 2018 World Cup, and denying the Russian National Team the right to participate in the upcoming 2014 World Cup in Brazil."
At match between home team Trabzonspor and visiting Fenerbahce
was abandoned on Monday
after two stoppages of play when fans threw objects onto the field, including "explosive objects."
Segment Next reports, "Nintendo & Adidas have partnered up to cheer Team Japan in World Cup 2014 by making several Pokémon dress up in Football shirts."
Hoffenheim have introduced the "footbonaut." What's a "footbonaut," you ask? Watch this.