Photo: Paul Rudderow

Philadelphia Union
In last Thursday's weekly press conference, John Hackworth said he was "being picky" in the search to sign a centerback to partner with Amobi Okugo, adding, "we're are not going to make that move unless it's the right player."
Early Monday afternoon, in a post published here at PSP around 2 pm. By 3 pm, the Union officially announced the acquisition of Berry from the Fire in exchange for allocation money.
It was yet another savvy signing in what has been an offseason for the ages.
So why would Chicago let go of Berry? With an already stacked group of central defenders that includes Bakary Soumare, and Jhon Kennedy Hurtado and Patrick Ianni (who were acquired from Seattle in January), Chicago head coach Frank Yallop apparently felt Berry was surplus to requirements. But the prime consideration appears to have simply been financial, especially when when considering reports that Mike Magee is holding out of the Fire's preseason camp in Tucson in search of a renegotiated contract, one that will presumably include a substantial raise. As Yallop explained in the press release announcing Berry's trade, "This move was necessary in order to get to cap compliant by March 1." The same reason was given in the press release announcing the mutual termination of the contract for Uruguayan forward Federico Puppo, who spent last season on loan from Chicago with LDU Quito in Ecuador. In addition to whatever amount of allocation money Chicago received from the Union (Alexi Lalas tweeted that the Union paid $100,000, which is quite a steal), removing Berry and Luppo from the Fire roster frees up some $200,000 in cap space.
More from PSP, Philadelphia Union, Philly.com, Delco Times, CSN Philly, Philly Soccer News, Brotherly Game, Chicago Fire, The Daily Herald, MLSsoccer.com, Goal.com, SI, ProSoccerTalk, SBI, Tribal Football, and Rant.
If you're on Twitter, John Hackworth will be taking questions from fans today beginning at 3 pm on the Union Twitter account, @PhilaUnion. Be sure to use the hashtag "#AskHack" when tweeting your questions.
At Goal.com, the Union come in at No. 2 in the list of most improved teams in the offseason behind Daddy Warbucks, I mean, Toronto.
The 700 Level notes that Maurice Edu has been killing it on social media. "While similarly-named Freddy Adu was a must-follow on Twitter for his egocentric self-promotion and sweet denim, Edu seems like a fun dude who is very much enjoying his first training camp with the Union."
In a post at MLSsoccer.com on overlooked storylines ahead of the start of the season, John Bolster writes, "If [Richie] Marquez turns out to be a contributor for the Philly backline in 2014, he'd be one of the better low-profile acquisitions in recent memory."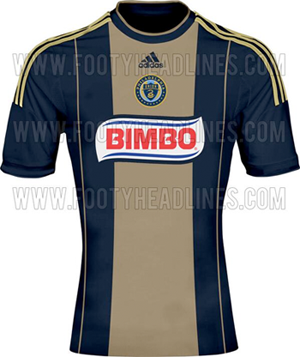 Footy Headlines tweeted a leaked image of the Union's new home kit. The image gives a full-on look at the pinstripes that were evident in the photos PSP recently published and also gives a look at how the Bimbo logo is now differently framed by a blue outline over the central gold bar.
The Brotherly Game concludes its statistics series with a look at shot placement and shooting percentage.
Local
Mechanicsburg's Bobby Warshaw has signed a one-year deal with Swedish second division club GAIS in Gothenburg. While on loan from FC Dallas to second division side Angelholm over the summer, Warshaw scored 8 goals and 1 assist in 9 matches. (Crappy Google translation here.)
Former La Salle, Reading United, and Ocean City Nor'easters goalkeeper John McCarthy has signed with the Rochester Rhinos.
The 2014 MLS Reserve League schedule was released on Monday. You will recall that Harrisburg City Islanders will play Montreal Impact on the road on June 20 and New York Red Bulls at home on Aug. 6.
At Philly Soccer News, Charles Cuttone talks to Anastasiya Chevtchenko, the Portland-born University of Pennsylvania freshman who was recently called up by the Russian national team for a pair of friendlies against the USWNT.
More on the announcement that the Philadelphia Fury will be joining the new (and, as yet, unsanctioned) American Soccer League.
MLS
In player moves, in addition to the Union acquiring Austin Berry, Chivas USA announced the signing of Aston Villa product Luke Moore.
At SI, former Chivas USA communications director Keegan Pierce provides some insider insights into the spectacular failure of the club.
At the New York Times, Jack Bell talks to Dan Shemesh, the director of grounds for the Red Bulls, about the challenges of getting the field ready for the season opener after a very cold and snowy winter.
The Didier Drogba to MLS rumors continue.
The Orlando Sentinel reports that Orlando City have agreed to a revenue sharing deal with the City of Orlando and are about to sign a non relocation agreement. The article includes photos of the ongoing renovations at the Citrus Bowl which, frankly, look more like a complete rebuild.
Empire of Soccer reports that, while the Yankees may think Yankee Stadium can serve as a temporary home for NYC FC, Major League Baseball isn't so sure.
San Antonio Business Journal reports, "The San Antonio Scorpions will host a friendly exhibition on March 1 against MLS' FC Dallas at Toyota Field. The turnout for that match could ultimately help determine if San Antonio remains a one-horse town in terms of major professional sports."
US
All three of the US group stage games at the World Cup will be broadcast on ESPN and WatchESPN. Click here for the complete schedule.
US Soccer announced on Monday that Brian McBride, Kristine Lilly, and Bob Bradley have been elected to the National Soccer Hall of Fame.
Fabian Johnson will join Borussia Monchengladbach from Hoffenheim on a free transfer this summer.
The USWNT roster for the Algarve Cup tournament, which takes place in Portugal from March 5-12, has been released. The US has been drawn with Japan, Sweden, and Denmark for group play.
Elsewhere
Check out the latest Footy on the Telly for listings of today's Champions League games. SI has previews of this week's contests.
The number of Brazilians who favor hosting the World Cup has fallen to an all-time low just four months before kick-off, with many criticizing the soccer tournament as a waste of money that would be better spent elsewhere, a poll showed on Monday.
The survey by local pollster Datafolha showed that only 52 percent of Brazilians favored hosting the World Cup, down from a high of 79 percent in November 2008, a year after Brazil was chosen as the venue for the 32-nation event.
In the wake of news that a fan was beaten to death by rival supporters after Sunday's Santos vs. Sao Paulo match in Brazil, Jonathan Watts writes at the Guardian that all too commonplace soccer-related violence is the reason why teams in Brazil play to empty stadiums.
FIFA has announced four World Cup suspensions involving players from Colombia, Iran, and Croatia.
Barcelona has paid Spanish tax authorities $18.6 million "to cover any potential irregularities in its signing of Neymar." Club president Josep Maria Bartomeu is confident the money will be returned.