Photo: Paul Rudderow

Philadelphia Union
Make no mistake, Sheanon Williams wants the Union to be a playoff team. "I think anytime you don't make the playoffs. you're hungry. I've been here since the end of year one and I've gotten to see what the playoffs are like and what it was like here. I definitely want to get back to that.
Williams said of the Union's offseason acquisitions, "It's great and it shows as a team we're not happy with where we are. We want to improve. As a player, that's good to see. Someone like me, who only wants to win, it's great. We're not just content with challenging for a playoff spot. We want to be in the playoffs and win."
Corben Bone is happy for the opportunity for a fresh start with the Union. "I think sometimes when you get stuck in a rut, or the same system or the same situation that you are in – you get content and comfortable. To get in a new environment, around new players, it helps with [building] confidence. It gives you a fresh start. It helps to come out and bring it everyday because you have to prove yourself in front of new faces everywhere, instead of at the same club with the same guys who know you…Obviously to leave Chicago was tough, but I am super excited about a new opportunity with a good club. A lot of the guys I am familiar with here have made it pretty easy, and as far as the transition – so far so good. It's been fun. I feel rejuvenated really, which is nice. I'm ready to get back to it and to start producing for a team like I always knew I could."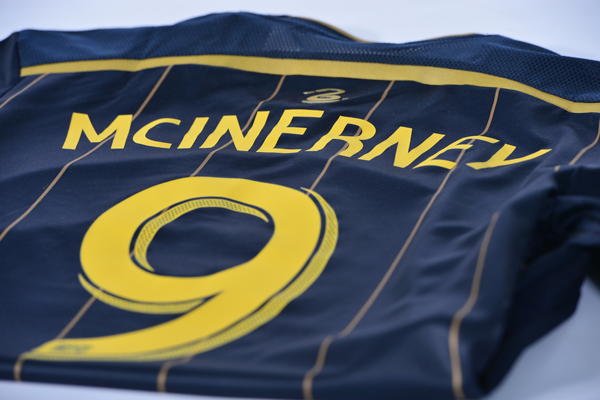 At CSN Philly, Ryan Bright notes that Nick Sakiewicz said in Wednesday's State of the Union teleconference that the club plans to break ground for its new training facility — the location of which is still to be finalized — by the end of 2014.
Is this the Union's new home kit? We'll know for sure on March 4 at the Meet the Team/New Home and Away Kit Unveiling party.
Local
Drexel men's soccer associate coach Bryan Green has been named the new head coach of men's team at Belmont University in Tennessee.
Registration is open for West Mont United's spring intramural season for boys and girls, ages 4-18.
MLS
Orlando City have announced their third MLS signing, El Salvador national team captain Darwin Ceren. The previous MLS signings are Yordany Alvarez and Kevin Molino.
Orlando City owner Phil Rawlins has sold his stake in Stoke City and resigned as the Premier League side's director, ending a 14-year relationship with the club. Rawlins said, "My commitments in the States and the elevation of Orlando City to MLS unfortunately mean that I can no longer put the necessary time into my duties as a Stoke director."
Bruce Arena has agreed to a multi-year contract extension with the LA Galaxy.
The Montreal Gazette talks to former Union man Justin Mapp as he prepares for his 13th MLS season.
Is Toronto about to secure Brazil national team keeper Julio César on loan?
At SI, Brian Straus says that David Beckham won't be getting any more preferential treatment with the Miami franchise: no stadium, no team. The Guardian has more on the stadium issue facing Beckham.
Atlanta Falcons president Rich McKay says of talks with MLS to land a franchise, "We're far along in negotiations with them. It's our objective to get an MLS franchise if we can make it happen. We think it would be, not just great for Atlanta and the region, but really it's the right thing to do for the southeast."
The AP reports former Portland Timbers midfielder Eddie Johnson (not that Eddie Johnson, this one is a former England youth international) is suing the club for $9.9 million, "alleging that he was allowed to practice while he still had concussion symptoms." Johnson was announced as one of the Timbers first MLS signings in 2010 before the team entered the league in 2011 and retired in April of 2012.
At MLSsoccer.com, Benjamin Baer takes a statistical look at the greatest attacking teams in MLS history.
US
Saturday's USWNT friendly against Russia in Boca Raton on Saturday will be live streamed at USsoccer.com from 3:30pm.
In an interview with the AP, Clint Dempsey says of his loan to Fulham from the Sounders, "It's been tough, but also it's been good for me, trying to get back to fitness and feeling good, coming off an injury towards the end of the season with the national team. It's good to get some games, some minutes over here, but unfortunately the results haven't been going our way. But I've still got a month left and hopefully we can start getting some points."
At ASN, Josh Deaver looks at lessons from the USMNT's win over South Korea with an eye toward the team's next opponent, Ukraine.
At Goal.com, Ives Galarcep projects a USMNT roster based on American players in Europe.
ProSoccerTalk has World Cup roster outlooks for goalkeepers and defenders, midfielders, and forwards.
Juan Agudelo scored his first goal for Utrecht on Thursday in a 2-1 home loss to PEC Zwolle.
Fabian Johnson will leave Hoffenheim when his contract with the Bundesliga club expires at the end of the season.
The US U-18 MNT lost 1-0 to Argentina U-20 MNT on Wednesday in the Copa del Atlantico. The team wraps up play in the tournament against the Canary Islands today.
Also on Wednesday, the US U-17 WNT defeated China 4-0 at the NTC Invitational. The team faces New Zealand today and finish the tournament against Japan on Sunday.
The AP reports, "Former U.S. captain Thomas Dooley has been appointed as head coach of the Philippines national team."
Elsewhere
Check out the latest Footy on the Telly for the week's listings of live soccer on TV, online, and on satellite radio.
The AP reports, "Sepp Blatter says he would seek re-election as FIFA president if the member federations ask him." Blatter says, "I'm in good health and I don't see why I should now think about stopping the work. If the member associations ask me to be a candidate I would not say no."
At SI, Jon Robinson has a primer for the EA Sports' FIFA World Cup Brazil, which is due to be released on April 15.