Photo: Daniel Gajdamowicz

Michael Bradley to Toronto
It began with a tweet.
An otherwise unremarkable Wednesday became a day to remember when at 2:13 pm Taylor Twellman tweeted, "Ready for a blockbuster? I'm hearing @torontofc on the verge of signing Michael Bradley."
Cue pandemonium.
Thirty minutes later, Twellman's ESPN colleague Alexi Lalas tweeted, "Just confirmed with a source, M. Bradley move to @torontofc that @TaylorTwellman reported is for real."
ESPN's Jeff Carlisle soon posted an article citing "multiple MLS sources" had confirmed that a move was imminent. The money in play was considerable. "MLS is poised to sign Bradley to a contract in the five to six-year range at an annual salary in the neighborhood of $6.5 million. There was conflicting data in terms of the transfer fee, with one overseas source indicating that Roma expects to receive $7 million and multiple MLS sources stating that the Italian club will receive in excess of $10 million."
Leaving aside such questions as what Toronto will have to do since two Designated Players — Matias Laba and Gilberto — are already on the books and the long anticipated Jermaine Defoe signing appears to be happening on Monday, not to mention whether such a move is good in soccer terms for Bradley or the USMNT, the Bradley news left Philadelphia fans once again wondering when the Union would be announcing some news — any news — to get excited about.
Carlisle's report noted, "MLS clubs were notified around the start of the year that Bradley was available and clubs were instructed to let the league know if they were interested. Given its financial muscle, and with new Maple Leaf Sports & Entertainment CEO Tim Leiweke eager to turn around the struggling club's fortunes, Toronto F.C. quickly moved to the front of the line." As was the case most recently when Eddie Johnson was available, it was little comfort to learn that the Union was among the teams that expressed interest in Bradley but were never a serious contender to land the US international, as Carlisle and Ives Galarcep tweeted.
Expressing the frustration and discontent among many Union fans that has been simmering for sometime and was all to plain to see on social media after the Bradley news, the 700 Level's Steve Moore asked, "What do the Union want to be? Do they want to be a mid-level team in MLS that catches lightning in a bottle every few years for a playoff run?…Philadelphia wants a winner. And if you want to be a part of the Philadelphia sports landscape, you can't strive to just be relevant…at some point, the front office needs to 'wow' us. It needs to take a risk. It needs to make a statement that says 'we're here to win.'"
The quiet departure of an under-utilized Kleberson, a single underwhelming Re-entry Draft selection, the departure of Michael Farfan, losing out on the only reliably reported transfer target to Malaga, the ongoing uncertainty about the status of Carlos Valdes — the first half of the Union's offseason has been a public relations disaster. With two months still remaining before the start of the season, there is plenty of time for new additions to be brought into the team, beginning with next week's SuperDraft. But at this point, preaching patience becomes more and more difficult and it feels as if the team could have the greatest draft in the history of the league and it still wouldn't be enough to placate an increasingly frustrated fanbase. Given how the offseason has unfolded thus far, what can the Union do to turn its public relations efforts around?
In the event, the Disney World Pro Soccer Classic just got a whole lot more interesting. It's a shame then that the Fan Weekend is scheduled to take place Feb. 7-9, before the start of the tournament.
Philadelphia Union
The Michael Bradley news, aside from further revealing fan frustration, provided an unexpected glimpse into a significant player concern, namely, the fact that the Union still does not have its own training facility. And as was the case with the Bradley news, Twitter was the source. (Some of the tweets in this conversation have since been deleted.)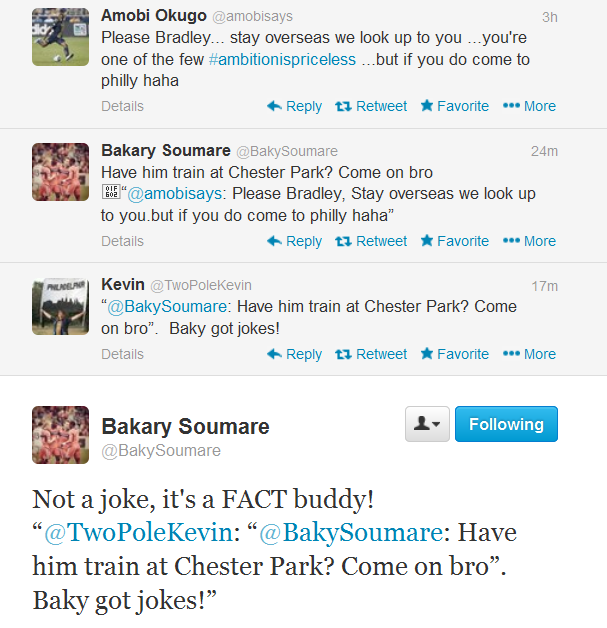 It began with Amobi Okugo tweeting in response to the Bradley news, "Please Bradley… stay overseas we look up to you …you're one of the few #ambitionispriceless …but if you do come to philly haha".
Former Union man Bakary Soumare soon responded, "Have him train at Chester Park? Come on bro". Zac MacMath added, "how would the guy prepare for the World Cup without a training facility".
A fan asked Soumare if the lack of a training facility was the biggest downside of his time in Philadelphia, to which Soumare responded, "in my opinion yes, the ONLY downside… Besides that, everything else is first class!" MacMath responded, "Debateable" [sic].
Aaron Wheeler piped in with, "too funny! Harsh but funny," to which MacMath replied, "#truth". Soumare replied to both, "Exactly!"
Several fans reached out to say whatever frustration there may be about the FO, the players should remember that they will always have the fans' support, to which MacMath replied, "yes we will! And we love our fans for that!"
When asked by a fan about using the facilities at YSC in Wayne, MacMath replied, "all turf fields".
It was a remarkable exchange and served to underscore Nick Sakiewicz's recent statements that a new training pitch is "a top priority" for the Union. As Jason Davis tweeted on Wednesday, "I know it's a joke flying around Union land, but don't underestimate role improved training facilities play in getting guys to leave Europe."
Clarin.com is reporting (crappy Google translation here) that Argentinian side San Lorenzo is interested in Carlos Valdes. More from El Spectador (crappy Google Translation here), who also mention interest from Colombia club Millonarios.
The Union are holding a fan broadcaster contest.
Local
More on local soccer legend Gene Chyzowych, who will receive the Walt Chyzowych Lifetime Achievement Award at the NSCAA convention next week.
MLS
MLS Transfers has a helpful series of updates regarding the Michael Bradley news. The last update notes says the deal isn't done and that Bundesliga sides Wolfsburg and Werder Bremen are interested in signing him from Roma. However, Bradley's agent in Italy, Alberto Faccini (apparently he has two agents, his US agent being Ron Waxman) said the deal is done. ""After 10 years in Europe he wanted to return to the United States. It's certainly a sour and bitter choice, but he made it with his heart. Roma reiterated they didn't want to sell the player up until the very end, but this was his own choice."
Reaction to the Michael Bradley news from The Washington Post, SI, Soccer America, ProSoccerTalk, Goal.com, and the Brotherly Game.
In other player movement news,
This year's Generation adidas class is set with Wednesday's announcement that Christian Dean, AJ Cochran, and former Reading United man Damion Lowe had signed GA contracts.
Real Salt Lake's coaching staff is shaping up. Looks like the Columbus staff is shaping up too.
Empire of Soccer looks at the obstacles NYC FC face in building a new stadium.
Did the NASL's San Antonio Scorpions really just acquire the rights to Walter Restrepo from the Fort Lauderdale strikers in exchange for hotel and transportation arrangements? More from SI and MLSsoccer.com.
US
Jurgen Klinsmann says the January camp isn't about fitness. "It's something where now we want to see them express themselves on the top level, and if you want to express yourself on the national team level, you've got to be fit…Hopefully, they did all that work over the last couple of weeks – we think positive – and then we want to see, obviously, their technical capabilities and their real soccer abilities."
The US U-20 WNT opens play to day in the CONCACAF U-20 Women's Championship in the Cayman Islands (7:30 pm, Fox Soccer Plus, Fox Soccer 2Go). Soccer America has capsule profiles of some of the players on the team.
ESPN has announced that Ian Darke will be the lead commentator for their coverage of the World Cup.
The Guardian on the Dallas Tornado's 1967-68 world Tour.
Elsewhere
Karl-Heinz Rummenigge supports a move to a summer schedule for European soccer.
The AP reports, "Five months from the start of the World Cup, Brazilian authorities seem unsure about how to handle the crunch of international visitors, many of whom are expected to rely on air travel for the month-long tournament."
ESPN reports, "The general secretary of the 2022 World Cup local organising committee in Qatar has insisted the tournament can still be held in its usual summer slot despite the claims of Jerome Valcke, which have caused consternation throughout the game." Meanwhile, FIFPro has reaffirmed its belief that the tournament should be played in winter in order to "safeguard the players and provide a better platform for them to perform at their optimal level."