Photo: Paul Rudderow
Jeff Parke didn't come home to Philadelphia to play public relations. He came to play soccer.
And he did it well in 2013, producing statistically one of the best seasons by an MLS defender this season.
Philadelphia Union's trade for Jeff Parke was big for three reasons.
It brought the Union a proven center back to replace the departing Carlos Valdes.
It added that quality at a manageable salary.
It put a Philly-area native in the starting lineup as a regular for the first time ever.
Underestimate none of those.
Parke slid into the lineup almost seamlessly, by the season's second month, had formed one of the league's top center back pairings.* He brought a solid, steady and heady presence to pair with Amobi Okugo, an athletic center back just barely old enough to drink.
Parke ranked among the league leaders in most defensive stats tracked by Major League Soccer, including:
Tied for 1st in shots blocked (31) with Jamison Olave;
5th in offsides won (33);
13th in interceptions (104);
8th in clearances (243);
10th in aerial duels won (88).
WhoScored.com ranked Parke as the top-rated Union regular this year with a 7.18 average rating, good enough for 30th in the league. Meanwhile, his former team, the Seattle Sounders, gave up nine more goals in 2013 than they had the previous year, as Parke's replacements failed to replicate his steadiness.
Parke's arrival in Philadelphia enabled the Union to part with Bakary Soumare, who had struggled with injuries upon joining the Union. Parke was on a significantly lower salary than Soumare, an important fact considering the Union's lack of salary cap room. He also brought a physical and mental toughness that the Union had lacked since the trade of Danny Califf.
Finally, the move brought in a hometown guy. Parke was born in Abington, raised in Downingtown, and played soccer for Downingtown High School, FC Delco, and Drexel University. He had sought a return home because his wife had just had their first child, and they wanted to be back home near family.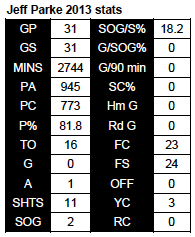 The Union had never had someone like him, a local player who would be a core part of the team. (Apologies to Chris Albright and the Homegrown Players, but none have been regular contributors to the Union.) That was a boost for a club that had alienated many fans during the train wreck otherwise known as the 2012 season.
What he didn't do was be the smiling local face put on billboards. Parke was conspicuously absent from the kind of marketing one might expect from a club that brought in their first local guy as a starter. He was very much substance over style, exactly what the Union needed. (Although it should be noted that he nailed the style part too, as he is favored over Aaron Wheeler in the Best Hair category of PSP's annual awards. Wheeler's ponytail often looked like a bun, which probably disqualifies him from victory.)
High Point
Opening day. That may sound cliche, but here was a Philly area native running out as a starter for his hometown team. No, he didn't grow up with the Union existing, so perhaps it's not like a local kid going out and starting for the Eagles or Phillies. But it matters. That's a big moment. And he set about locking down a starting spot and cementing the Union's center back pairing as one of the league's best.
Low Point
A picture says a thousand words.
Strengths
Parke is a very solid positional defender. He reads the game well and often intercepts passes with apparent effortlessness, and he does an excellent job getting a foot on shots toward goal. He regularly shows the ability to read attackers and predict their runs, which allows him to make up for a lack of speed. Lastly, he doesn't give up many bad fouls, getting called for just 23 in 31 games.
Weaknesses
While Parke is defensively strong in the air, he does not offer much threat on set pieces. He has scored just two goals in 241 career MLS games. In comparison, Amobi Okugo scored three this season alone. That's a skill set a team typically likes to have from a center back.
Outlook
Parke is here for the long run. Expect him to slot in as a starting center back for at least the next two to three years, and he will probably finish his career with the Union. He is a prospective captain for 2014 if John Hackworth considers reassigning the role. The Union are too young a team to have many traditions, but one that seems already set on the field is a tradition of fielding excellent center back pairings. Parke should help build that tradition for the next few years.
* – Author's note: For the inevitable argument on best center back pairings in the league, we'll say Philadelphia's is up there along with Real Salt Lake, Kansas City and some random team you could argue is as good. (San Jose? New England?)