Photo: Daniel Gajdamowicz
Philadelphia Union
Roger Torres tweeted a message with a link to a photo on Instagram on Friday that raised many an eyebrow given his lack of playing time in 2013. The message said, "See you philly thanks for everything."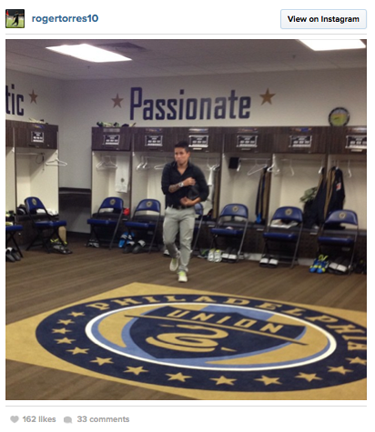 Was this simply an end-of-the-season goodbye or a final farewell? The closest thing to an answer to that question comes from Philly.com's Jonathan Tannenwald, who wrote on Friday, "A source close to the situation told me that officially, Torres is still a member of the team right now. He is going home to Colombia, and the team has not formally decided whether to try to keep Torres here."
Tannenwald's comments are accompanied by the transcript of an interview he did with Torres after the Union's season ending loss to Kansas City on Oct. 26. The young Colombian had this to say about his future:
"It's a hard question. I really don't know what's going to happen. This is my last year under contract with the team. I'll have to talk with them, but I don't know if I'm going to be here next year. I can say that, because I don't know right now.
"I love this team, you know. I love the team, the fans, everybody. For me, it's a pleasure to be here. And if we make some deal, maybe be I will be here for next year. But for this moment, I can't say if I'm going to be here or not. So I just want to take these couple of days to think about what is going to happen to my career and the future.
Can't say that Torres sounds confident that he'll be wearing a Union jersey in 2014."
Never doubt Jack McInerney's will to improve as a player. Here's his take on his 2013 season: "It seems like I should be happy. But I think I could have done better. I think I could have scored more. And we're disappointed we didn't make the playoffs. So for me, it wasn't good enough."
It is impossible to not discuss McInerney's epic four-month goal drought after being called up for the USMNT when thinking about his season. What does he believe happened? "I think the traveling and having everything on my mind played a little bit of a role. But at the end of the day, it shouldn't have changed anything and it's not really an excuse. I just came back and it was a bad mixture of missing a couple of chances and not as much service. It is what it is. I just have to make sure it doesn't happen next time." Not as much service. Improving that has to be job one in the offseason.
At The 700 Level, Dave Zeitlin rounds up monthly video highlights of the Union's 2013 season.
The Brotherly Game has a roundtable discussion on the 2013 season. Also, a fan post from John Langan on his personal highlights of the 2013 Union season.
At Vavel.com, an extensive breakdown of the Union roster.
Local
Look for our District 12 championship roundup later this morning.
The Columbus Dispatch has a good read on the training partnership between Lumberton, NJ's Ryan Finley, the former Reading United player who just finished his rookie season with the Columbus Crew, and USWNT star Carli Lloyd, from neighboring Delran, NJ. Both players train under James Galanis of the Universal Soccer Academy.
Temple goalkeeper Dan Scheck has been named Under Armour OwlSports.com Athlete of the Month.
The Harrisburg Heat, about to start their second season in the PASL, hammered the New Jersey Dynamo 17-0 in Saturday's preseason exhibition game. Eight Harrisburg players scored on the night.
At the Delco Times, Tim Logue has a report on the soccer component of last weekend's 25th annual Special Olympics Fall Festival at Villanova University. One really gets a good sense of how important the event is to all participants — athletes, families, and student volunteers.
MLS
In Eastern Conference Semifinal play, New England defeated Sporting Kansas City 2-1 on Saturday. The second leg takes place on Wednesday at 9 pm (MLS Live). In the first leg of the other Eastern Conference semi, New York blew a 2-0 first half lead and conceded a stoppage time equalizer after losing Jamison Olave to a straight red card to finish 2-2 in Houston. The teams meet again at Red Bull Arena at 8 pm on Wednesday (Univision Deportes).
In the Western Conference, Portland defeated Seattle 2-1 at CenturyLink Field. The teams face off again on Thursday (11 pm, NBCSN). On Sunday, the LA Galaxy defeated Real Salt Lake 1-0 off of a fantastic blast from distance from Sean Franklin. The teams meet again at Rio Tinto on Thursday at 9 pm (ESPN2).
If you thought it was a travesty that three of the weekend's four MLS playoff games were taking place on fields marked up for gridiron football, you weren't alone. If you thought there were a lot of yellow cards being waved over the weekend, you weren't wrong. In all, 18 yellow cards were handed out, 12 of which were dispensed in the two Eastern Conference games.
At SI, Grant Wahl reports that "a Montreal source" tells him that Alessandro Nesta will be the next coach of the Impact. If this is true, Nesta will be without Marco Di Vaio and Andrés Romero for the first three games of 2014. Both were given an additional two-game suspension by the league disciplinary committee after they received red cards for violent conduct in last Thursday's Knockout Round playoff game against Houston, which was lost by Montreal, 3-0. The Montreal Gazette called the game "a sad, embarrassing way to end a season." Yep.
Those reports on the hopes of Toronto to sign Jermaine Defoe? Tottenham boss Andre Villas-Boas says not so fast. If only AVB was so quick to respond decisively on concussion-related matters.
More on the league's apparent expansion into Florida, with the LA Times looking at Orlando City's push to join the league, and the Miami Herald on how converting fickle Miami/South Florida sports fans into MLS fans will not be an easy task for Team Beckham. An interesting quote from the Miami Herald article: "Domestic soccer is a much harder sell in South Florida than international soccer. The melting pot of nationalities makes it a natural soccer hotbed, but those immigrants' hearts remain with their favorite teams abroad. Their perception of American soccer must be changed."
US
Two local players, both members of Player Development Academy, started for the US in Saturday's 7-0 win over Guatemala at the CONCACAF Women's U-17 Championship in Jamaica. Taylor Racioppi (Ocean Township, NJ) wore the captain's armband and played 78 minutes, while Frankie Tagliaferri (Colts Neck, NJ) assisted the game opening goal before going the full 90.
The win sets up a massive final group stage meeting with Canada this evening (6 pm, Fox Soccer Plus, Fox Soccer 2Go). While the US has outscored its two previous group stage opponents 15-0, Canada has won their first two group stage games 19-0. While the US must defeat Canada to win the group, both teams are already through to the quarterfinals.
Postgame quote sheet from Saturday's win here.
Elsewhere
Mexico's roster for the upcoming Intercontinental World Cup Qualification Playoff with New Zealand is comprised entirely of Liga MX players.
At ESPN, John Duerden argues that expanding the World Cup field to 40 teams could help soccer grow in Asia.