100 years ago this week in Philly soccer, Bethlehem bounced back from its elimination in the first round of the Allied Amateur Cup tournament to clinch the Allied American first division title. Boys' Club held off Camden to keep its American League wining streak and championship hopes alive, while Tacony continued its return to form in the Pennsylvania League
Bethlehem clinch Allied first division title
Bethlehem returned to their winning ways following their shocking first round elimination from the Allied Amateur Cup tournament with a commanding 6–1 win over Cardington in Allied League play. Despite the fact the Marsh Field in Bethlehem was "a sea of mud," the Inquirer reported on Feb. 16, 1913 that "Bethlehem put up a snappy game"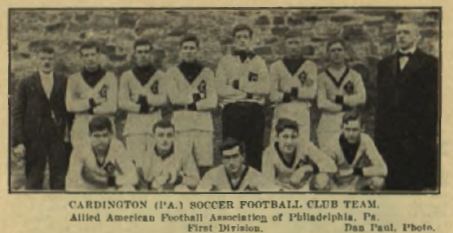 with four first half goals, having "missed many more." With the win, Bethlehem clinched the Allied League first division title, their first Philadelphia league title.
Boys' Club maintain American League lead
Boys' Club extended their win streak to ten games with a "thrilling" 2-1 win over Camden at Front Street and Erie Avenue, displaying what the Inquirer match report on Feb. 16 described as "that clever combination which has been one of their special features in practically every game this season and their passing at times was a treat to witness."
The Inquirer report continued,
There was not a weak place in the Boys' Club eleven, every player working along with his conferee just like clockwork. The forward line passed and re-passed the ball with remarkable precision and to witness the whole forward line going down the field with the ball at their toes was a treat, the like of which is very seldom seen, especially in an amateur match.
The Inquirer reported that the Camden forwards "appeared unable to fit properly…bunched too much together and when they had an opportunity of pressing their rivals were too close to show any combination play."
In goal for Camden was Burch. The Inquirer wrote, "those who remember the great exhibition he gave against the English Corinthians, at Manheim six years back, when he played with Albions in the Pennsylvania League, will recollect what a great goalkeeper he is." Corinthians defeated Albion 9–0 on Sept. 1, 1906, so Burch must have prevented an even more commanding scoreline from the English tourists.
Tacony notches a a win
Tacony may have been Pennsylvania League champions three seasons running but after nine games in the 1912-13 season they had only wins in league play. Against bottom-dwellers Tennyson at Tacony Ball Park at State Road and Unruh Street, Tacony returned to their winning ways to record a 4–0 victory. The Inquirer reported on Feb. 16 that despite "the Poets" arriving with only ten men, "the Tennyson team made for a good showing and made the champions work for every goal." The final Tacony goal was scored by right back Small. The Inquirer noted, "It is rather an unusual feat for a full back to score a goal, but on this occasion Small took the ball the length of the field and shot past [Tennyson goalkeeper] West for a fine goal."
League leaders Hibernian met Pennsylvania League rivals Thistles in an exhibition game at Second and Allegheny and came away 1–0 winners.
North Philly remain United League leaders
North Philadelphia extended its winning streak to five games in the new United League to stay in first place with a 4-2 win over Christ Church. Second place Frankford easily dispatched P.H.L. 4–1 and third place Logan brushed aside Erie with ease in a 6–1 win.
Controversy would surround the United League match between Whitehall and Budd AC, won by Whitehall, 2–1. While the Inquirer match report on Feb. 16 commended both teams for playing the game "in the true spirit, there not being the semblance of any roughness," on Feb. 18, the paper reported that Budd AC had fielded Fewtrill of the Pennsylvania League team Thistles at outside left under the assumed name of Hagan.