Photo: Staci Klemmer
Philadelphia Union
Well then, that was more like it.
After playing Montreal to a scoreless draw on Friday night at EverBank Field in Jacksonville, the Philadelphia Union dominated Toronto FC in their 3-0 win on Saturday at the Walt Disney World Pro Soccer Classic.
v Montreal
The exhibition game against Montreal was not streamed so figuring out just how the Union looked is limited to only a few reports and comments from fans who were in attendance. The match report on the Union website emphasizes the message the coaching staff has been putting out since the beginning of the preseason in Florida: they are less focused on final results than their evaluation of how well the team executed what they have been working on in practice.
John Hackworth says in the report, "According to what we are trying to do, I think tonight we did see a very good 75 minutes of work."
Kerith Gabriel, who wrote the report, observes, "[I]f not for the prowess of Montreal goalkeeper Evan Bush this game could have ended a bit more favorably for the Union. Well…that, and an inability to finish off chances." In other words, scarily familiar stuff to any Union fan.
The halftime assessment of Union fan Matt Lipman, who was tweeting updates from the game before Twitter shut him down for tweeting too often, was equally familiar: "Typical U. Lots of possession, lots of chances, poor final third."
The Florida Times-Union reported, "Although the Union held the upper hand for most of the way, the abundance of turnovers showed that both teams were still in preseason form."
Impact assistant coach Philippe Eullaffroy told the Montreal Gazette, "It was a game of veterans against our younger players. We wanted to give them this experience and I think they handled themselves well. They defended well against a Union side that had 90 per cent of its starters in the lineup."
The match report from Montreal Impact doesn't add much but does emphasize that Bush had a good game. Bush says in the report, "There was great support for both teams tonight, for Philadelphia mostly, but a nice experience overall."
More on the game from Philly Soccer News while this report on the games importance for soccer boosters in Jacksonville includes some game footage.
v Toronto
Against Toronto the Union had better success finishing their chances in front of hundreds of fans who had traveled to Orlando for the Fan Fest Weekend and, as you can see in the highlight reel below, the goals from Antoine Hoppenot. Roger Torres, and Matt Kassel were all well taken.
Hackworth said after the game, "Once you start to put things together and you start to put things in the back of the net and things start to click, it's good for everybody," adding, "We're making progress and it showed in today's game."
Match reports from the PSP, Philly Soccer News, the Toronto website, and Waking the Red.
Hackworth tells CSN that he is making decisions about who to cut from the preseason roster. Greek international Pantelis Kafes, described by Hackworth as "great player who's had an illustrious career," featured in Saturday's match and CSN says he will remain on trial with the club "into next week."
Two games remain on the Union's preseason schedule. On Wednesday, the Union scrimmage against DC United (6pm, no live stream). The win against Toronto means the Union finished second in Group A in Orlando and will now face Group B's second place Sporting Kansas City for their the final match of the Disney Pro Classic on Saturday (6pm, ESPN3).
Hackworth says of Michael Farfan to MLSsoccer.com, "I'm really looking forward to seeing Michael kind of take over. This will be a preseason where he understands that role and he knows that our style will go through him a little bit. … He has some creativity and some flair. He uses imagination and goes on these mazy, dribbling runs that nobody can do twice." Hackworth adds that the team wants to "build around what he's good at."
In a review of MLS team's progress in the offseason, MLS Talk gives the Union a B.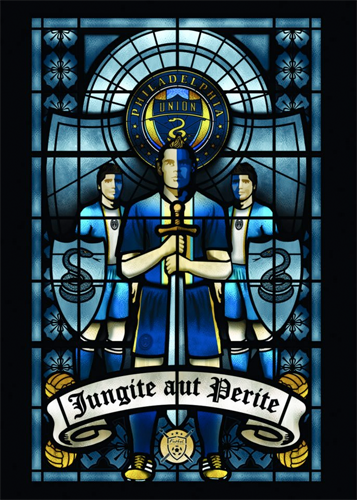 Mark Jenkinson's beautiful Blue and Gold Army graphic is available for purchase in a variety of sizes and formats from Futbol Artist Network.
Local
At Union Dues, Barry Evans reports on the Camden Youth Soccer Club darts tournament that took place at the Irish Mile on Saturday.
MLS
In other Disney Pro Soccer Classic action on Saturday, Montreal and DC played to a 1-1 draw, Columbus Crew held off Orlando for a 3-2 win, and Kansas City were 1-0 winners over Tampa Bay.
At the Carolina Challenge Cup, Chicago edged out Houston 3-2 while Vancouver prevailed over Charleston Battery 3-2.
In the Desert Diamond Cup, Seattle topped Real Salt Lake 2-1 while New England defeated New York, 3-1.
Some 14,229 were on hand for Caleb Porter's first game as the Timbers head coach at JELD WEN Field in the Portland Preseason Tournament. Portland drew 3-3 with San Jose Earthquakes, Ryan Johnson scoring a hat trick. In the first game of the tournament, FC Dallas drew 0-0 with Sweden's AIK.
LA Galaxy announced that Landon Donovan will return to the team in late March. At Goal.com, Kyle McCarthy says Donovan's return will do "little to clear up the fallout from his absence."
DC United are "very hopeful" about building a new stadium at Buzzard's Point.
Orlando City announced over the weekend that Brazilian investor Flávio Augusto da Silva is now part of the team's ownership group. Augusto da Silva has reportedly pledged $80 million toward the construction of a news stadium.
US
On Friday, 25 year old former US international Robbie Rogers announced that he is gay and stepping away from the game.
The outpouring of support for Rogers from fellow players, fans, MLS, and US Soccer was immediate, massive, and truly wonderful to behold. More from Columbus Dispatch, SI, SB Nation, Sporting News, ProSoccerTalk, LA Times, NY Times, MLSsoccer.com, and Union Dues.
The US begins play in the CONCACAF U-20 Championship today against Haiti (6:30pm, FSC).
U-20 coach Tab Ramos seems confident. "I think we have good players here, especially on the offensive side. I think we can be a team that can do some damage."
US U-20 player Marc Pelosi is not with the team because he was selected for Liverpool's Europa League side. On Sunday his right tibia and fibula were broken from a "nasty challenge" from West Brom's Liam O'Neill in the 90th minute of a U-21 match.
At US Soccer Players, Tom Dunmore runs down the USMNT's record by decade.
At ASN, part 3 of the 1986 World Cup qualification tournament failure.
Elsewhere
Chuck Blazer has announced that he will not seek re-election to FIFA's Executive Committee and will leave office in May. The AP reports, "A contest to replace him at FIFA is expected between American federation president Sunil Gulati and Mexican president Justino Compean. Both are members of the CONCACAF executive committee. The election is scheduled on April 19 at the confederation's congress in Panama City."