Featured image courtesy of Mark Jenkinson
Philadelphia Union
John Hackworth told reporters in Thursday's weekly press conference not to put too much stock in the scoreline of preseason games.
The results don't matter at all, it's preseason. Look you guys are the sports writers, I haven't done the research but I don't know that the [Super Bowl champion] Baltimore Ravens went undefeated in preseason, I don't know how the [NFC champion] San Francisco 49ers went in preseason…these games don't mean anything, they are evaluation tools for the staff so that when we get to real games we're prepared.
Hackworth said of Wednesday's lineup,
Effectively, when we choose to play a lineup like we did yesterday, many of those guys are not contracted with us. They are trialists and guys trying to win a contract. When we choose to do that I think fans need to understand that. If they don't, I'm not going to worry about that. I'm preparing a team to get through three games in four days. That was truly the way we planned to do it.
Looking ahead to tonight's game against Montreal and Saturday's game against Toronto (3pm: PhiladelphiaUnion.com, MLSsoccer.com, Philly.com), what's the plan? Hackworth said,
[A]gainst Montreal, our plan is to have our first team play 75 minutes…Because we don't have an absolute top 11, we may make some adjustments here and there to give some guys some different opportunities in that game, then the plan would be for essentially our second team, our guys that we are looking to be number two on our depth chart to play against Toronto on Saturday."
Hackworth told reporters that Amobi Okugo will sit out the Montreal game after sustaining a knock to the thigh but should be available for the Toronto game. Tonight should mark the debut of the Jeff Parke-Bakary Soumare pairing then, right?
Kevin Kinkead has a scouting report on Montreal, who he describes as looking "more like a well-oiled machine and less like an expansion franchise."
Here's a brief preview from Montreal.
The Union has responded to criticism of the Chik-Fil-A sponsored promotion on June 5. Nick Sakiewicz says in a statement to Philly.com's Jonathan Tannewald,
Philadelphia Union does not support the views expressed by certain individuals within the Chick-Fil-A organization. We always have and always will be fully supportive of all people and all walks of life. Our brand stands for inclusiveness and unity regardless of race, ethnic origin, religious or personal beliefs. We believe that everyone has the right to choose what is best for them.
We plan on continuing with the night. Our partnership is with the local ownership group and is in support of families – all families, without definition or discrimination.
In case you missed it in Thursday's roundup, Gay4Soccer.com describes why many are so troubled by the Union's association with Chik-Fil-A, whose corporate charitable foundation has donated millions of dollars to anti-gay groups.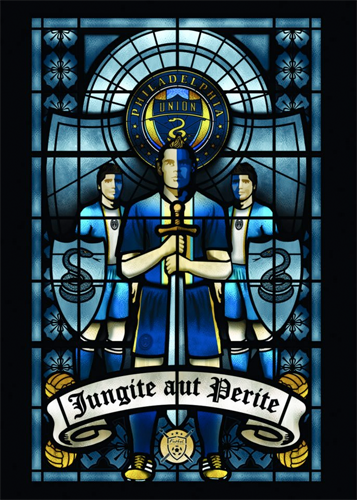 Chandler Hoffman says he has learned a lot from his rookie year and is eager to prove he belongs.
I know the type of players we have here, and bringing Seba back, reinforces the competition and the level of players around," Hoffman said. "I feel very good about myself, and I will work and compete as hard as possible to prove I belong. I'm excited about the season. I feel like I went through so much last year as a rookie. I'm more experienced and mentally prepared for the challenge ahead.
Jeff Parke is included in Soccer America's All- American MLS Best XI.
The beautiful "Blue and Gold Army" stained glass-like graphic from SoB, artist, and all around great guy Mark Jenkinson is highlighted (backlighted?) as part of the True Colors collaboration between the league and the soccer-art collective Futbol Artists Network.
The soon to be released Union third kit is now available for pre-order at the Union's online store.
Union Dues has a Valentine's Day letter for the Union and soccer in America.
MLS
Local lad Bobby Convey says he's back and fitter than ever.
This article looks at the battle local lad Zarek Valentin has to regain a starting spot on the Montreal roster, one he lost after he suffered an ankle injury in July.
As a result of his bone marrow donation late in the 2012 season, Chris Seitz has had a longer offseason than most, one that he used to train hard. FC Dallas coach Schellas Hyndman said of Seitz, who is battling Peruvian national team goalkeeper Raúl Fernández for the starting spot, "I've been extremely impressed with Chris. I think Chris is having his best year since he left University of Maryland. He's fit. He's extremely focused. Everyone on the team can tell you there seems to have been a huge step up in maturity, focus and confidence."
DC United have acquired defender James Riley from Chivas USA in exchange for a second round Supplemental Draft pick in 2015.
Houston have signed Bryan Salazar to a homegrown contract.
What do you do if you're the Chicago Fire and an alligator decides to join you for the morning training session? Pull out the video camera, of course.
The Chicago Fire report that accompanies the video notes "everyone's shots were very accurate and on frame today."
MLS executive vice president of competition Nelson Rodriguez tells Steve Davis at ProSoccerTalk there will be no goal-line technology for the league in 2013.
Black Flag anyone?
US
Tab Ramos talks to Goal.com about the Hispanic makeup of the US U-20 team ahead of the start of next week's CONCACAF U-20 tournament.
This national team has a lot of players with Latino blood in them, but it has nothing to do with the fact that I have Latino blood. Simply put, I want players with a certain technique, who think on the ball and sacrifice themselves for the good of the team. We'll see soon enough if what we want comes true and if there's a change or not in the team's style.
MLSsoccer.com says the tournament will be "somewhat of coming-out party for MLS' academy system." Also on the league website, a look at three USMNT players who broke out with the U-20 team.
Omar Gonzalez says he will learn from the loss to Honduras in the USMNT's first World Cup qualifier in the Hex and move on.
Goal.com says new USWNT coach Tom Sermanni is beginning to impose his personality on the team.
Elsewhere
In an effort to address the issue of doping in soccer, FIFA has committed to biological profiling and blood testing for the 2013 Confederations Cup and 2014 World Cup.
The AP has a fascinating expose on Ibrahim Chaibou, the referee from Niger who has been implicated in numerous matches suspected of being fixed.
The AP reports that Manchester United is forecasting "record revenue this season of 350 million pounds ($542 million) to 360 million pounds ($558 million)."
A small group of Liverpool supporters was attacked by a group of 40 hooligan's before Thursday's Europa League match against Zenit St. Petersburg.
Following a series of violent incidents at away matches, the most recent against Kaiserslautern, German second division side Dynamo Dresden have banned their own fans from the next three away games. Dynamo president president Andreas Ritter said, "In Kaiserslautern, people were seen in the away fans section that have had nothing to do with Dynamo or have ever been part of the club's supporters. We need to protect our organisation from such criminals and therefore reluctantly refrain from taking our fans to away games."