Photo: Daniel Gajdamowicz
The Philadelphia Union have played three fewer games under interim manager John Hackworth than they did under the recently fired Peter Nowak but they are already only one point shy of doubling their point total under Nowak's management. Since Hackworth took over, the team is 5-3-0, having scored 14 goals while allowing 8, earning 15 out of a possible 24 points. When Nowak left the team was 2-7-2,  having scored 8 goals while allowing 14 to earn 8 out of a possible 33 points.
What a difference a coach makes.
Here's a quick look at some of the particulars that have come out of the Union's turnaround.
Streaking
An article on the Union website notes that the win over New England brings the team's win streak at home to four games, outscoring opponents at PPL Park 11-2. What the article doesn't mention is that this is the longest win streak in the team's history. While the team had a six-game unbeaten streak at home in 2010, and a nine-game unbeaten home streak in 2011, the team has previously never won more than two games in a row at home, though it had back-to-back home and away wins twice in 2011.
Looking at home and away results, the recent three-game win streak that began with the road win in LA and ended with the loss against New York is the longest winning streak in the team's short history. In fact, only four times before has the Union won two consecutive games in a row: the wins at home to Columbus and away to Chivas in April, and at Los Angeles and home against Toronto in June; the win at home over Chicago and away over Toronto, and the wins away to Houston and at home to Vancouver in 2011.
Under Nowak in 2012, the Union suffered 2 3-game losing streaks. Previously, the Union had suffered a 2-game losing streak once in 2011 and 2010, and a 3-game and 4-game losing streak in 2010.
Possession and passing
Since its beginning, the Union philosophy was one of attractive, possession-oriented play. In 2010, we saw a fair amount of that but consistent results were doomed by a very shaky backline. The team's early success in the first half of 2011 was built on a suddenly parsimonious defense that, for a time, provided cover for the low scoring offense. Meanwhile, Nowak tinkered with formations, player selection, and the positions those players played in.
The tinkering continued in the beginning of 2012 as we waited for newly arrived players to "settle in," a process that seemed to stretch from weeks to months. That attractive, possession-oriented game became something occasionally glimpsed, however much Nowak insisted it was still present. Under Hackworth, the commitment to possession seems to have returned.
Possession is no guarantee of success—the Union's lowest possession numbers of the season, 33.6 percent, came in the win against Chivas under Nowak while the lowest under Hackworth, 40.2 percent, came in the win against Kansas City. Nevertheless, under Nowak the Union averaged 47.7 percent possession compared to the current 52.1 percent under Hackworth.
The possession game is tied to passing accuracy; after all, you can't possess the ball if you are turning it over. Under Nowak, the Union averaged 296 successful passes and 118 unsuccessful passes for a passing accuracy of 71 percent. Under Hackworth, the Union are averaging 372 successful passes and 98 unsuccessful passes for a passing accuracy of 79 percent. Not only are the Union possessing the ball more on average under Hackworth than under Nowak, they are attempting and completing more passes for a higher passing accuracy.
Shots and goals
All of that passing and possession means little if it doesn't result in goal attempts. From a low of 4 shots in the win against Chivas to a high 21 shots  in the home loss against New York, the Union averaged 10 shots per game under Nowak. In 8 of the games under Nowak's tenure in 2012, the Union managed only 1 shot (1 game) or 2 shots (7 games) on goal for an overall average of 2.6 shots on goal per game. The overall percentage of shots on goal from shots was 28 percent.

Under Hackworth, the Union are averaging 10.4 shots per game. But they are also averaging 3.8 shots on goal for a shots on goal percentage of 37.6 percent.
Under Nowak, the Union averaged .73 goals per game with a goals from shots on goal average of 24.6 percent. Under Hackworth, the Union have more than doubled the average for goals per game to 1.9 goals with the goals from shots on goal average nearly doubling to 46.9 percent.
Backline selection consistency
While the Union's goal production has gone up under Hackworth, the number of goals allowed has gone down. Both of these developments are related to consistent selection of the backline
Despite the number of losses under Nowak, the Union defense was not allowing the team to be blown out of games. Under Hackworth, the defense has become even more solid. From an average of 4.6 shots on goal allowed under Nowak, the Union defense is now keeping opponents to an average of 3.9 shots on goal. Another way to look at this is where MacMath sits among goalkeepers in terms of shots faced. Among goalkeepers who have started 16 or more games, MacMath has faced the second fewest number of shots.
In Wednesday's press conference, Hackworth said that the Union's current success is directly related to consistency of player selection and style of play. Looking at the official player stats in the MLS Gameday Guides, this is most obvious when we compare defensive starters under Nowak and Hackworth.
Over the first 11 games of the season, Nowak started 9 different backlines, 10 if we consider that Raymon Gaddis and Sheanon Williams were tasked with different outside back positions in two games in which they both started with Carlos Valdes and Danny Califf in the middle. Over the first 7 games, 7 different defensive lineups were used. Strictly in terms of players' positions on the the field, the same backline was repeated, consecutively or otherwise, only once.
In his 8 games as interim coach, Hackworth has started 2 different backlines, one 7 times (6 times consecutively), the other once.
It is true that early in the season, Nowak was dealing with injuries (real or otherwise) and players being away for international duty. It is also true that he was dealing with problems of his own making such as the disappointing play of new signing Porfirio Lopez, and the absence of centerback Danny Califf, which most observers agree was related more to a Nowak grudge than any performance issue.
While Nowak deserves credit for starting Amobi Okugo at centerback in the US Open Cup match against DC United, it is difficult to understand why he played Sheanon Williams out of position for so long both at centerback and left back before deciding to do so. Given his history of tinkering with player selection regardless of a given player's form, it is also difficult to confidently imagine that he would have backed Okugo with consistent selection for league play as Hackworth has done.
This consistency of player selection under Hackworth has also been evident to a lesser degree in the midfield and up top.
Between the posts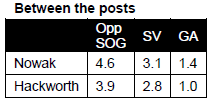 Under Nowak, the Union allowed an average of 1.4 goals per game from those 4.6 shots on goal. Zach MacMath, Chase Harrison, and Chris Konopka combined for an average of 3.1 saves per game. (With MacMath between the posts, the average was 1.44 goals allowed from 4.6 shots on goal and 2.9 saves.)
Under Hackworth, the Union have averaged 1 goal allowed from 3.9 shots on goal for 2.8 saves.
With 3 shutouts under Nowak for a 2-0-1 record, MacMath has 2 shutouts under Hackworth for a 2-0-0 record. He is 9th in the league in shutouts despite those ahead of him having played anywhere between 2 and 6 more games. The shaky start to the season in which he gave up 5 goals in the first 2 games and occassional young goalkeeper mistakes are reflected in his middling save percentage. Nevertheless, of the 17 goalkeepers in the league with 16 or more games under their belt, only 5 have a better goals allowed average than MacMath's 1.18.