Photo: Barb Colligon
With seventeen games done and seventeen to go, it's midseason ratings time, even if it might feel like the first half of the season ended with the firing of Peter Nowak.
The ratings provided by PSP writers have been averaged out to provide an overall rating for each player. The overall player ratings have then been averaged out to provide an overall rating by position, which have in turn been averaged out to provide an overall team rating. As you will see below, the overall ratings by position have been affected by several players who have so far disappointed.
At the end of the season, we'll do this again to see whose ratings have risen and whose have fallen.
As always, we look forward to your comments.
Philadelphia Union Midseason Overall Rating – 6.0
Goalkeepers – 6.04

Dan Walsh: 6. Aggressive off his line, good shot stopper. As can be expected of the league's youngest starting goalkeeper, his flaws tend to be mental mistakes. Shows a ton of promise.
Jeremy Lane: 7. This is perhaps a bit high, but what can you say? He's been almost exactly as good as we expected–huge upside; great shot-stopper; decision-making mistakes; growing pains. This is what happens when you have a young keeper. All told, I think the future's bright with him.
Ed Farnsworth: 6. Even with the mistakes of youth he's in the top three in the league for best Goals Allowed Average. But it's those mistakes that keep him from getting a higher rating.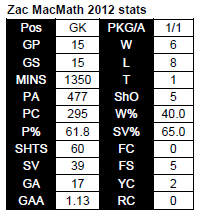 Adam Cann: 5. Not an indictment of MacMath's ability or potential, but he has been bailed out by some absurdly good defending from the likes of Sheanon Williams and Gabriel Farfan. He hasn't been consistent in the air and he doesn't command his box well yet. He will be very, very good one day but right now he's learning on the job. If the Union hadn't imploded during the first half of the season, MacMath's errors would be much more glaring.
Mike Servedio: 5.5. Has shown some great shot stopping ability but also some nerves, which is to be expected in a young goalkeeper. Have full faith that he'll grow into a competent and confident No. 1 goalkeeper given a little more time and experience.
Sean Doyle: 6.5. Thrust into the spotlight at just 20 years of age, Zac has performed well in his first season as the Union's number one. He must improve his communication with his backline and needs to eliminate the errors that have cost the Union points. MacMath is an instinctive shot stopper and will only improve as he continues to develop.
Greg Orlandini: 6. A lot to love about MacMath. His leadership and communication has greatly improved. One thing that is worrying is he tends to get caught in no man's land for set pieces and high balls. But he is still very young for a goalkeeper and you would have to think he is only going to get better.
Eli Pearlman-Storch: 5.5. Shot-stopping is the easiest part of the game for a young goalkeeper, and thus, it is the most complete part of MacMath's. The real question is when will he be consistent under the high ball, controlling of his box and fully communicative with his defense? Despite his young age, Union fans hope its sooner than later.
Chase Harrison – 5.88
Dan: 6. Gutsy performance in his one league match. His injury that match cost him a more extended opportunity to impress.
Jeremy: 6. All of our keepers have been impressive in turns. I have no qualms if he is forced into action. Not enough data to see if he has a future as a no. 1.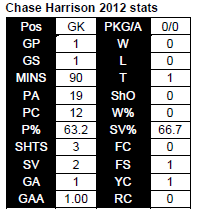 Ed: 6. Clearly fearless. Apparently also willing to concede a penalty kick opportunity to the opposition if necessary.
Adam: 6. Likes to hit people. The rest of us like to watch.
Mike: 5. Decent job in his one start, unfortunate to pick up an injury. His recklessness is both an asset and a liability.
Sean: 6. Has demonstrated that he is more than capable of stepping in for MacMath when needed.
Greg: 6. He has more of the traditional look of a goalkeeper than Zac, taller with a wider wingspan. Has done well when called upon.
Eli: 6. The pundits came up with a great many reasons for Bert van Marwijk's reluctance to play Klaas Jan Huntelaar during the Netherlands failed Euro tournament this summer. How did no one bring up that time when Chase nearly knocked his block off at PPL Park?
Dan: 7. Was terrific deputizing for MacMath. In a different situation, he might vie for a starting job.
Jeremy: 7. Had a heck of a game or three with MacMath out. Perhaps unlucky to be stuck behind the Maryland product, and might do well to look elsewhere for starting job.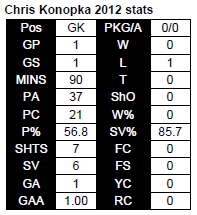 Ed: 6.5. Felt bad for him being handed the Toronto loss. Has looked impressive whether in that game, friendlies, or reserve games.
Adam:6. His strong play should keep him in the league a long time.
Mike: 6. Decent shot stopper in what we've seen in limited time.
Sean: 6. No worries here, Konopka stepped up in a big way for the Union when he was called upon in Toronto and the US Open Cup match with Rochester. No blame should go to Konopka for the loss at BMO Field.
Greg: 6. Any time you can get something positive out of your third keeper it's a win. Good, solid guy.
Eli: 6. Willing and able when called upon, Konopka should not see much more time this season (hopefully), but should be judged primarily by the high quality of his interaction and communication with the young guys.
Defenders – 6.04

Dan: 4. The local guy's lack of speed has hurt him on a team that deploys its fullbacks as wingbacks.
Jeremy: N/A. If I'm honest, something in the 3-4 range is actually what he deserves, but he's hardly played, so I'm giving him the benefit of the doubt.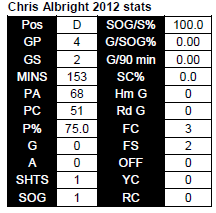 Ed: 4. His better days are clearly behind him. With Gaddis proving his worth, Albright's chief asset is as an experienced leader off of the pitch.
Adam: 5. Has been just about as expected, niggling injuries included.
Mike: 5. The young guys on defense seem to be playing well and that's about all we can say of Albright, who was clearly brought in for his veteran presence.
Sean: N/A. Tough to give the veteran defender a grade when we've seen so little of him.
Greg: 1. Needed to make one play in the loss to the Rapids and couldn't. I don't think he has the legs left. I'm sure he is a good guy to have on the practice field and in the locker room, but past that I don't know.
Eli: 3. No disrespect to a top rate individual and strong leader for a young club, but on the field, the game has passed him by. Should be considered for a coaching position when he decides to hang up his boots.
Dan: 7. The hard-nose converted midfielder has been dynamic as a left wingback, dazzling with his ball skills. If the Union had another quality left back, Farfan might be the answer on one wing in a 4-3-3.
Jeremy: 7. I've been a fan of the other Farfan from the beginning, and he is our best option at left back, without question. He might prefer to play officially in the midfield, but in the current system, I don't want him anywhere else. Love his combativeness, too, even if he is overzealous at times.
Ed: 7. Fantastic on the ball. Off the ball, would you like to try to get past this guy?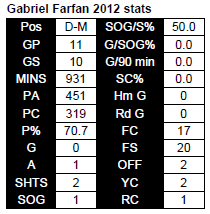 Adam:8. He has played at about a 7 level, but he had to win and keep the left back job each of the last two seasons. And he has. His instincts still aren't there and a long crossfield balls catch him out of position or spinning around much too often. All that said, what a huge boost he gives the team every game with his ferocity. His fake-left-go-right move against Montreal is currently my favorite move of the year.
Mike: 7. Seems like one of those guys you would just hate to play against: Fast, feisty, and dare I say a little dirty. Has really stepped in and owned the LB spot, even after Lopez was brought in during the offseason to play there. Still gets caught out of position from time to time, but that will happen less and less if stays on the back line.
Sean: 8. Garfan has stepped up in a big way for the Union. Even though he's playing out of position at left back, his pit bull mentality and clever ball work have earned him praise from coaches and fans alike. He's at his best when goes forward in attack. MLS forwards are in for a long night when marked by Gabe.
Greg: 7. Has made the left back spot his own. Was always good going forward, but has become a fine defender this season. His aggression makes him the player he is, but can be his undoing. Seems to be harnessing that energy. The sky's the limit.
Eli: 7.5. Took the left back spot by force after having been "replaced" in the offseason. Few fullbacks in the league can match his combination of aggression and technical ability. If he can continue to replicate his current form with the elimination of perhaps 1 or 2 elbows per match, he will begin to enter the discussion as one of the best around MLS.
Dan: 7. He's fast, but he's unpolished. One of the league's best rookies this year. One wonders if he could successfully convert to left back to secure a starting spot (with Gabriel Farfan going to midfield), because Sheanon Williams isn't vacating that starting spot.
Jeremy: 7. Fantastic rookie season to date. Speed to burn; needs work on his positioning. Nowhere better to learn than as Sheanon's understudy.
Ed: 6. Smart and tough, he's smart enough to learn when more experienced opponents teach him the tough lessons of rookie mistakes. Man, is he fast.
Adam: 8. Hey Ray, could you play right back? Actually, make that left back. Actually, make that right back again, but now with the normal right back next to you. Also, could you get forward and put some crosses in? Is that too much to ask a rookie that spent half of his senior season injured? No? Alright, cool.
Mike: 7. Clearly watched some of the Sheanon Williams rookie year game tapes. Has stepped in and done a fantastic job playing on either wing. Shows the ability to get forward very well. Still uses his speed a little too much to make up for his defensive shortcomings, but hopefully his overall defending gets better with time.
Sean: 7. I've been fortunate to see Ray play for Reading United AC the past two summers, so I knew full well that he was a capable addition to the Union defense. He impressed me with the way he has grabbed his opportunity early in the season. Ray is scary fast and can kick start a Union attack when he gets forward.
Greg: 7. May be one of the steals of the draft. Still has some rough edges to his game, but that can be expected. Improves every time he gets on the field. Has good strength and is skilled on the ball. Horribly underpaid.
Eli: 8. Looking like the steal of the draft, Gaddis has come out of nowhere to give the Union the depth they seemed to be desperately lacking entering 2012. Unlike so many other MLS track stars, Gaddis actually has an excellent soccer brain and the full set of skills to go along with blistering pace.
Dan: 3. Lopez can play soccer, but he can't play wingback or center back. He's a traditional, stay-at-home left back. Anyone scouting him should've known he wouldn't fit Philadelphia's system. He's been made to look worse than he actually is because his position — left fullback — doesn't exist on the Union.
Jeremy: 2. Blargh. A "2" feels harsh, but honestly, has done basically nothing positive on the field.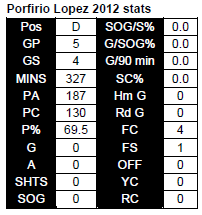 Ed: 2.5. Not sure what Nowak and Gutierrez saw in this guy. Thankfully, we haven't had to see much of him ourselves lately.
Adam: 2. Seems like a nice guy. Couldn't defend a McNugget from a hungry puppy, but a nice guy.
Mike: 1. Has been disappointing every time he's taken the field for the Union.
Sean: 0. This guy is just dreadful. May be the worst signing in Union's short history.
Greg: 1. Bust. Can't say much more.
Eli: 1. Lopez hasn't looked good. It is shocking how utterly out of his depth Lopez has appeared in MLS.
Dan: 8. The one young midfielder Peter Nowak didn't try playing out of position until too late was the one who has done best once converted. Good defensive aerial ability, covers a ton of ground, and is one of the league's best ball-handling and passing center backs. If he can hold off Bakary Soumare, Jurgen Klinsmann will come calling.
Jeremy: 8. Like Jack Mac, below, grading Okugo almost feels unfair, as he's basically only played post-Nowak, so he gets high marks for being part of the turnaround, without anything to degrade his score. If he continues his excellent play, will end up one of our players of the season. In danger of becoming too good a center half to return to midfield, his preference.
Ed: 8. Finally given the chance to show what he can do, even if not in his natural position, he's served notice that he is a player that you simply have to have on the field. Future USMNT captain? Fingers crossed.
Adam: 7.5. Would give him an 8, but then he wouldn't have any incentive to win a few offensive headers. Isn't that what center backs do? Okugo always deserved an extended run in the side. He finally got it at central defense and, beyond his own stellar play, he has become the perfect complement to Carlos Valdes. If anything, the Union are guilty of relying too heavily on their talented center backs to get the offense started. He's a natural leader on a team that saw most of their leaders shipped out recently.
Mike: 8. Has shown some terrific versatility playing as a center back in the Hackworth era. Always thought he was a guy that should be seeing more time, and this feels validated over the course of the last few games. His distribution and passing should keep him in the line up even when Soumare gets healthy and would love to see him step into the role that Lahoud/Gomez can't seem to lock down.
Sean: 8. What a revelation at center back. With the defensive depth of the team stripped bare, Amobi has stepped in and cemented himself in the Union starting XI. Well suited to partner Valdes, the great distribution Okugo provides has been crucial to the Union's recent run of form.
Greg: 8. The kid has the goods. He looks very good a center back, and I think he has played himself into a starting spot on the team. It just won't be at CB with Soumare set to make his Philly debut. He has to move up the depth chart at holding mid and will likely take minutes from Lahoud and/or Carroll. He is playing with great confidence and his play must be rewarded.
Eli: 8. After watching him wheel and deal for the U-23s, despite the disappointing outcome, it was the largest of oversights by Peter Nowak to ice him on the bench. Since moving to centerback and partnering with Carlos Valdes, Okugo has been a revelation, improving dramatically with each game. His aerial presence, man marking and running angles have all improved so quickly, it's easy to forget that he's playing out of position.
Dan: 8. One of the league's best. Covers more ground than most center backs. Solid in possession. Gets into trouble when he tries to dribble into traffic past midfield. Maybe his Montreal game-winner will satiate that desire.
Jeremy: 8. The captain and an All-Star, and deservedly so. Has had bad games, but with a consistent partner beside him, his forays up-field have decreased, and his play has been consistently excellent.
Ed: 8. While occasionally guilty of ill-advised runs, he continues to offer weekly tutorials on the meaning of good positioning.
Adam: 9. The calm in the storm. Not enough can be said about what Valdes has accomplished after a slight dip in form at the end of 2011. He plays the speedsters as well as he plays the behemoths. Here's a question: If you could pick one center back in MLS to defend Thierry Henry, who would you choose? The answer should be Valdes. He has all the tools and he's developing into a leader.
Mike:8. Agree with Ed here. If he could cut down on some of the ill-timed forays forward, he'd probably get a 9. Strong, fast, dominant in the air – is quietly one of the best center backs in the league.
Sean: 8. Very glad Commissioner Don Garber recognized Valdes' excellence with a much deserved All-Star Game selection. Through all the downs and ups in the 2012 season, Carlos has been a steady, calming presence on a young team.
Greg: 8. Probably the team's best player. He has cut down on his crazy runs out of the defense and plays so much more within himself. Growing into his role as captain, as well. Deserves to be an All-Star.
Eli: 9. One of the most consistently underrated players in MLS, even though he's going to the All-Star Game. The Union's captain simply makes an opponent's most dangerous attacker disappear. And if that wasn't enough, he now scores game-winning goals.
Dan: 6. Williams played through an eventful first half of the season. Injuries and playing out of position limited him, but when healthy, he's one of the league's best right backs.
Jeremy: 7. This grade ignores the 2012 Nowak-era Sheanon that was asked to do things he isn't good at, like be anything other than a great wingback. His talent let him cope with that, but we're almost back to seeing the best of him, now that he's returned out wide.
Ed: 6.5. Despite Nowak's positional tinkering, USMNT U-23 duty, and injury, he continued to thrill. When at 100 percent, he is lethal. Thankfully he is back on the right. The young players constantly point to him as a leader and welcoming presence in the locker room.
Adam: 5.5. He brings so much to the table that it almost seems wrong to ask for more. But there is more to Williams' game and he needs to access it consistently. Additionally, Sarkodie over Williams should be at the top of Caleb Porter's list of Olympic Qualifying regrets.
Mike: 6. Unfortunate to have been a victim of the Nowak positional carousel. While he didn't play poorly when moved into the center, he couldn't utilize one of the best facets of his game – his attacking prowess. Always seems more comfortable out on the right side, and when his clearly nagging toe injury is fully healed, I expect a full return of the Williams from 2011.
Sean: 6.5. Injury and Peter Nowak have hurt the Sheanomenon's 2012 campaign. Back to his usual form since Hackworth returned him to right back, Sheanon has shown why he deserves to be part of the discussion for USMNT selection. Jurgen, are you watching?
Greg: 7. Great teammate who has played everywhere he has been asked. Thankfully back at right back after he has played center (because of injuries) and midfielder (because the coach was insane). His speed is well known, but is also smart with the ball. Still young but has the air of a veteran about him.
Eli: 7. Williams deserves a pass on the Nowakian shenanigans of the early season. Since being restored to his rightful position, Williams has reminded everyone watching that, yes, he is elite. His slicing runs through midfield number among the most dangerous for the Union and it is only a matter of time before he starts racking up the assists for guys like McInerney and Hoppenot.
No appearances.
Midfielders – 5.16
Dan: 4. He's had two very good games this year. Otherwise, not much. Seems out of position on the right wing but much more comfortable on the left side or deployed centrally. Needs to stop diving. He's not getting any calls because his reputation for diving precedes him.
Jeremy: 4. I want to give a higher grade, I really do, because I'm a terrible optimist, and I want nothing more than for Adu to become the player we've all hoped he would be since he was 14, and better yet, to do it for our team. But he hasn't done that. Still, fingers crossed.
Ed: 3.5. The hype may not be his doing, but it is there nonetheless and he mostly fails to live up to it. When he does put together moments of sheer brilliance, the too-long spells of ineffectiveness only stand out even more. By the way, that falling over thing doesn't fly in Philly.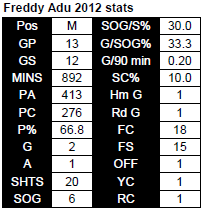 Adam: 2. The Union showed him the money and showed faith in him, yet Adu by any other name would be a bench player. If you had a guy named Eddie Fradu with this much talent and he was performing so inconsistently, you'd loan him out to Harrisburg until he learned how to play top level soccer.
Mike: 4. Continually disappointing. The single worst part about his performance over the first half of the season has been the high percentage of games where it just seems like he doesn't care. He routinely seems on a different page from his teammates and has really failed to develop chemistry with a single other player on the team.
Sean: 3. He can be incredible when he wants to be, and that's the problem. For all the stepovers and magic he has the ability to create, Freddy usually looks disinterested and is too prone to turnovers. It's also concerning that versus a bigger, more physical team (see Houston and SKC) Freddy's style of play is negated. With the salary the Union are paying Mr. Adu, I expect more than what we have seen thus far in his tenure with Philadelphia.
Greg: 3. The team has too much invested into in Adu for him to play well only once a month or so. Disappears from far too many games. No matter where they place him, he doesn't seem to fit with what the Union are doing. When he puts all of his attributes together, he is an attacking force. But that doesn't happen enough.
Eli: 2.5. On a team full of hard-working, team-oriented players, Adu looks to have a me-first attitude. When he wants to be a part of the team, he has the vision and skills to play a major role. But those moments have come so infrequently that it further sours public opinion to know how good he can be when he doesn't appear to give the necessary effort when the game gets tough.
Dan: 6. Carroll cleans house as well as any midfielder in the league, but he hasn't meshed with Gabriel Gomez.
Jeremy: 6. I think the book on Carroll is written: He's good at doing a few particular things, but if you ask him to do more, he struggles. Would hate to see it, for his sake, but he's the most likely candidate to cede midfield time to Okugo.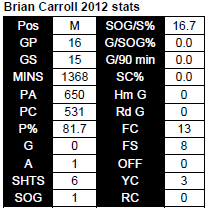 Ed: 6. Clearly a soldier. But his limitations—whether in meshing with Gomez or adapting to the 4-3-3—are beginning to be expose the 31-year-old.
Adam: 6. Can Brian Carroll earn anything other than a 6? He hasn't had any bad games or any standout games. He can't provide a spark when things are going badly, but he sure does a great job of steadying the ship when the team's shape gets wonky. He's a hell of a player and will make a fantastic assistant coach very soon.
Mike: 6. Does well when he plays within his skillset as a defensive midfielder. When he's asked to contribute offensively, he struggles. No doubt about it though, he is a very, very good defensive midfielder who covers a lot of ground and knows when to hold for his defenders when they push forward.
Sean: 6.5. As steady a player as there is on the Union roster. The 4-3-3 may not suit Carroll's abilities but he still goes out and performs well for the Union.
Greg: 5. Carroll does pretty much one thing, but he does it well. He is as good a defensive mid as there ever has been in MLS. But he is limited to that and gives very little going forward. With as dynamic player as Amobi nipping at his heals, he could see his playing time reduced.
Eli: 6. Carrol's skill set is so limited that despite being a strong, ball-winning defensive midfield in a four-man midfield, the jury is still out on whether he can cover enough ground and complete enough passes to keep his place in Hackworth's 4-3-3. Considering the quality of Okugo's distribution AND defensive instincts, the pair could be splitting time before long.
Dan: 5. Daniel is better than this rating, but he doesn't fit into the 4-3-3. He's not a winger, and he's not a CAM. So where does he fit? John Hackworth has to figure that out.
Jeremy: 4. Not sure what's up with Keon, but he hasn't looked the same this season. Capable of more than he's giving, but might not fit in the current system.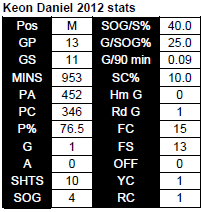 Ed: 5. Hasn't found his feet under Hackworth's system and was more impressive under Nowak's system(s). Under both, has shown a timidity in set-piece defending that is downright depressing given his size.
Adam: 4. Is he trying to do too much or is he being played out of position? I can't tell anymore.

Mike:4. Has not been at his best this season after a fairly impressive (if short) stint last season. Seems to really struggle in the 4-3-3 and he (along with John Hackworth) really need to iron out what his role should be.
Sean: 4. Keon needs to do better and with minutes I think he can play better. His touch has been poor and he seems disinterested at times. Seems like the odd man out under Hackworth and the 4-3-3 formation.
Greg: 4: Well, we now know for sure Keon isn't a forward… He seems like a wide mid in a 4-4-2 and is struggling to find a place in the 4-3-3 set Hackworth is putting out there. Seems like a guy lacking confidence in the last few games, right?
Eli: 3.5: No matter how good he is at shielding the ball and maintaining possession, Daniel is on the field to help drive the Union forward, create offense, ultimately in the name of helping the team score goals. In 2012, he simply has not done it enough enough. Needs to find another gear in the second half of the year to keep earning appearances
Dan: 7. The Union's best player is still figuring out the CAM role. Does he belong there? Or should he go back to the wing, where he'll get more one-on-one opportunities? John Hackworth may move him next year back to his comfort zone on the flanks.
Jeremy: 7. What a player he is, and what a player he could be. Still not convinced the center of the park is where he should be, but he needs to be on the field when fit. Even out of position, he provides our most consistent and effective offensive spark.
Ed: 6.5. Perhaps the best all-around player on the team, this rating is more a reflection of his earlier struggles—much of which were directly related to Nowak shifting him all over the field—than recent form. The team's ability to remain in the playoff hunt will depend a lot on him continuing to reach his obviously massive potential. And I will love every minute of watching him do it.
Adam: 6. I want it every game from Marfan. Every single game. He's still learning to play in the middle, which means we get to see frustrating and breathtaking in equal proportion. If Marfan demanded the ball the way Adu does, his development would skyrocket.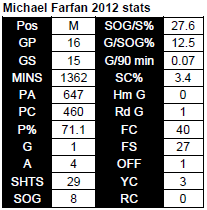 Mike: 6. When he's on, he's on. Probably the trickiest player on the Union with the ball, great at beating players one on one and has shown the ability to make the vital final pass in the offensive third. But he needs to bring it every week, which he hasn't done so far this season.
Sean: 7. My score for Marfan reflects my disappointment with the second year man. At times this season Michael has been electric and at other times he's struggled. I believe his struggles were caused by Coach Nowak's constant tinkering and the coach's inability to clear define what Marfan was supposed to do in that system. Under Coach Hackworth, Farfan has been much improved and a crucial piece of our offense. The LA Galaxy game was Marfan's signature match thus far in 2012. From the way he abused David Lopes in the lead up to McInerney's goal to the stoppage time winner, Michael was 'Farfantastic'.
Greg: 7.5. Marfan is a complete player. He working to make the attacking mid spot his own. I'd prefer him on the right where he can slice in and carve up defenses. Needs to be a bit more consistent but you have to love his never say die attitude. Seems to be a family trait.
Eli: 7. Michael Farfan is the most dangerous attacking player on the Union roster. With this knowledge, it is critical for the Union coaching staff to get him into a position where he can settle and thrive. If he is set to continue as the attacking hub around which the offense rotates, Hackworth should make it official and hand him the number 10 shirt. Otherwise, he should be deployed on the right wing, giving him time and space to challenge defenders one and one, serving dangerous balls into the area.
Dan: 6. Gomez was supposedly a holding midfielder. Yeah, not really. He has a nose for the goal, but he doesn't cover much ground defensively and has a bit of diva to him. A good player who simply may not fit this team.
Jeremy: 6. I'm not sold, but he keeps scoring goals. Clearly not a defensive player, and pretending he is screws up Carroll's game.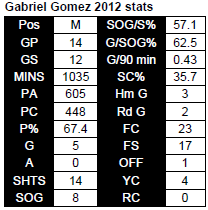 Ed: 5.5. He can score goals but, with zero assists, why can't he set some up? I'm still not sure what his role is on the pitch and why he cannot better work with Carroll. I thought he would be massive for this team and he may still yet be.
Adam: 5. Started strong, but Gomez has been inconsistent. His goalscoring ability makes up for his wandering, and he does a great job of keeping heads up during tough stretches.
Mike: 5. Seems to find the areas to score goals which is nice coming from the central midfield. But has shown almost no chemistry with Brian Carroll, which is probably why he can't hold on to a starting job in the midfield. Comes across as a bit selfish at times and could use to combine better all around.
Sean: 5. Not quite as advertised, Gomez has had an awkward start for the Union. He's had some success in finding the net for the Union early in the year, but since his injury in the FC Dallas match he's not been the same player. Hackworth's challenge will be how to included the big Panamanian in the new 4-3-3 formation.
Greg: 6. Gomez is a maddening player: Shows some true leadership, but can also pull some diva behavior. He'll show patience and vision on the ball, but then will try for home run passes that miss-fire. Does have a nose for goal and when he is on his game can contribute to the offense. Another guy you want a more consistency from.
Eli: 5. For all the quality he brought in the earliest matches of the system, Gomez had faded over time and may not have the quickness to fit into a three-man midfield. Since returning from an injury sustained while away with the Panamanian national team, he has looked heavy-footed and clumsy. Additionally, the brilliant dead ball service that marked the beginning of his tenure with the Union has vanished.
Cristhian Hernandez – N/A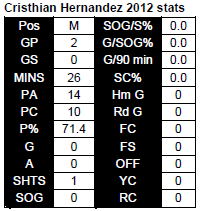 Dan: N/A. Too early to tell.
Jeremy: N/A.
Ed: N/A. I like him—he's tough and I smile everytime I think of his goal against Everton—but there's a reason he's seen just 26 minutes of league play.
Adam: N/A.
Mike: N/A.
Greg: N/A.
Eli: N/A.
Dan: 5. Lahoud has an engine and puts in the effort. He's been more effective than Gomez in partnering with Carroll, which has made the Union better in the center of the park. However, he gives the ball away too much and must settle down in possession.
Jeremy: 5.5. Perfectly acceptable player, but does almost exactly what Carroll does, and likely not quite as well, so why bring him in?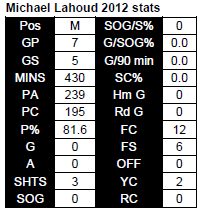 Ed: 5.5. He's really grown on me because of his work rate. But, even though he's tireless, he hasn't offered much going forward, whether in creativity to set up others or as a threat to score himself.
Adam: 6. He might just be the perfect player to have on your bench when you are up a goal. So… he should probably start on the bench.
Mike: 5.5. Just read what Adam wrote, because he hits it right on the head. Does bring the hustle,  but his passing range is limited and it is still unclear where exactly he fits into the team.
Sean: 5. Had the unfortunate luck of being the man on the other end of the Danny Califf trade. Works hard, but his passing is a liability.
Greg: 5. Solid squad player. Doesn't do much to help, but probably won't kill you either.
Eli: 5.5. Runs hard and can knock the ball around in the midfield. Does not offer creativity and at times his defensive cover is suspect.
Dan: N/A. Missed most of the season due to injury, so it's tough to evaluate him.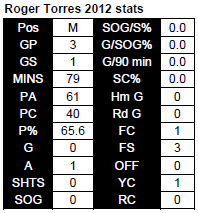 Jeremy: N/A. We'll see. Hope he gets on the field more in the weeks to come.
Ed: N/A. Been out so long with injury that it can be difficult to remember how he did at the start of the season under the previous regime. But seeing him nicely set up Hoppenot only moments after subbing in the win against Toronto brought back some lovely memories. The Aston Villa game, not so much.
Adam: N/A.
Mike: N/A.
Sean: N/A. Torres has not seen enough action yet this season. He has work to do and needs to be concerned about his role in Philadelphia in light of Hackworth's comments following the Aston Villa friendly.
Greg: N/A. We have seen flashes of what he can do in previous seasons. Hopefully the recent injury won't slow his development.
Eli: N/A. Hackworth's comments after the Aston Villa were damning of the young Colombian, and it seems that even a clean bill of health won't be enough for Torres to crack the starting lineup.
No appearances
No appearances
No appearances
 No appearances
Forwards – 6.76
Dan: N/A. He has some talent, but he hasn't shown much on the field yet.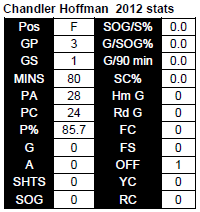 Jeremy: N/A. The player I expected to be doing what Hoppenot has done so far. A player for the future on a team full of them.
Ed: N/A. Yet to reach the 90 minute mark in regular season play, his goal in the Schalke friendly showed what he is capable of. Unfortunately, injury has prevented him from seeing time during the recent heavy schedule.
Mike: N/A.
Sean: N/A.
Greg: N/A. Get well soon.
Eli: N/A. Hard to say what the Union will get from Hoffman, but if his disciplined angles of running and eagerness to get on the ball are any indication, the Union faithful have a lot to look forward to from the 2012 first round draft pick.
Dan: 9. Brilliant. Crazy. Did he just do that? Yeah, he did.
Jeremy: 8.5. Vive la France! Clearly, the Union cannot function without a French speaker getting on the field with regularity. This kid has it, whatever "it" is. His speed and strength are impressive, and how about those ball skills and intelligence leading up to Pajoy's goal against Montreal? Not to mention his clock-killing in stoppage time. I get excited every time he touches the ball.
Ed: 8. What's not to love about this guy? Local player, third round Supplemental Draft pick, fights to prove he's worthy of a contract, gets an opportunity to make an impact on the pitch and seizes it by the horns. Long may it last.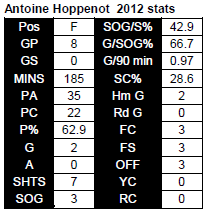 Adam: 9. Against Montreal, he was literally shoving guys away from the ball. It's his ball. Shouldn't that be the default soccer player attitude? It's fascinating to see how he doesn't even flinch as the spotlight shines brighter.
Mike: 9. Probably my favorite player over the first half of the season (and I realize he's only featured in 8 games). He torments tired defenders, is tricky on the ball, and has a nose for goal when he gets into the box. If he keeps it up for the second half of the season, he could easily be the best 12th man in the league.
Sean: 8.5. I've been calling for Antoine's inclusion in the Union gameday roster since I saw him terrorize New England's back line in a reserve match back in early April. The perfect super sub, he energizes the Union attack and PPL Park when he steps on the field. Hoppenot brings pace and a work rate that is difficult for defenders to deal with in late game situations. His runs are smart and well timed, his ball mastery is excellent and he is a predator in the opponent's penalty area.
Greg: 8. Plays like he has been shot out of a cannon. Probably the team's most exciting player right now. Willing to give up the body to make a play and will go up against any defender no matter how big. Curious to see his next step as player, but when you see 29 come up in green on the fourth official's board, just sit back and enjoy the ride.
Eli: 8.5. Speed, strength and intensity wrapped up in a neat little package. Hoppenot can turn a match on its head with the precision of his running, but can just as easily put a defender on his back and shield the ball as well as any other Union forward. Ready, willing and able to mix it up with anybody who lays claim to his ball, with the confidence that comes with experience, Hoppenot could develop into an absolutely lethal option for the Union.
Dan: 4. Quick. Good one on one. He looked terrific in the U.S. Open Cup game at D.C. United that so few saw, but he hasn't sustained that, perhaps in part because he doesn't get enough touches to make things happen.
Jeremy: 4. Early in the season, I thought he needed starter's minutes to show his ability, and maybe that's still true, but considering his performances in the time allotted, and the other options we have, I'm not sure he makes the grade.
Ed: 4. Another Nowak/Gutierrez acquisition that just doesn't seem to be panning out. Has yet to show sustained quality and potential with the limited time he has been given in league play. We shall see.
Adam: 4. Is there a special closet at PPL where the Union keep Martinez's potential? He sure has a lot of it but it seems like it's in storage.
Mike: 4. Has moments where he looks the business but then goes for long stretches unable to find the ball or do much with it when it comes to him. Comes across, as a young, raw talent and it seems like he is still a ways off from grabbing a spot in the starting XI.
Sean: N/A. Need to see more. I'm not willing to call this guy a bust yet.
Greg: 4. Was a player I had been calling for during the podcast, but it is becoming clear he isn't there yet.
Eli: 3. When he was brought in for 2012, the expectation was that he was a young star ready to take MLS by storm. He's fallen well short of that bar. For a young player in a new league and country, plenty of the blame falls to Peter Nowak. The scouting department also deserves a sideways glance, because the young Costa Rican is still miles away from a polished, consistent contributor. Clumsy in the passing game and often stationary up top, Martinez has a long way to go to prove his acquisition was worth it.
Dan: 8. Philly likes a guy who plays better when he's pissed off. He makes great runs and has the guts, brains and instincts to try just about any play on the field.
Jeremy: 9. He is the embodiment of this team's resurgence. His last couple games have not been as sterling as his first few under Hackworth, but Jack Mac is showing why he's been heralded for so long as a player to watch. His movement and timing are impeccable, and the fact that he gets behind defenses without the benefit of blazing speed makes it even more impressive. And unlike in prior seasons, he's scoring goals, too. I cannot say enough good things about him.
Ed: 8. Unaccountably banished by Nowak from the game day roster for an eternity after repeatedly being played out of position. Given the opportunity to return by Hackworth, he immediately lights it up with three goals and two assists in five games. Nowak was wrong, and JacMac proves it every time he gets the call.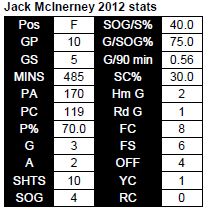 Adam: 9. Living the dream, man. Living the dream. Let's just hope he never loses the chip on his shoulder, because there is a ridiculous soccer brain at work in that head.
Mike: 8.5. Probably the best off the ball player the Union have. Makes runs into great areas at great times, wants the ball, and has a nose for goal. Has a chip on his shoulder after being in the Nowak doghouse for the early part of the season, so hopefully he keeps the chip and plays with the same tenacity as the season rolls on.
Sean: 8. Hard to believe Jack couldn't get in a match under Coach Nowak and may have been on his way out of town. The biggest beneficiary of the coaching change, Mac has blossomed into the goal scorer everyone hoped he could be. He's not the biggest or fastest man on the pitch, but when the ball is in the opposition's 18 yard box, Jack is looking to introduce the ball to it's new best friend, the back of the net. I'm looking forward to seeing him continue his emergence as a star under Coach Hackworth.
Greg: 8. So glad Jack was benched for nearly a year and a half… Anyway… What a turnaround for a guy many though had one foot out the door. He makes some of the smartest, most surgical runs in the league right now His touch around the goal has improved greatly. He embodies the New Union.
Eli: 8.5. Finally learning the game the right way, by playing. Sure, there are plenty of places for McInerney to improve his game, but considering he is still a teenager, Union fans should be thrilled with his progress. Runs better lines than any player to ever call PPL Park home, McInerney rarely strays offsides and stretches the defense further by dropping into the midfield to play with his back to goal. A little more patience and better understanding with his teammates and Union Jack could be in for a very productive second half of 2012.
Dan: 6. Pajoy plays hard. He doesn't give up on plays. He's a good defensive player. He hits the garbage and aerial goals. And he's better on the wing than he was as a target forward. People are coming to accept that, while he wasn't what Peter Nowak said he was, he's still a player. You have to respect how he's persevered and improved after his early struggles. Now he needs to improve his first touch and finish more of those great chances he's getting.
Jeremy: 7. He's growing on me, I admit it. Maybe it's the smile, maybe it's the number of chances he seems to be in the right spot for, maybe it's just the way he remonstrated with the ref that carded Jack Mac versus Montreal, but I'm starting to think he has a place on this team, which is not how I felt early in the season. Needs to finish more of those chances he gets, though.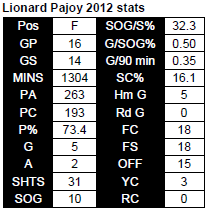 Ed: 6. Frustratingly ineffectual under Nowak, Pajoy has stepped it up under Hackworth, improving his play on both ends of the pitch. If he finished half of his clear-cut chances, he'd be in double digits. Also needs to start picking up some road goals. He's really grown on me, not quite in a Paunovic way, but he's grown on me, nonetheless.
Adam: 6. Nowak-era Pajoy gets a 4. Hackworth-era Pajoy gets an 8. On the wing, he works hard and plays responsible defense. In the middle, he's like a potted plant on wheels. Pajoy could have gotten rattled or ornery when it became clear that he was no longer the focal point of the offense under Hackworth. Instead, he seems to have embraced his role as a supportive veteran who greases the wheels for the emerging stars. Lots of respect for the way he has handled himself.
Mike: 6.5. Agree with Ed here, he's grown on me. I thought he might come in and be the big target striker that the Union have lacked, but the role didn't suit him. Seems to have found decent chemistry with McInerney. Would like to see him shoot more often and finish some of the easy chances that he's missed so far.
Sean: 6.5. If only Lio could have put a few more shots on frame. Under the Nowak regime, Lio was asked to play the lone striker role and he he performed poorly. Like many of his teammates, the Colombian has performed well for Coach Hackworth. He seems to be the ideal partner for Jack McInerney and looks comfortable in the 4-3-3 formation.
Greg: 6. The whipping boy of the first half of the season has really turned his game around. Moved from the center forward spot, Pajoy is very effective out on the left. His work rate has improved, and who knew he could play defense? But he is still pretty wasteful with his chances.
Eli: 6. Completely turned his season around once he was relieved of his center forward duties. Works hard in defense, tracking back to support Gabe Farfan down the left flank. Sure, he still has a concrete first touch and can be a butcher in front of goal, but he continues to get himself in the right places to win those chances. As the Union begin to fight their way up the Eastern Conference ladder, a little more composure and technique from the big Colombian could get the goals flowing right when the Union need them most.
Dan: N/A. The Perlaza-for-Danny Mwanga trade by itself should have been enough to get Nowak fired.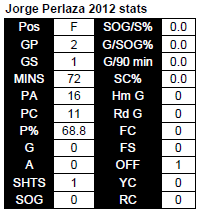 Jeremy: N/A. Who? Another strange, redundant pick-up, courtesy of P. Nowak.
Ed: N/A . So, Nowak gave up a player who, with proper nurturing could be a superstar, for a player who looks like he'll be, at best, a squad player? Oh, my.
Mike: N/A.
Greg: N/A. He still here?
Sean: N/A.
Eli: N/A.
No appearances