Photos: Kyle McCarthy
(Editor's Note: Our series of posts from Reading United and Villanova defender Kyle McCarthy continues as he gives an inside look at what game day is like on one of the top Premier Development League teams in the country.)
As a player, nothing is more exciting than the day of a big game. From the moment you wake up, there is nothing else on your mind besides preparing yourself for the match. This week, I will be taking you through a more detailed look of a typical game day experience here in Reading.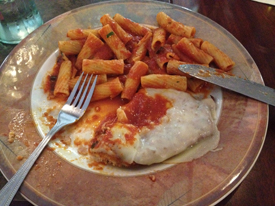 Besides having a good dinner the night before, making sure to hydrate, and having a solid breakfast, game day preparation does not officially begin until the pre-match team meal. If selected in the 18-man squad for the game, you put on your team polo and make your way to the G.N.A. Ristorante and Pizzeria to meet up with the rest of the players and staff. Depending on the time of kickoff, we typically try to eat four hours beforehand to allow everyone time to digest the food. The meal is always Chicken Parmesan with pasta, a delicious balance of carbohydrates and protein.
Because of practice, as well as the fact that many of us have played against one another during our college seasons, there are often preconceived notions about what someone is like. Thus, these meals also offer a great
way for us to get to know each other, as it allows us to interact outside of a heavily competitive environment. It is always interesting to see the differences between players' on-field personalities and off-field personalities, or to learn that there is not a difference at all.
Once the meal is over, it is back to our apartments to get our equipment together and continue our preparation. Whether it is taking a quick nap, watching television, or listening to music, everybody uses the time differently. After this short break, we arrive at Albright College's Shirk Stadium an hour and a half before kickoff. Despite the tricky playing surface, the facility is a great place to play thanks to its impressive
grandstand that seats our great crowds.
We then go down to the locker room where our kits are laid out for us in our lockers. The first half hour is spent getting dressed and taking care of any other issues, such as taping ankles or applying generous amounts of IcyHot to our muscles. The next half hour is spent mentally focusing until Coach Brendan Burke arrives to speak with us before we begin our warm-up. When Brendan does come in, he gathers us together and gives us tactical instructions per position and as a team. He also goes into detail about what he expects from us in the game and tells us what to expect from our opponents. When he is finished, we head out to the pitch and begin our warm-up until kickoff.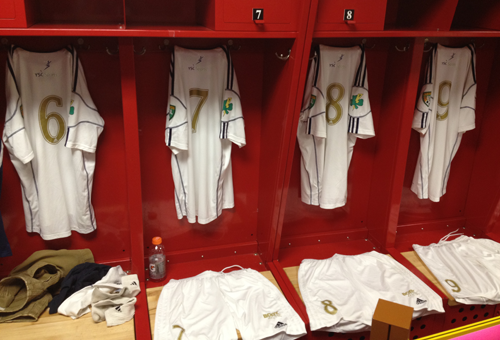 After the game, we return to the locker room for a debriefing with Brendan. When he is finished, we change out of our kits and return them so they can be washed for our next game. Once everything is put away in the locker room, we go out to mingle with our fans and sign autographs for anybody who would like them. Some players then choose to head back to the G.N.A. Ristorante and Pizzeria for further fan interaction, while others decide to head home for the night.
All in all it's an exciting, yet exhausting day. Hopefully we can continue to make game day just as thrilling for our fans as it is for us.