Photo: Nicolae Stoian
Ten games into the 2012 season and the third year Philadelphia Union are 2–6–2, a record only marginally better than where they were at after ten games in their first season when they were 2–7–1. Few need to be reminded that this time last year they were 5–3–2.
So far, 25 players have made an appearance in a Union shirt this season, ranging from one minute for Antoine Hoppenot, 360 minutes for the dearly departed Danny Califf, up to 888 minutes for Carlos Valdes. Of those 25 players, 17 have made some kind of shot: on target, off target or blocked. Of the 6 players with 1 shot of any kind—Amobi Okugo, Chris Albright, Cristhian Hernandez, Califf, Jack McInerney and Raymon Gaddis—only Albright's 1 shot was on target.
The 11 other players have made anywhere from 4 to 11 shots of some kind. Of those, 3 players—Sheanon Williams (4 shots), Kai Herdling (4 shots) and Carlos Valdes (6 shots)—have yet to be on target.
Of the 8 remaining Union players with at least 1 shot on target, Brian Carroll and Danny Mwanga (both with 4 shots) each have 1 while Michael Farfan (15 shots) and Josue Martinez (5 shots) each have 2. Keon Daniel (8 shots) and Freddy Adu (11 shots) each have 3 shots on goal.
Of the 15 players mentioned so far, only Adu has found the back of the net.
Gabriel Gomez (12 shots) and Lionard Pajoy (20 shots) lead the Union with 7 shots on goal. They are also the club's only other goalscorers, with Gomez on 4 goals and Pajoy with 3.
Given the club's 2–6–2 record, just about the only thing that is surprising about the Union's total of 8 goals is that there are 2 teams in the league with fewer goals.
Pajoy & Mwanga
As can be the case when looking at averages, the numbers for the minutes per categories are deceptive. For example, Pajoy's numbers for shots on goal average out to less than 1 per game, despite leading the team in shots of any kind with 20. Of those 20 shots, 13 came in 2 games, the home loss to Colorado, in which he scored a goal, and the home loss to New York, in which he scored 2 goals. Of his 7 shots on goal, which ties Gomez for the most on the team, 6 came in those two losses and the 7th was a weak effort in the loss to Seattle.
In fact, Pajoy's shots on goal so far have come after significant streaks of no shots on goal. His first shot on goal came 138 minutes into the season, his first goal 19 minutes later. After that, Pajoy went 511 minutes without a shot on goal, a streak that ended in Seattle. Those 511 minutes included 4 games in which he recorded no shots of any kind. Pajoy went 565 minutes before scoring a brace in the loss to New York. After that he recorded no shots of any kind during 90 minutes of play in Saturday's draw against Dallas. The Union didn't have a shot of any kind in that match until Gabriel Gomez' 56th minute goal.
Equally alarming is the fact that Danny Mwanga has only no goals and only 1 shot on goal in 8 appearances over 375 minutes. Those appearances are divided equally between starts and games in which he was a sub. Of the 4 games in which he started (3 complete games plus 1 game in which he was subbed out in the 65th minute for a total of 335 minutes), he has a total of 1 shot on target, one shot off target, and one blocked shot. He is currently on a 294 minute streak of no shots on goal in games as a starter. In the 4 games in which he came on as a sub with appearances ranging in time from 4 to 30 minutes, he has 0 shots and 1 assist. Across all appearances he is on a no shots on goal streak of 327 minutes.
Bottom dwelling
As mentioned above, the Union have scored only 8 goals over ten games. Below them are Chivas USA (11 games) and Toronto (9 games) with 7 goals each. By comparison, Eastern Conference rivals New York (12 games) and DC United (14 games) have 25 goals. The closest teams to the Union are Houston with 10 goals (10 games) and Columbus with 9 goals (10 games).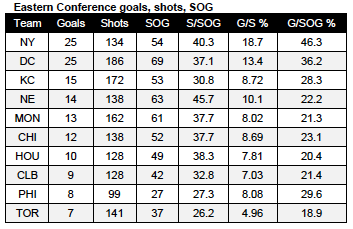 The Union is bottom of the league for both shots and shots on goal. The club's 27 shots on goal from 99 shots gives them a shots on goal percentage of 27.3. Their goals from shots, or scoring percentage, equals 8.08 percent. Sticking with the Eastern Conference comparisons mentioned above, this is well below New York's 18.7 percent and DC's 13.4 percent and above Houston (7.81 percent), Columbus (7.03 percent), and Toronto (4.96 percent).
Their goals from shots on goals percentage is 29.6 percent. New York's is an astonishing 46.3 percent with DC at an equally impressive 36.2 percent. The Union are comfortably above Houston (20.4 percent), Columbus (21.4 percent), and Toronto (18.9 percent).
When it comes to shots, shots on goal and goals: the droughts, inconsistency, poor finishing—are these daunting problems a matter of adjustment and "settling," are they the kinds of problems in which success and glory is just around the corner? If so, just how big of a block are we talking about? For while the difference between a shot on or off target, or a shot on target and a goal, may be a question of the narrowest of margins, the gulf between the Union and the top half of the Eastern Conference table has lately been getting wider and wider. Meanwhile, the fans patience grows shorter with each missed opportunity.
Here's hoping the Union can find some confidence in the form of goals in Toronto.