The earliest internationals in Philadelphia involved English clubs such as the Pilgrims and the Corinthians, teams imbued with the spirit of amateurism who embarked on North American tours between 1905 and 1911 that were motivated both by the desire to show Americans how the game of soccer was meant to be played and to make money. These tours proved to be important catalysts in the the boom of popularity soccer enjoyed in Philadelphia in the years leading up to the First World War.
After the First World War in 1921, the first successful fully professional league in the US, the American Soccer League (ASL), was founded. Philadelphia and the surrounding area was the home several ASL teams including Bethlehem Steel, Fleischer Yarn, Philadelphia Celtic and several different teams from various seasons that played under the name of Philadelphia Field Club. The founding of the ASL allowed for the first tours of professional teams from abroad.
German ethnic clubs and Philly soccer
Local German ethnic clubs such as United German Hungarians (UGH), First German Sport Club Phoenix (Phoenix), and Vereinigung Erzgebirge (VE) all have pre-WWII origins with UGH able to trace its origins back to the Banater Artbeiter-Verein choral club, founded in 1906. And the Philadelphia German Americans, the club that was a member of the second incarnation of the ASL and won the US Open Cup in 1936 and changed their name to the Philadelphia AMericans with the start of the Second World War, had its origins in a German shooting club in the city.
Despite the such a rich German community in Philadelphia, the closest thing to a tour by a German soccer team before the Second World War were tours by Vienna's Hakoak All-Stars, a team that also happened to be all-Jewish, in 1926 and 1927. During their 1926 tour, they faced the New York Stars in front of some 46,000 spectators, a record that would stand until the heady days of the New York Cosmos more than 40 years later. They played the last match of the tour against the Philadelphia Field Club and won it, 3–0. Hakoah opened its 1927 tour against Bethlehem and Philadelphia Stars, a local all-star team assembled for the match, losing both games by the score of 9–0 and 2–1, respectively. Hakoah got its revenge against Philadelphia Stars later in the tour when the beat them 7–1.
It wouldn't be until 1950 that a German team would tour the US
Multiple tours in the 1950s and 1960s
Following the Second World War and prior to the founding of the Bundesliga in 1963, the top flight of German soccer was represented by 5 regional semi-professional Oberligen or Premier Leagues.
In 1950, Oberliga North team Hamburger SV became the first German soccer team to tour the US. They played six games in three weeks, scoring 44 goals on their way to returning home undefeated. (They became the first German team to play in England the following year, defeating Burnley 3–1.) On May 21, Hamburg defeated the Philadelphia All-Stars 5–0.
The All-Stars would have been a weakened side because that same day, four members of the Philadelphia Nationals and future Hall of Famers—Jack McIlvenny, Walter Bahr, Benny McLaughlin and Nick Kropfelder—were on the Kearny-Philadelphia squad that played Manchester United to a 2–2 draw in New York. McIlvenny and Bahr would be part of the US team that defeated England in the 1950 World Cup little more than a month later. After the World Cup, McIlvenny left the Philadelphia Nationals to play briefly for Manchester United.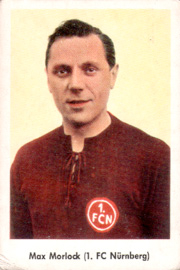 In 1952, Oberliga South team Stuttgarter Kickers came to the US. Manchester United returned that year as well and both teams had stops in Philadelphia. In fact, Philadelphia soccer fans could have seen two international friendlies in the space of a week when Manchester United came to town on May 11 and Stuttgart visited on May 18, just as long as they didn't mind seeing the Philadelphia Stars defeated by the combined score of 14–2.
FC Nürnberg, another Oberliga South club, came to Philadelphia in 1955 and defeated the Philadelphia All-Stars in what must have been a wild 8–5 contest. On the Nuernberg squad was Max Morlock, a member of the West German team that won the 1954 World Cup. When Schwaben Augsburg, yet another Oberliga South team, came to Philadelphia as part of their 1956 tour, they beat Uhrik Truckers 4–0. Oberliga Southwest team Kaiserslautern came to Philadelphia in 1957 and defeated Phoenix Stars 10–1 in front of 9000 spectators. Second division side Kickers Offenbach played Philadelphia Stars on May 11, 1958 but I have not been able to locate the result. The recorded results of Offenbach's other matches on their tour show them winning against all opposition by a combined score of 17–3 so it's probably safe to assume that Philadelphia did not prevail.
On June 4, 1960, the Philadelphia Ukrainians held Stuttgart Kickers to one goal in their loss, a dramatic improvement over the Philadelphia Stars 10–2 loss to Stuttgart nine years earlier. But a German side would soon produce another lopsided result for when Baden Amateurs All-Stars came to town on June 18, 1961, they defeated Philadelphia Stars 12–1.
1962 saw three German sides come through Philadelphia. The Ukrainian Nationals lost 5–0 to the North German All-Star team while a combined "Ukes and United League" team lost 2–1 to Saarbruecken, who would join the Bundesliga the next year for its inaugural season. FC Nürnberg, who would also join the Bundesliga, returned to the city and defeated a Philadelphia United League select team 5–2.
The establishment of the Bundesliga appears to coincide with the almost total cessation of matches by top-flight German teams in Philadelphia. Nevertheless, lower division and amateur sides continued to come to the city. In 1963, Philadelphia was the host of its first friendly between two international clubs when the West German amateur sides Platting SC and Karlsruher FV met on June 16. Platting won 2–1.
The following year, UGH embarked on a nine-game tour of West Germany and returned with a record of one win, one draw and seven losses.
A match in 1967 between Bavarian All-Stars and Philadelphia All-Stars was a wild 7–7 affair and UGH had a close 1–0 loss to Turngemeinde Heinbronn while Philadelphia All-Stars lost 2–0.
UGH continued the program of friendlies with German teams begun in 1967 with Tennis Borussia Berlin visiting in 1968. In 1969 came TSV Meinaschaff and Phoenix Durmersheim. 1970 saw visits by Eintracht Lueneburg, with whom they played to a 3–3 draw and Allemania Karlsruher FV, to whom they lost 2–1. 1970 also saw saw Italian side Bari beat Eintracht Frankfurt 1–0, which I believe marks the last appearance of a Bundesliga club in Philadelphia before Schalke's appearance on May 9, 2012.
Legacy of earlier German tours
The successful tours by German teams in the early 1950s led to formation of United Soccer, which was aimed at sponsoring games by international teams in the Philadelphia area. Representatives from UGH, Phoenix and VE at United Soccer soon began to also work on developing a local "German League." They soon dropped that title and in 1959 the United Soccer League of Pennsylvania played its first season. Since it's founding, USL teams have won the US National Amateur Cup, USASA Open Cup, and the US Open Cup and the league currently features 16 teams in two divisions.