Photo: Nicolae Stoian
In 2011, the Union had scored only 5 goals in the first seven games but their record was 4–2–1 instead of 2–4–1 as it is now. The defensive solidity that marked 2011 was unexpected and proved decisive for the first half of the season as the Union struggled to find consistent goalscoring. Whether it was personnel changes or fatigue that saw the defense falter in the long hot days of summer, the Union offense continued to struggle until Sebastien Le Toux started to find the goal in the last two months of the season. Still, the Union offense could never really be described as consistently powerful.
The same remains painfully true today. So far, with the exception of Gabriel Gomez, the new offensive acquisitions have failed to deliver. And while Gomez may lead the team in goals, he wasn't really touted as being the tip of the Union's spear when he was brought in.
This is where we are
Games played: 7
Goals: 5
Shots: 63
Shots on goal: 17
The Union's 63 shots is the lowest number recorded by any MLS team this season (Houston has 66 shots). They also have the lowest number of shots on goal at 17 (Vancouver and Seattle have 24) and with five goals are tied with New England for the second fewest total (Chivas USA has 4, Toronto and Columbus have 6).
Here are some percentages:
Shots on goal from shots: 27.0%
Goals from shots on goal: 29.4%
Shots per game: 9
Shots on goal per game: 2.43
Goals-per-game: .71
Shots per minutes: 1 every 10 minutes
Shots on goal per minutes: 1 every 37.06 minutes
Goals per minutes: 1 every 126 minutes
Except for the 5 shots on goal recorded against Colorado, the Union have recorded just 2 shots on goal in every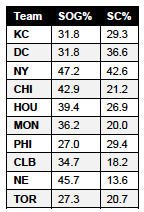 game. To give a sense of how the Union's shots on goal from shots percentage (SOG%) of 27.0% compares to other teams, Kansas City and DC, first and second in the East, both have 41 shots on goal from 129 shots for a SOG% of 31.8%. Third place New York has 42 shots on goal from 89 shots, a SOG% of 47.2%. Of the teams immediately above and below the Union in the standings, sixth place Montreal has a SOG% of 36.2% while eighth place Columbus comes in at 34.7%. The SOG% of Toronto, who are winless after seven games, is marginally better than the Union's at 27.3%.
Interestingly, when we look at goals from shots on goal or scoring percentage (SC%), the Union's 29.4% is fourth best in the East behind New York (42.6%), DC (36.6%) and Kansas City (29.3%). The bottom three are Montreal (20.0%), Columbus (18.2%) and New England (13.6%). So, I guess that's encouraging, right?
Breakdown by player
Here's how things break down for the Union by players who have recorded two or more shots over the first seven games.
Starting with shots, Freddy Adu is the only player at present whose shooting rate is above 2 shots per 90 minutes. He's also the team's most frequent shooter at a shot every 43.9 minutes, which isn't exactly a thrilling number. Lionard Pajoy has the next best rate at 1.61 shots per 90 minutes but he hasn't had a shot on or off target over the last three games.
In fact, Pajoy's last shot, an off target attempt in the 55th minute against Vancouver, means he's on a shutout streak for shots of any kind of 305 minutes. The last time Pajoy had a shot on goal was two games before that with his 67th minute goal against Colorado. That's a no SOG streak of 473 minutes. (By comparison, Zac MacMath's shutout streak for goals allowed ended on Saturday at 407 minutes.) Pajoy didn't his first SOG of the season until the 48th minute of the home opener against Colorado, which ended a 137 minute no SOG streak that began with first kick in the season opener in Portland. There he recorded one shot off target and one blocked shot, both in the first half.
All of which means that, while Pajoy leads the team in total shots, his 2 shots on goal equals a rate of .29 shots on goal per 90 minutes. Danny Mwanga has seen a third of the minutes that Pajoy has seen and with only 1 SOG has a higher SOG rate. (He also has an assist. Roger Torres has the only other.) Overall, Gomez is the closest to achieving a rate of 1 SOG per 90 minutes at .86%. Michael Farfan's SOG numbers are remarkably low but he has hit the woodwork at least twice.
Shot out
Pajoy's 6 games without a shot on goal isn't without precedent among Union players seeing similar minutes. In 2011, Sebastien Le Toux recorded no shots on goal in 13 games, 5 times recording no shots of any kind. While he went without a shot on goal for three games (LA at home, Dallas away, and Chicago at home) once, he did manage two shot attempts against Chicago. Twice he went 2 games in a row with no shots on goal (LA away, New York at home; Chicago away, Houston at home). But in 3 of those games he recorded at least 1 shot attempt. Meanwhile, he was contributing assists, of which Pajoy has 0. While the Union have lost 3 of the 6 games in which Pajoy has recorded no shots on goal, in the 2011 season, the Union lost 4 of the 13 games (3 wins, 6 draws) in which Le Toux recorded no shots on goal.
What was the difference?
While there have been 3 goalscorers in 2012 with Gomez scoring 3 of the Unions 5 goals after 7 games, in 2011 4 players scored the Union's 5 goals (Ruiz had two). Importantly, that hint of a trend continued in 2011 and the Union's scoring ended up being spread around with 16 players finding the back of the net, half of whom tallied more than once. So, in the long run, when Le Toux wasn't scoring, most of the time either someone else was and/or a stable Union defense (featuring with rare exception regular starters) wasn't letting the opposition get or hold a lead. The 2011 defense certainly wasn't having to contend with three-game runs of team possession under 50%, regardless of the results. (Team possession over the last 3 games was 45.8 against Columbus, 33.5% against Chivas, and 41% against San Jose. A 3-game possession average of 40.1% has got to take its toll on a defense.)
Whatever is going on up top with Pajoy or elsewhere on the pitch, the bottom line is clear: More players need to start scoring, but quick.