Photo: Earl Gardner
Given the erratic nature of the preseason, we have elected to invert our usual post-match format and lead with player ratings (click here for our match report of the game). Preseason games are opportunities for positional and tactical experimentation, and so individual player performances become the most important factor in the evaluation of the team as they build towards the regular season. While a poor rating means relatively little with the season still three weeks away, a strong rating does bode well as the Philadelphia Union look to determine which players will step into leadership roles and help guide the team in 2012. You can read ratings and analysis of the first half here.
Between players deployed out of position, and so many youngsters in the second half lineup, the Philadelphia Union made a valiant effort to retain their one goal lead. Ultimately the pressure was too much and credit must go to a Orlando City team that never let up on the inexperienced Union.
Player Ratings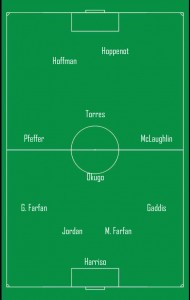 Chase Harrison – 6
The Union No. 2 keeper showed strong command of his box, as he was quick off his line to claim crosses and cut off through-balls. Despite Orlando City's second half dominance, they failed to generate more than a couple clear-cut chances, much of which was due to Harrison's alert presence in goal. Ultimately, Harrison had no chance on Griffin's equalizer when the Orlando City player found himself with both time and space to fire his effort beyond Harrison. Whether he is worthy of being an MLS backup still remains to be seen, but he did his reputation no harm on Saturday night.
Raymon Gaddis – 5
The third round SuperDraft pick looked quite nervous when he entered the fray and saw his touch let him down on more than one occasion. Gaddis did show excellent pace in joining the attack up the right flank, but he will need to further settle into the pro game before we can evaluate his true ability. One thing to watch with Gaddis is his agility. He is very fast running on a straight line, but in tight situations, he appeared slow to react when he was beaten down his wing on a few occasions. It's early days though and he will earn more chances to prove himself.
Greg Jordan – 5.5
Despite the one way traffic flowing in his direction, Jordan did not look at all fazed playing in the center of the back line. Like all the defenders in the second half, he was guilty of hacking his clearances away too frequently rather than attempting to retain possession, but given the pressure and lack of chemistry amongst the back four, that can be forgiven. When he is partnered with a more seasoned center back in the future, he should grow into the role even further.
Michael Farfan – 4.5
Marfan is not a good center back. Good thing he's not a center back. It may have been unfair on the 2011 Rookie of the Year candidate to be played so far out of position, but now is the time to test him there. He did very well to release Hoffman early in the half for his breakaway, but struggled mightily once he was moved into the unfamiliar role in the heart of the Union defense. While his goal line clearance looked like magic, it was simply another case of Farfan refusing to quit on a play, a trait that is becoming increasingly synonymous with both him and his brother.
Gabriel Farfan – 5
Garfan strangely struggled to link up with his brother in the opening 15 minutes of the half before Michael moved into the back line. He did put in some strong tackles, but he was also beaten a few times when he pinched towards the center to help the brand new center back pairing stem the tide of Orlando City's attack.
Amobi Okugo – 6
Suddenly the veteran of the squad along with Roger Torres, Okugo's night was all about defense, and he would have been frustrated to not get more opportunities on the ball in attack. Like Gomez in the first half, Okugo fell into the backline when the Union counterattacked. Despite the lack of positive offensive possession, he did well to show his range and tackling ability but could not quite turn his ball-winning into attack on the night.
Roger Torres – 5
Another of the second half's most veteran players, Torres was starved of the type of possession on which he normally thrives. When he did receive the ball, he moved it well and went on a driving run that ended with a strong effort that flew just wide of the Orlando City net. The coaching staff will have been happy to see him drop as deep as required to hunt for the ball, but will hope that in future, he is not required so much to do so.
Jimmy McLaughlin – 3
The Union's second homegrown player struggled to catch up with the speed of the game throughout the second half. His touch was heavy and his distribution was a second too slow. He spent too much time with his boots on the chalk line and needs to be more confident working into the center of the pitch to join in the possession game. He will learn all these things with time. While he probably will have to wait until the Olympic break or later in the year to see any time on the pitch, he will certainly feature for the reserves.
Zach Pfeffer – 3
A mostly anonymous night once he came on in the 64th minute. Pfeffer needs to get himself more involved in the possession and build-up game and he left Torres waving in the wind on multiple occasions when he ran away from the ball, rather than checking into the field to receive a pass. While the Union will look to him as a live wire who can create exciting chances with his guile and pace, he needs to continue towards becoming a complete midfielder before he will be able to consistently influence matches.
Antoine Hoppenot – 6
Acting as a center forward was always going to be a challenge for the 5'8", 145 lbs. Hoppenot, but what he lacked in size he more than made up for in effort. Showed maturity to drop into midfield and make space for himself to run at defenders. Given his lack of size and the sheer number of young strikers already on the roster, it is hard to see Hoppenot featuring for the Union in 2012.
Chandler Hoffman – 4.5
Left kicking himself after the match for squandering a breakaway chance, Hoffman was as advertised, playing high on the offensive line and always looking for a chance to sneak in behind and create panic among the Orlando City defenders. However, in a two striker set, he will need to do more in terms of the build-up and being part of the possession game. Despite stretching the defense, Hoffman left too much heavy lifting for the much smaller Hoppenot, though some of that will be ameliorated when he has the opportunity to play off of either Danny Mwanga or Lionard Pajoy. His night ended painfully, but fans must appreciate the grit and toughness shown to get patched up and finish the game, despite breaking his nose with ten minutes to go.
Second Half Analysis
Defense cover still needed
No knock on Greg Jordan. He did about as much as can be expected from a rookie playing out of position. Not only does he have decent size, but as a midfield ball-winner he is a strong tackler and possesses better-than-average distribution skills for a defender. All that said, if he is the Union's first option off the bench, then there is trouble brewing. Yes, Sheanon Williams can (and did) play center back, but counting a starter as the backup for another position?—that's dicey. Danny Califf and Carlos Valdes were remarkably rugged in 2011, and we all hope they continue that way, but as with every other position, an insurance policy is needed. Watching the 5'9″ Michael Farfan struggle at center back was a glaring reminder that one of the team's largest offseason needs has yet to be addressed.
Wide players too wide
With Jimmy McLaughlin's toes glued to the touch line, and Zach Pfeffer making runs up the wing like a player on a track in bubble hockey, there was far too much space left uncovered in the middle of the park. The second team followed the example of the first half starters and pressed both fullbacks and wide midfielders so high up the pitch that the central players looked to be playing a different game than those on either flank.
While it is important to get minutes for as many players as possible, putting so many young players on the field without any veteran leadership (the Farfans were the oldest at 23) was always going to result in chaos. Try as they might, Torres and Okugo could not put a halt to the frenetic play of the Union forwards and midfield. Hopefully, the team's friendlies in Costa Rica will focus on putting players in real game situations in order to test out young players alongside the veterans with whom they might share the pitch come opening day. Not only would that provide more realistic preparation for the imminent season, it will also help the youngsters develop a firmer understanding of the shape and style the Union coaching staff are looking to play in 2012.