All images courtesy of One Goal USA
 If you've made plans for Thursday, February 2, cancel them. Because that evening marks the Philadelphia premier of LADUMA at 7:30pm at the Ritz East. Made by two local filmmakers, Ashwin Chaudhary and Jon Korn, Laduma is "the story of how soccer united the South African people against Apartheid, and how the sport brought Americans together in the magical summer of 2010." PSP talked to Ashwin Chaudhary about the making of the film, the trailer for which can be viewed at the bottom of the interview.
Philly Soccer Page: First off, what does the word "laduma" mean and how does its meaning inform your film?
Ashwin Chaudhary: "Laduma" is the Zulu word for "Goal!", and it's a phrase South African soccer commentators say with flair. The connotation is that something immense has happened—it literally translates as "it thunders."
PSP: What then is the goal of LADUMA?
AC: The goal of LADUMA is to show how the sport of soccer has an unrivaled power to bring people and cultures together. It's our hope that seeing this film will inspire more Americans to get out to matches in support of our national teams, so that one day we can fill large stadiums with U.S. Soccer fans cheering on the Stars and Stripes.
PSP: You made the excellent "Road to South Africa" films before Laduma. How did that project get started? 
AC: RTSA pretty much got started when I took a camera to the Azteca in Mexico City for that crazy 2009 WC Qualifier. Seeing that incomparable supporter experience captured on video was more than enough to convince my longtime friend Jon Korn to jump aboard and bring his skills to the project. I wrote to US Soccer about the documentary idea, and they agreed to let us film the supporters in the stadium for the 2009 World Cup Qualifying run.
PSP: Was it that a full time project or were you working "real jobs" while making "Road to South Africa" on the side?
AC: Both Jon and I were juggling real jobs in addition shooting and editing Road to South Africa. We were both freelancing for production companies during the day, and editing RTSA at night. It was a pretty grueling run, but the amazing feedback RTSA has gotten from the soccer community has made all the work worth it.
PSP: You traveled with US supporters in Mexico and in Honduras. That must have been an incredible experience?
AC: I can't even describe it. It's like nothing else you can experience as a fan in sports, supporting your nation's team on a world stage. Mexico was nuts just because of the intense hatred they have for Americans (in a soccer sense, at least). We had a security escort into and out of the stadium and were surrounded by fully armed guards during the match. Unfortunately, it didn't stop the 100,000+ people from throwing plastic bottles filled with urine at us. Honduras was so intense just because that country was right in the middle of a political crisis, so we didn't even know if the match would be played at first. There were only about 40 American supporters down there, and we stayed at the same hotel as the U.S. team in San Pedro Sula. Everybody was high-fiving Jozy in the hallway, hanging out with Bob Bradley in the pool, etc. The Honduran people were incredible—so gracious and hospitable.
PSP: How hard was it to stay focused on filming when you are a USA supporter in Honduras and the US comes from behind for a clutch win?
AC: The stadium in San Pedro Sula is pretty old school. Our U.S. Supporter section had a sweet crime scene tape barrier, and the beers cost about 10 cents. Someone would just come back with a tray of large foam cups which would spill all over everybody, which was pretty refreshing on a sultry Honduran night. Korn and I split up during the match, with him sitting in the supporter section and me a couple sections in front, so I could get the wide shot of our American contingent. I'm a pretty big guy, so I wasn't sure how people would react to some dude in a USA jersey blocking their view AND sticking a camera in their faces.  It's amazing I didn't fall and crush a small Honduran child as I was angling for better shots. But everyone loved it!  You could tell soccer truly was the one thing that brought these people together during a time of uncertainty in their nation. When Honduras scored that first goal, I was just sucked up into this mass of humanity, with beer and confetti flying everywhere. When the U.S. scored 3 goals after that, it was tough to see the disappointment on all the Hondurans' faces, who just wanted to see their country make the World Cup for the first time since 1982. When Carlos Pavón missed that penalty kick that would've tied the game, you could just feel everyone's heart break all at once. The USA qualified for the 2010 World Cup that night, and I'll never forget it. But as we all know, the story ended up having a happy ending for Honduras thanks to Mr. Bornstein's heroics in D.C. in the next match.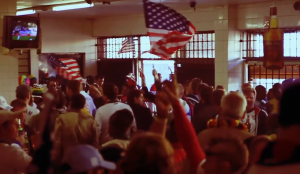 PSP: How much of an inspiration did the spirit of USA supporters you met while filming "Road to South Africa" prove to be an inspiration to make LADUMA?
AC: The supporters we met along the Road to South Africa truly WERE the inspiration for traveling to the World Cup. We went to Johannesburg with a lot of the same guys I met on the hotel rooftop in Mexico City where the journey all began. We were with people who had been supporting the U.S. since the 1990 World Cup, and we wanted to hopefully experience something historic through their eyes.

PSP: How did making "Road to South Africa" help to prepare you for making LADUMA?
AC: The tragic flaw in Road to South Africa was that we didn't have enough money to pay for all broadcast game footage in the film, and that's why RTSA will only ever live on YouTube. For LADUMA, we wanted the focus to be more on what's happening OFF the pitch at the World Cup. But we still needed to include images from the matches to bring it all together, and luckily our good friend and photographer Doug Zimmerman (http://douglaszimmerman.blogspot.com/) was shooting stills for ISI photos at the tournament. Using Doug and ISI's amazing photo library, along with audio commentary from SABC and ESPN, we tried to create a unique World Cup feel for the match scenes.
PSP: Am I right that Sons of Ben capo and VP Corey Furlan is interviewed in part 6 of the Road to South Africa, which features the US against Costa Rica at RFK? I'm assuming his not mentioning the Philadelphia Union when he talks about supporters of MLS teams coming together for the US team was an editing thing – bad audio or something? (This is meant as a joke.)
AC: Ha! Actually, I think this one is on Corey. Maybe he was just being diplomatic, being the leader that he is. Actually, he definitely did talk about the Union in one of his other answers. I need to check the vault and see if there's more from that interview we can upload! Corey is the man, and that interview is actually what introduced Jon and I to the SoBs.

PSP: The description of the LADUMA trailer describes the film as being an "experimental" film. What do you mean by that?
AC: LADUMA is an "experiential" film because we're trying to recreate our own World Cup "experience". (As opposed to a traditional documentary about one person or one story). Other people who traveled to South Africa may have had different experiences, but this was OUR experience, this was what WE saw as American soccer fans and filmmakers.
PSP: You and Jon quit your jobs and left for South Africa just before the start of the World Cup. You've said elsewhere that you had no budget and no script. That must have been kind of scary?
AC: It was definitely a leap of faith. I also shaved my head, which was pretty scary because I looked like an alien. But Korn and I were able to shoot videos for Budweiser and Sports Illustrated while over there in South Africa, so it almost covered our travel costs. Our videos with SI were based around our interviews with Grant Wahl, who gave us some great on-the-ground commentary during the tournament. As for a script, the crazy logistics of the South African World Cup made it almost impossible to focus on one character or one group, and the unpredictable nature of the World Cup itself meant that we couldn't have a fixed story beforehand. Our second night in the country, we met a couple South African guys who took us in, and introduced us to what soccer means to the people of  Jo-burg. Without Leeroy and Zem, LADUMA really wouldn't have been possible.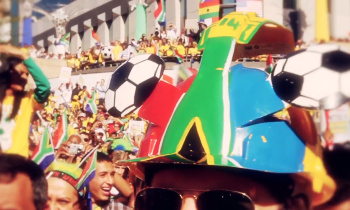 PSP: Did you have any local contacts before you left or were you relying on fate?
AC: Neither of us had ever been to a World Cup or the continent of Africa, so we left everything up to the futbol gods. We stayed at a guest house with a bunch of U.S. Supporters in the outskirts of Jo-burg, but the place was nothing like it looked like on the website. We were crammed into tiny rooms with bunkbeds and no heating. I think I slept with my jeans and sweatshirt on for the first three weeks until I was able to find a better/warmer place to stay.
PSP: In the Road to South Africa film you do a great job of showing what World Cup qualification meant to people you met in Honduras. What it meant to South Africans to host the World Cup must have been incredibly moving to witness?
AC: It was. Even though Bafana Bafana didn't do much in the tournament, every game was a celebration for those people. South Africans know how to party unlike any culture on the planet. Just the fact that the World Cup came to the continent of Africa was in itself historic, and the citizens of South Africa finally felt like their nation had "arrived" in the global community.
PSP: Were you able to get your cameras inside any of the stadiums for any of the USA games?
AC: We had our cameras in the stadiums and got some great stuff. The best of which was probably the audio of me shrieking like a 10-year-old girl when Donovan scored against Algeria. But none of this footage can be legally used in the documentary. The eyes of FIFA are everywhere!
PSP: How hard was it traveling around South Africa following the US support?
AC: Logistically it was extremely difficult. We didn't have a big studio to back us or other camera crews to get out to Cape Town and other cities. We rented a car to get around, and were shooting around the clock and editing on our laptops.
PSP: At what point did you and Jon realize, "We've got the makings of a full length movie here!" Was it in that you realized you wanted to tell both the story of US supporters at the World Cup and South Africa's path to hosting it?
AC: The American story was self-evident, since the dramatic run to the top of the group was already such a big story in the sports media back home. But we knew there was more to our film than that. Jon took it upon himself to research the long, turbulent history of South Africa, and our interviews with Tony Karon (Senior Editor for TIME) and Sean Jacobs (Professor at the New School) really tied together all the beautiful South African characters and imagery we captured during our time in Jo-burg.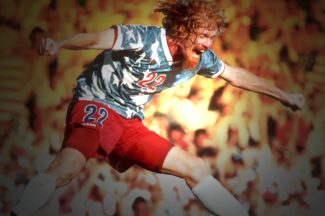 PSP: You have some big names in the film, people like Alexi Lalas, Grant Wahl, and Bob Ley. How did you secure their participation?
AC: I reached out to Bob Ley at ESPN and he was all about it. He even invited us to Bristol to do the interview. He's pretty much been at ESPN since it started, so the guy knows what he's talking about when it comes to the world of sports. His commentary on both the American and South African sides of our story was priceless. The American Outlaws guys introduced us to Alexi Lalas, who gave us an absolutely epic interview. We were amazed to learn that back in 1990, Alexi was just another kid "bumming around Europe, watching the U.S. team play" at the World Cup. Four years later, he's on the pitch at the '94 World Cup in the United States, representing our nation. Grant Wahl was extremely helpful not only with his great insights on the tournament, but also his deep knowledge of South Africa, having previously lived there.
PSP: Social media has not only helped you in making the film, it's also helping you promote the film.
AC: Social media is incredible. We all saw what happened with the Jay DeMerit Story, and how the support of the soccer community helped make that film a reality. That was truly groundbreaking for an independent documentary. Jon and I were able to raise $5,000 on Kickstarter, which helped us pay for some of the radio calls and still images in the film that we couldn't afford. We truly appreciate our family, friends, and the US Soccer community for giving us that lift to get our film off the ground. Now, our social media presence on Facebook (http://www.facebook.com/OneGoalUSA) and Twitter really helps us connect with the film's backers, and spread the word to the rest of the soccer galaxy. Twitter, in particular, is great for sort of connecting all the tentacles of the soccer world (players, ex-players, journalists, blogs, clubs, supporters). We're still trying to get that retweet from Landon Donovan or Deuece about the film. One of these days! (It's @onegoalusa, guys).
PSP: Being a soccer fan in the US for a long time meant that one had to be very inventive—how to meet other fans, how to see games, how to find news soccer about, and so on, which lends itself to a spirit of generosity and cooperation, a willingness to help fellow fans support the game. As the profile of soccer continues to grow in the US, that spirit still seems to be very important. Do you agree? If so, how has that spirit helped you in making your films?
AC: I think the very fact that you're doing this interview with us proves your point. You watched our videos and connected with our message, and are now trying to help us spread the word. One Goal is all about spreading the love of soccer in America through the visual medium, and the supporters and the people we interact with are very in tune with that spirit. We have such a great vault of inspiring interviews with American soccer supporters from all over the country, explaining why they believe in this sport and why it's important for the overall culture of the United States.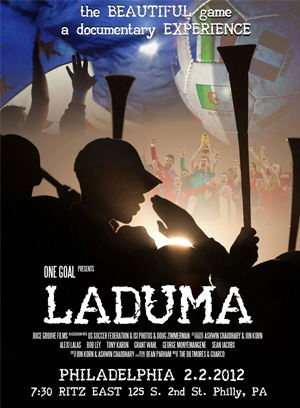 PSP: Digital camera technology must be a huge cost saver when you're doing the shooting, but post production – editing, sound mixing – has got to be expensive. How did you finance that part of the film making process?
AC: The best part of about making LADUMA is we did everything ourselves. From producing, directing in the field, shooting, editing & graphics, and now marketing, Jon and I handled every aspect of the production and post-production process. My friend Dean Parham brought his skills to the project and helped us with the effects in the match scenes. For the soundtrack, we used songs from our friends' bands—The Biltmores (@thebiltmores), and Guarco (@GUARCO). They are incredibly talented musicians, and their songs truly bring the imagery in LADUMA to life. The grassroots approach wasn't easy, and it took us over a year, but in the end we knew this was the only way to make the film we always dreamed of making.
PSP: Has the film been shown elsewhere already? What has the response been like?
AC: We screened the movie for friends and family at a small theater in New York back in December. We were nervous about the crowd's reaction, but the standing ovation and applause when the end credits started rolling was truly heartwarming. (Maybe they were just being nice?) Probably the coolest thing about the initial feedback was reading a blog post written by a South African in attendance, who said the film truly connected with him and what it meant for his country to host that tournament. We felt that American fans would love reliving the glory of the World Cup, but to hear that our film was appreciated by a South African as well was truly gratifying.
PSP: You and your co-director Jon Korn are local. What was your experience with soccer growing up in the area?
AC: Like most American kids, Jon and I both played youth soccer, but didn't really compete beyond that. We played pickup soccer in the park with our friends from time to time, but it wasn't until watching the 2002 World Cup on TV together that we truly connected on our shared interests of soccer, film, and travel. Since MLS was still growing and Philly didn't have a team, I became an Arsenal supporter and avid soccer jersey collector. We also played a lot of 2002 FIFA World Cup on PlayStation, which took our World Cup obsession to another level.
PSP: I know you are both Union supporters. What's your take on the recent Sebastien Le Toux news?
AC: It's pretty tough to see Seba go, but it's the reality of soccer economics. The two years couldn't have worked out better for both the Union and Le Toux. He now gets his shot in the big leagues, and the Union are left with a successful franchise that he helped establish. I will always, always remember seeing that lanky Frenchman score a hat trick against D.C. in the Union's franchise opener at the Linc. Absolutely legendary. Such a classy guy… he'll be tough to replace. But, in Nowak we trust.
LADUMA, Thursday, February 2 at 7:30pm at the Ritz East. To reserve a ticket, send an email to info@onegoalusa.com or send a message through the One Goal USA Facebook page. Donations of $15 will be accepted at the door to help cover the costs of the screening with $3 going toward the Sons of Ben Help Kick Hunger campaign. You can check out some of Ashwin and Jon's other fine work on the One Goal USA YouTube channel.