With the 13th pick in the 2012 MLS SuperDraft, the Philadelphia Union selected UCLA striker Chandler Hoffman. The Hoff had 29 goals and 9 assists in three collegiate seasons, including an astounding 18 goals and 6 assists in 2011. His Generation Adidas status means Hoffman won't count against the Union's salary cap in 2012.
An impressive combine performance didn't help Hoffman, who dropped much further than expected. The Union have acquired an elite finisher who can play up top or in support. Hoffman scored three goals in the 2011 College Cup, only bolstering his already strong reputation.
As PSP wrote earlier this week: Darren Mattocks and Andrew Wenger won't make it out of the top three picks, so the Union would have to decide if Casey Townsend of Maryland or Chandler Hoffman of UCLA are too good to pass up if they fall to the 13th spot."
"I feel like I could add some goals and help them make a run in the playoffs," Hoffman said at the draft, "I have some buddies on the team and I'm very excited to be coming to Philadelphia. I'll be able to offer something different being a left-footed goalscorer. I can create opportunities."
Hoffman spent the summer of 2011 lighting it up for the Orange County Blue Star of the USL-PDL. He arrived at UCLA with an Alabama haircut style known as The Swoop. If he grows it back, he has a new and fantastic nickname.
Greg  Jordan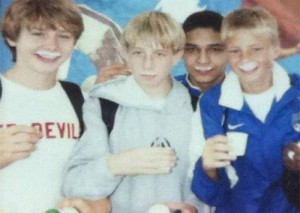 With the 32nd pick in the draft, the Union nabbed defensive midfielder Greg Jordan of Creighton University.
Jordan is a defensive-minded midfielder who helped the Bluejays to a record-setting .20 GAA in 2011. He led the team to the College Cup semifinals where they lost to Charlotte.
The 6'0″ Jordan joins a crowded Union midfield where he will compete for playing time with Brian Carroll and Amobi Okugo. It's possible the team will groom him as a center back, a conversion which would make him incredibly valuable thanks to his strong ball skills and passing range.
Jordan is a former national finalist in the Got Milk 3v3 tournament, which just gives us an excuse to post his amazing picture.
Raymon Gaddis
The Union closed out their draft with Raymon Gaddis of West Virginia University at #35. At 5'9″, 151 lbs, Gaddis is a small, swift and strong right back. He will try to earn playing time when Sheanon Williams heads off on a likely Olympic adventure.
In four years at West Virginia, Gaddis had 6 assists and no goals. As the captain of the Mountaineers in 2012, Gaddis was known as a quiet leader. He has the attitude and work ethic that the Union have always valued highly.
Though he didn't score in college, Gaddis did tally in eight games for Reading United AC in 2010. He was named PDL Player of the Week on June 1, 2010.
"The way we train is the way we play," Gaddis told The Daily Athenaeum, "We replicate what we do in practice and come out here and try to win."
Gaddis was named to the Hermann Award Watchlist in 2010.