While we were waiting for the van Win had to get something off his chest. "Listen," he said with gravity, "the money is getting huge now. What I want you to know is that, after every game' we can decide to quit and take the money. Or we can continue to the next game, thereby risking losing it all." There was a brief moment of silence before we all burst out laughing; As if…
"I need it for my ministry," Jericho told us a little later while we were on our way. "God loves soccer," Minotaur said. "Amen!!" Bunga Bunga and Hung both exclaimed simultaneously. "God appreciates a good game," Win said. "But he doesn't care about winning." He took a dramatic pause. "The verb 'to win' doesn't exist in the Bible. Winning is pagan."
Jericho's mind was running at full speed to find a Bible quote about winning.
"So we have to invoke Lucifer to win?" Sandler asked.
It suddenly became eerily silent. I was afraid this argument would affect Jericho's game. But he thought for a moment. "You know what, you're right," he finally replied. "God doesn't want to interfere, it's the devil who interferes. In order to win God's eternal glory, we have to fight our battles on our own. If Lucifer invokes you, you might win the game, but you lose your eternal soul."
 —0—
Instead of playing on turf we were on a polo field. A well maintained lawn, but it looked like it had been pounded with softball-size hail. We all walked the field to see if there were any rabbit holes or ditches. "If it's good for horses…" Sandler said.
"Be careful," Win said with a raised voice. "Let's keep healthy. I would like to play with 11 in two weeks."
The other team arrived while we were checking the field. College-aged men stepped out of a U-Haul.  They weren't joking or even smiling. Their faces were serious, as if they were about to land on Normandy. At the same time they were emitting enough testosterone-fueled cockiness to inflate a Macy's Thanksgiving Parade balloon.
  —0—
Win stared at them while they were getting dressed. Kids. My God, all of them in excellent shape. They were wearing the newest model cleats, and were loading up on energy bars and power drinks.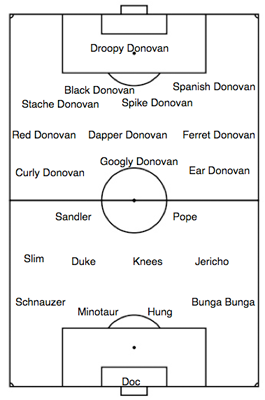 "A whole team of little Donovans," Hung said as if he had a bad taste in his mouth.
Win told us to do a light warm up, to get used to the field. I wasn't quite sure yet about that team, but everybody else seemed intimidated.
"They will be relentless," Hung explained a little later. "They're young dogs. They keep going and going, and going. They have absolutely nothing to lose."
   —0—
About a half an hour before the game started Win told us to stick to our own game plan. "Remember what I told you about the hare?" he asked. "They'll be chasing that thing across the end line over and over again hoping it will hit the target at least once."
"You guys are an elite squad, handpicked by me!" a booming voice suddenly sounded from the other bench. All the kids had taken a knee and were looking up to their coach. Neither he nor the players seemed to realize we could hear the pep talk. "You are the best of the best! We are faster than them! We are more skilled than them! We are stronger than them! And we are smarter then them! All of you are stars in your own school and all of your are committed to me! We have created a soccer monster and WE WILL WIN!!" The last three words thundered over the field to the other side where the audience was slowly taking its places.
 —0—
Win stared at the man, looked down at his own feet in contemplation, then at the man again. The coach of the Donovans had a long face, thin blonde hair, light blue eyes, and a fake smile. When he watched his pupils warm up a little later he had a gleam of pride and satisfaction in his eyes the , like a wealthy plantation owner surveying his chattel.
Win took me aside. "How are things at home?" he asked. "We're going through a rough time right now," I replied. "She's worse than a mistress," Win said, pointing at the field. "You'll be fine, it's over soon. This might be it." He grinned deviously and I knew I better pay attention to what he was about to say next.
"We have to keep them on the outside, force the pass. They're not strong in the air."
The Donovans had set up cones in intricate patterns in between which the team was performing trapping exercises. It was sheer perfection, every ball was under control. "They're a machine," he said. "We have to stick a bar in it somewhere." "Or disable the operator," I said looking at the coach. Win smiled. "How did the Russians beat  Napoleon? Scorched earth." I must have looked confused. "You'll figure it out," he said.
  —0—
The game against the Donovans went exactly the way Win predicted it would go—it was fast and furious. Every time they won the ball it felt like the pitch was tilted down towards our goal and their whole team came tumbling at us. But, as Win said, they weren't effective in the 18. They lost all the balls in the air, and weren't able to position themselves properly on the trajectory of the ball. There were a few moment where the cross went hard, but arrived low, and a little toe poke would have been sufficient. That is the advantage of having a lot of experience: we knew where the ball was going.
On the other hand, our forwards didn't have anything on the Donovans. Because of their speed and agility the were able to double team anyone who was on the ball. Pope got really frustrated and Sandler was losing his focus (he was looking at the audience half the time.)
I think it was the 40th minute when their coach suddenly started to yell that they needed one goal before half time "or else." The Donovans seemed intimidated, like mini pinchers who happen to run into a real Doberman. It suddenly dawned to me what Win meant.
During their next attack I took down their right forward, Curly Donovan. He was a slender guy with curly black hair and a well trimmed beard. Probably their best player. And he went down hard, about 35 yards from goal. The ref gave them a direct free kick. Their coach was yelling something like, "this is it!" Their captain, Dapper Donovan, an prematurely balding young man with a creepy grin on his face and fear in his eyes was supposed to take it. I quickly gave my instructions before we started negotiating the position of the wall. By the time the ref was about to blow the whistle the clock was ticking towards 44 minutes. Dapper Donovan stepped back about 6 yards. As soon as the whistle blew we quickly stepped aside and Doc stepped out of his goal. Dapper noticed what happened and the kill switch came loose in his head. He pounded the ball as hard as he could, but he had lost his stainless steel focus. The ball went high and wide. The Head Donovan exploded in fury. As soon as the ref blew for half time he came running on the field, grabbed Dapper's arm, and yelled at him. How could he be so stupid to miss in front of an empty goal? "You could have pissed it in!"
  —0—
"That wasn't what I had in mind," Win said during half time, "but it might have done the trick." While we were trying to relax, Head Donovan was yelling at his team as if his life depended on it. "Hey!!" Bunga Bunga yelled after a few minutes or so, clearly annoyed. "How much money did you put in!? Let those fucking kids play the game!!" The Head Donovan gave Bunga Bunga a foul look, grabbed a coaches' board and started to draw while continuing to talk in a low voice. The kids were still on their knees but, even from a distance, I could see minds drifting in some of their eyes.
  —0—
Knees was looking at her phone. "Something is happening," she told Win and I. "The State Police is coordinating a raid. A few moments later we loaded all our belongings into the van, and told the driver to prepare for an early exit. Some of the Donovans noticed what we were doing but were afraid to inform their coach.
  —0—
I think two of their defenders, Black Donovan and  Stache Donovan, still seemed the most defiant. My 'girl friend,' was standing at the touch line gesturing me to come over. "Hey," she asked,"how are you?" I told her I was fine. She seemed happy to see me. "I think they're coming in like thirty minutes," she said. I just nodded. "We will play," she said, "whatever happens." I looked over her shoulder. The audience looked nervous but excited at the same time. I'm sure there were bets going around on in what minute the game would end. That was the good thing about playing in the boondocks, I thought—you can see people coming from miles away.
  —0—
We had the ball and decided not to give it up. About half their team wasn't working as hard as before. Only a few percent difference in youthful energy was enough to push the scale towards our side. Head Donovan was souring up in frustration. Not because the balance had tipped—at least that's what I hoped—but because he realized it was his own doing.
We moved the ball around at high speed. The first chance we had was a shot from Pope after a smart through-ball by Knees, but Droopy Donovan, a goalie with major bags underneath his eyes, was able to pluck it from the air.
The second chance was from a rebound from a shot by Slim that went off the post. Sandler was there but he tipped it wide. In the 57th minute we got a corner kick. Jericho wanted to take it. "We were binding sheaves of grain out in the field," he mumbled while putting down the ball. Both Minotaur and Bunga Bunga ran forward. "And his brothers said onto him, do you intend to reign over us?"
The ball went hard, in a perfect curve. Dapper Donovan was supposed to cover Bunga Bunga. Droopy Donovan was standing way out of position. Both Bunga Bunga and Minotaur jumped up. Bunga Bunga hammered the ball with his forehead into the net. 1-0.
The Donovans looked like they had been stung hard, and in a sensitive spot, at that. Head Donovan kicked the bench and was stamping his feet. In the moment when a coach of a group of kids should pick up his team, he trampled them. Only a few minutes later Jericho weaved around Ferret Donovan and then Spanish Donovan. Droopy Donovan kept his angle perfectly. Jericho touched it to Sandler who was heading towards the back post leaving Black Donovan behind. 2-0. A  few minutes later you could see some activity on the sidelines among the spectators. Someone gestured to the ref he nodded, blew his whistle and pointed to the center circle. I guess the state troopers were close. We were on our way home before the other team was off the field.
"Their coach once had a tender soul," Jericho said during the drive back. "The Devil took it from him, just like that. Can we turn around, I need to talk to him."
The walls of the van echoed as we all shouted "NO!!!"