Photo: Daniel Gajdamowicz
Editor's note: At the end of the 2010 season, we posted a series of season reviews of every Philadelphia Union player. Over the next several weeks PSP continues with a review of the 2011 season.
When Roger Torres joined the Union at the young age of 18 he was an exceedingly raw talent. While he showed bursts of energy and excitement in his first season in MLS, too often he was overly ambitious with his pass selection, trying to turn every pass into the final ball. With the ball at his feet, he often simply put his head down and tried to burrow his way through too much traffic, resulting in frustration among the Union fanbase.
But, as young players do, Torres matured. It was not a phenomenon that was present throughout the entire season. But from the season's midpoint, particularly when he lead the line in the friendly against Everton, Torres demonstrated consistent improvement throughout his game. Manifestations of his growth include checking back deeper to support his defense in possession, harassing players in midfield, making the safe pass rather than the ambitious one, and showing defensive tenacity that was completely lacking in 2010.
Yet, despite so much improvement, Torres is one of the few Union youngsters who saw his starts and playing time diminish in 2011. Veljko Paunovic's introduction into the side limited Torres chance to affect matches from the opening whistle and Freddy Adu's signing was a further impediment. Maybe his opportunities faded as a function of a larger squad, but given his improved workrate, vision, and quality on the ball, Torres has earned the opportunity to be the Union's midfield magician, regardless of the veteran presence of Paunovic and the name recognition of Adu.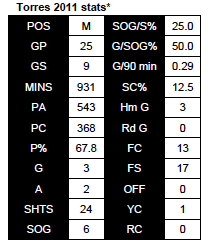 And that is not to say that he is the finished product. At 20 years of age (he was a teenager until July), Torres still has plenty more on which to improve. His eagerness to affect a match can lead him to take too many chances, such as firing low percentage long blasts, endeavoring to produce the perfect through ball too frequently,and too often conceding possession. Yet, unlike Paunovic and Adu, Torres is always looking to attack, always looking to get his teammates into a position to score, and that is the kind of player the Union need pulling their midfield strings.
High point
Two moments immediately spring to mind, both of which represented season peaks for Torres as an individual and for the Union as a whole.
First and foremost was his match winner against New York at PPL Park. Sure it was MLSsoccer.com's worst gaffe of the season that set up Danny Mwanga to play Torres in, but whenever you get to kill off your rival at home, that's a memorable moment. Add the fact that having been subbed on in the 67th minute, Torres scored the only goal of the heated rivalry with his first touch of the match.
The second moment was Torres' inspirational performance at home against New England in that frenetic comeback 4–4 draw. While the majority of the Union players failed to show up for the first half, Torres drove the team forward, representing the only credible offensive threat in the early going. He was rewarded for his hard work when he cut the deficit to 1–3 with a precise, curling effort from the top of the box. On the defensive side of the ball, the diminutive Torres harassed and dispossessed Shalrie Joseph all game.
Low point
As the Union made their push for the playoffs, Torres started in five consecutive matches in which the Union went undefeated (T-T-W-T-W), including victories over Eastern Conference rivals DC and Columbus and road draws against Kansas City and Portland. Yet, in the following final four matches, and the two playoff ties with Houston, zero starts. After displaying his ability to influence matches from the get go, those last six matches would have been a tough pill to swallow, especially given the selection, and subsequent failure, of Zach Pfeffer in the crunch match at Red Bull Arena.
Strengths
Touch and attacking aggression. While it was mere consolation, take a look at Torres' goal against Colorado. The quality of the trap, and then the footwork to beat four defenders before lashing home, is superb. While it takes time and experience to control a match from the center of midfield, Torres has all the tools to be an excellent provider. True, he tries some audacious and seemingly impossible passes, but he does so because he has the ability to complete them.
With time he will learn the self-editing and control to determine when the moment is right to launch into attack, and when possession is preferable, but with so much speed in the Union front line, a player like Torres who peppers passes through opponents defensive line has the potential to grow into an assist machine.
Weaknesses
Size and maturity. He's always going to be 5′-5″. That's life. But in the center of the park where he is protected by a defensive midfielder and has shown an improved defensive workrate, his physical responsibilities are lessened. And he has improved on his physical play, staying on his feet far more in 2011 than 2010. Between his ability to cope with the rough stuff and develop his pass selection, Torres has plenty to work on this offseason, as he continues to mature both physically and as a player.
Outlook
Sadly unknown. From July on, Torres grew and proved his worth in most appearances, yet no word has been given about his long term status with the team. While the Union have brought in players, none occupy the attacking midfield role for which Torres is best suited and with Freddy Adu apparently flirting with Spanish side Rayo Vallecano, it would seem imperative that Torres be locked up on a permanent transfer.
With wide midfielders like the Farfan brothers and Keon Daniel who understand their defensive responsibilities, Torres would be ideally positioned to sit atop the Union's midfield diamond and take command. Let's hope he is given that opportunity because, given the strides he made between his first and second years with the club, 2012 projects to be a special one for this special young player.
Stat chart legend:
POS: Position; GP: Games Played; GS: Games Started; MINS: Minutes; PA: Passes Attempted; PC: Passes Completed; P%: Passing Accuracy Percentage; SHTS: Shots Faced; SV: Saves; GA: Goals Allowed; GAA: Goals Allowed Average; PKG/A: Penalty Goals/Attempted; W; Wins; L: Losses; T: Ties; ShO: Shutouts; W%: Win Percentage; SV%: Save Percentage; FC: Fouls Committed; FS: Fouls Suffered; YC: Yellow Cards; RC: Red Cards